New York State has launched an exciting pilot program at a New York City's Queensboro Correctional Facility, in which all individuals being released will be given training in overdose recognition and response; and they will be offered naloxone, a life-saving medicine that reverses opioid overdoses.
Risk of death from overdosing on heroin or other opioids such as Vicodin or OxyContin goes up substantially after periods of refraining from drug use. Quantities that once brought pleasure can be fatal after a period of abstinence. The research shows that individuals leaving jail or prison are particularly vulnerable. Expansion of this pilot throughout the State's prison system is anticipated. This common-sense approach has been a vision and a goal of the Harm Reduction Coalition for several years. Until all the folks who should not be in prison to begin with are out, this is a great step forward in keeping people alive, healthy and in control of their own destinies.
Naloxone is a medication that temporarily reverses a drug overdose by allowing a person to start breathing again on their own. It can be delivered via a nasal spray or injection. For the New York State program, the nasal version will be used. Naloxone is simply administered, safe and extremely effective. It is not a drug that can be misused. Teaching people how to respond to an overdose is also very straightforward and can be taught quickly.
This new initiative builds on groundbreaking work that has been happening in a few other parts of the country, including in San Francisco, New York City and Rhode Island. The Harm Reduction Coalition's DOPE (Drug Overdose Prevention and Education) Project has been going into the San Francisco jail for two years providing training and naloxone. We have also been part of a program funded by the New York City Department of Health and Mental Hygiene in which family members and others visiting inmates at Rikers Island, the biggest jail in the US, are given a similar training along with naloxone. The Center for Prisoner Health and Human Rights at Brown University has provided extraordinary leadership in Rhode Island.
The first training took place at Queensboro on February 5, 2015. "The first training was very moving" says Harm Reduction Coalition's Medical Director, Sharon Stancliff.
Inmates shared stories of overdoses among people close to them and deepened their understanding of the risks of overdose in reentering the community.
Although this program is a "pilot," the goal is not to determine whether this intervention should be done; instead the aim is to explore how can best be done.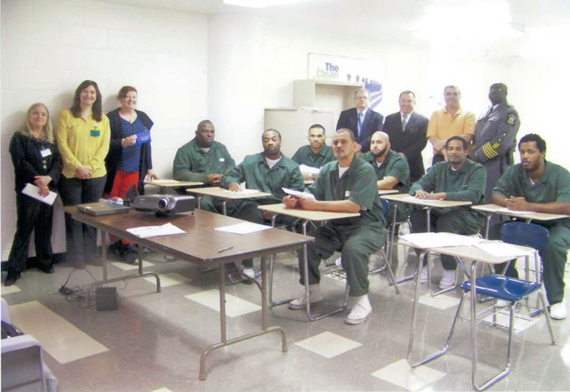 When told of this initiative, formerly incarcerated and ex-heroin user Brian Thompson said:
I have experienced first-hand friends dying from drug overdoses upon release from custody. With the lack of effective drug treatment programs in prisons, naloxone overdose training makes perfect sense. In one brief minute, untold agony and misery for family and friends suffering the loss of a loved one can be avoided.
As well as the Harm Reduction Coalition, the collaboration behind this pilot includes the New York State Department of Corrections and Community Supervision (DOCCS) and the New York State Department of Health (NYSDOH). NYSDOH is a leader among State Health Departments in supporting and promoting naloxone distribution, having done so for nearly a decade. Harm Reduction Coalition has had a close partnership with NYSDOH's AIDS Institute for two decades. We are now very pleased to also join with DOCCS to make this new initiative happen. Both State agencies have enthusiastically embraced the pilot and have moved with impressive speed and creativity. They deserve recognition for their efforts.
In a press release issued by the State, Dr. Carl Koenigsmann, Deputy Commissioner and Chief Medical Officer at the Division of Corrections and Community Supervision (DOCCS) said:
DOCCS is committed to maintaining the health and safety of those in our custody and helping those leaving our custody help themselves and others. This project, in conjunction with New York State Department of Health and the Harm Reduction Coalition, will enable us to reach people who desperately need help.
Dr. Howard Zucker, Acting New York State Health Commissioner said:
Drug overdoses are one of the greatest threats facing the health and well-being of individuals recently released from prison. Through this groundbreaking training pilot, these individuals will have the knowledge and skills necessary to not only protect themselves, but to save the lives of others when they come home.