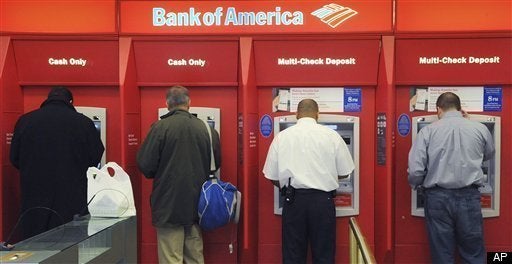 WASHINGTON, Feb 21 (Reuters) - The new U.S. Consumer Financial Protection Bureau is weighing a crackdown on checking account overdraft fees charged by banks, saying the charges can "inflict serious economic harm" on consumers.
The agency said on Wednesday that it will begin collecting information to determine if banks are manipulating the system to goose fees and whether they are making it clear to customers how they can incur overdraft charges.
Consumer advocate groups have complained that bank customers can get hit with multiple $35 charges because they accidentally overdrew their account with small purchases such as a cup of coffee.
The fees have brought in about $30 billion in annual revenue for the banking industry over the past few years.
Overdraft fees have been a source of tension between regulators and banks in recent years, and the CFPB's announcement follows steps taken by other regulators, including the Federal Reserve and Federal Deposit Insurance Corp, in response to complaints.
The Fed cracked down on the practice by banning overdraft fees on automated-teller-machine and debit-card transactions unless consumers have actively selected an overdraft protection service.
Those rules went into effect in July 2010 but did not include credit cards, checks or online bill payments.
Also in 2010 the FDIC issued guidance to banks to ensure excessive fees are not being charged.
The CFPB said that it wants to build on this work and will use the information to determine if additional steps are needed.
"Overdraft practices have the capacity to inflict serious economic harm on the people who can least afford it," CFPB Director Richard Cordray said in a statement. "We want to learn how consumers are affected, and how well they are able to anticipate and avoid paying penalty fees."
The agency said it will seek information directly from large banks, though it did not name the institutions, and is also putting out a request for input from the public.
The agency said one area it will focus on is whether banks at the end of each day are processing large transactions first so that they can then charge a customer more overdraft fees for each subsequent smaller bill payment, check or ATM withdrawal.
The FDIC also focused on this issue in its 2010 guidance.
The amount of overdraft fees collected by banks has fallen in recent years.
The fees totalled $37.1 billion in 2009 and are estimated to have fallen about 20 percent to $29.5 billion in 2011, according to the research firm Moebs Services.
The information collection effort also focuses on whether consumers are being given enough information to understand and anticipate the overdraft fees they are being charged.
The agency said it will seek feedback on a sample "penalty fee box" that could be included in a checking account statement detailing the amount that has been overdrawn and what fees have been charged.
The bureau was created by the 2010 Dodd-Frank financial oversight law and is charged with overseeing consumer financial products, such as credit cards and mortgages.

Related
Popular in the Community