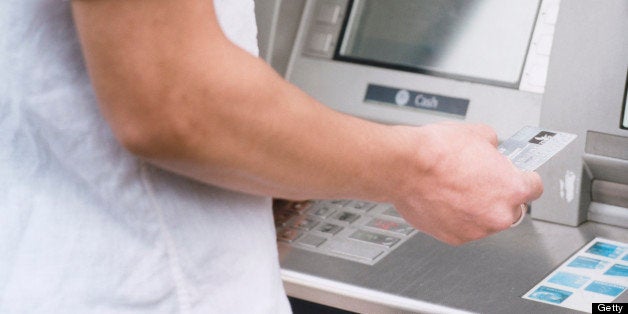 Banks continue to raise the fee that is charged when customers spend more than they have in their accounts. Since the end of 2012, the average fee for a $50 overdraft has increased from $33.70 to $34.90 at the 10 largest U.S. banks, according to a study by MyBankTracker.
Most recently, PNC Bank changed its overdraft fee to a flat $36. Previously, the bank had a tiered fee policy where customers paid $26 for the first overdraft over every 12 months and $36 for each overdraft thereafter during that period.
In August, U.S. Bank plans to overhaul its overdraft policy that will drive the average overdraft fee up to $35.20. The bank's current policy charges $15 for each overdraft of $15 or less and $35 per overdraft of more than $15. The upcoming policy change will impose a flat $36 overdraft fee.
The slight changes in overdraft policies have helped boost the bank revenue brought in from overdraft fees. According to economic research firm Moebs Services, banks raked in $32 billion in overdraft fees in 2012, up from $31.6 billion in 2011. The rising trend comes after a 2010 regulation that required banks to receive customer consent to overdraw an account.
Not all is bad
Despite the fee hikes, more banks are willing to forgive small cases of overdrafts.
Six of the top 10 banks have implement policies that will waive all overdraft fees for customers who have a negative balance of $5 or less at the end of the business day. Chase and SunTrust Bank do not slap on an overdraft fee on transactions of $5 or less.
U.S. Bank will begin to impose a similar policy next month.
Boosting chances of an overdraft
There is a bank practice that remains a major concern for bank customers and consumer advocates.
According to Pew Charitable Trusts, seven of the top 10 banks engage in the practice of posting some or all debit transactions from the highest to lowest dollar amount. Such a posting order tends to maximize the chances of overdraft occurrences because larger transactions will reduce the account balance more quickly. Then, smaller transactions trigger multiple overdrafts.
Citibank, U.S. Bank and BB&T are among the banks that do not reorder transactions in this fashion.
"Some bank impose extremely high overdraft fees, which explains why the $35 cup of coffee is still very much with us," said Congresswoman Carolyn Maloney, who introduced a bill that would regulate overdraft fees and policies, in a June press conference. "Further, the opt-in language needs to be clearer and we need to make sure that banks are not manipulating the order of transactions to maximize transaction fees."
In the meantime, consumers can prevent themselves from paying overdraft fees by opting out for overdrafts on their accounts. Doing so will mean that any non-recurring debit card transaction that results in a negative balance will be declined.
REAL LIFE. REAL NEWS. REAL VOICES.
Help us tell more of the stories that matter from voices that too often remain unheard.