I'm a big admirer of iconic fashion photographer Helmut Newton and continue to be drawn to his evocative body of work. I particularly love his depiction of beautiful, hyper-strong women -- and the intended irony beneath the sexually charged tone of his photographs. But more on that later... The Annenberg Space for Photography in L.A. is currently exhibiting Helmut Newton. White Women. Sleepless Nights. Big Nudes (until September 8) and it's the first exhibition of his work outside of gallery shows in LA, a city he loved.
Newton and his catalogue of images were an inspiration to me when I was developing the first products in my Nude Bar collection last year. Creating an impeccably nude makeup look that doesn't drain the face or features can require far more thought and technique than a stronger look using color but I was really drawn to the challenge of working with a nude palette. Newton also, it seems: "I gave up fashion because I wanted to do nudes," he once said. "Fashion is easier. Fashion hides things. Photographing someone totally naked is very difficult, trying to get skin texture right."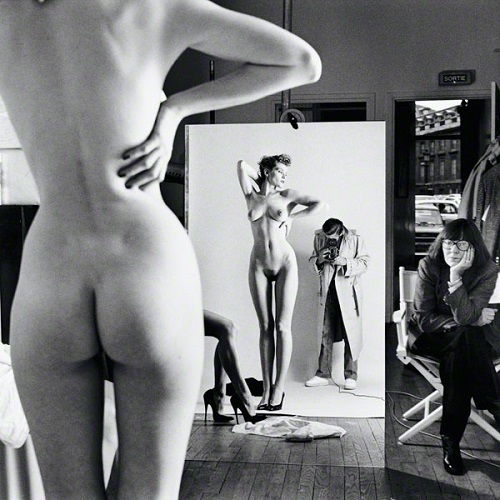 ©Estate of Helmut Newton
Newton's images were considered revolutionary and controversial at the time they were taken, yet they feel so... now. Despite the S&M overtones, his subjects seem empowered; in control yet fiercely feminine. "He made the women strong, and they loved him," explains Manfred Heiting, a Newton collector and the man behind the Annenberg exhibition which was first realized for the Museum of Fine Arts, Houston. "He positioned the women as they really wanted to see themselves, and that was a revelation."
Newton made his mark because he captured women as the multi-dimensional and contradictory creatures they are. To me, Newton's images are the visual translation of 'fierce.' Newton's women are in control -- of their lives, their bodies, their sensuality, their destiny. Generally naked or next to naked and styled with a stiletto or standout accessory, their masculine poses are imposing and unapologetic.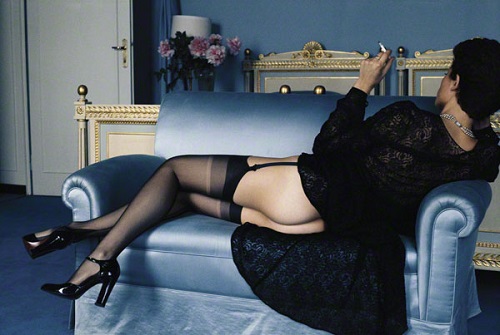 ©Estate of Helmut Newton
Newton's work was undoubtedly inspired and informed by his wife of 56 years, June Newton. She was not only his partner in love and life but also a trusted advisor and collaborator who was as much the architect of Newton's visual narrative as he was. Like my wife and muse Soula-Marie, June's confidence and strength mesmerized him as much as her physical beauty, reinforcing his belief that femininity and power need not be mutually exclusive.
REAL LIFE. REAL NEWS. REAL VOICES.
Help us tell more of the stories that matter from voices that too often remain unheard.