When you've already pushed the snooze button multiple times and have only a few short minutes to pull together an outfit, pack your work bag and hustle out the door, taking time to prep breakfast plummets to the bottom of your priorities.
However, if you're willing to schedule a bit of prep time the night before, you'll wake up with a filling, nutritious and tasty meal ready and waiting in your fridge: a jar of overnight oats.
This super on-trend repast can be found all over Instagram feeds these days, and it couldn't be easier to make. All you need are oats, a liquid to soak them in overnight and whatever mix-ins you prefer. Stick the ingredients in a Mason jar, tuck it in the fridge while you sleep, and you'll be ready to grab your jar and get moving when the sun comes up.
While overnight jars are simple in essence, culinary-minded individuals have ample opportunity to jazz them up and introduce creative additions and bold flavor profiles. We consulted chefs from across the country to gather their favorite overnight oats recipes, and we're bringing you five of our favorite options.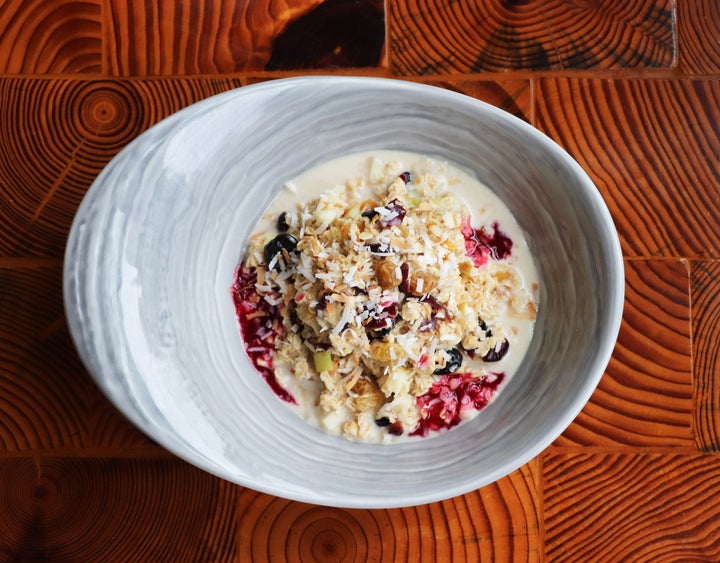 Coconut-Cranberry Muesli
Inspired by muesli, the classic Swiss breakfast cereal made from rolled oats, this overnight oats recipe from Stowe Mountain Lodge executive chef Sean Blomgren of Stowe, Vermont, takes traditional New England flavors like maple, apple and cranberry for a tropical spin by using coconut milk in lieu of regular milk (which also renders the recipe vegan-friendly!).
2 cups rolled oats

1/2 cup dried cranberries

1/2 cup diced green apple

1 tablespoon honey

2 tablespoons maple syrup

2 cups coconut milk

2 tablespoons toasted coconut
1. Mix ingredients together and allow to sit for at least 8 hours in the refrigerator.
2. Add a touch of water to smooth the texture and mix in additional fruit, nuts and seeds if desired.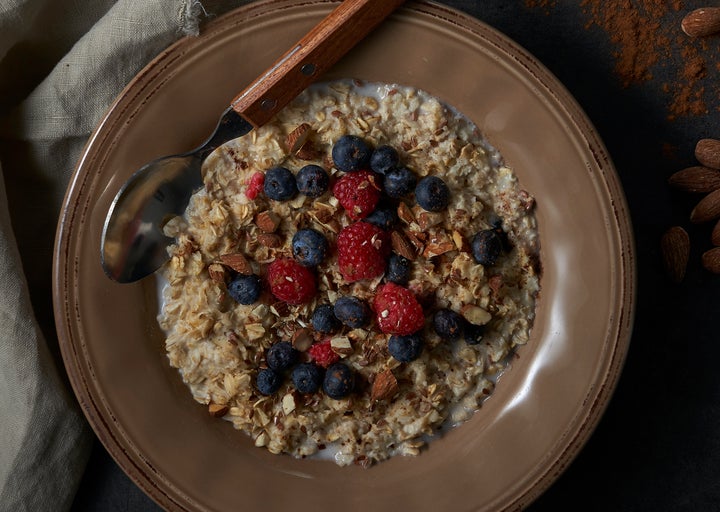 Banana-Nut Overnight Oats
A super-popular flavor profile for breads, muffins and other breakfast baked goods, banana-nut also translates beautifully to the world of overnight oats. Michele Figliuolo, a former food stylist for ABC's "The Chew," adds vanilla and cinnamon to her rendition, along with flaxseeds and chia seeds to boost the nutritional value.
1/2 cup old-fashioned rolled oats

4 dates

2 tablespoons water

1/2 cup cashew, almond or coconut milk

1 teaspoon cinnamon

1 teaspoon vanilla extract

1 teaspoon flaxseeds

1 teaspoon chia seeds

1/2 banana, mashed

Berries of your choice, for garnish

Nuts of your choice, for garnish
1. Add the dates and 2 tablespoons of water to a blender and blend until thoroughly combined in a "date syrup."
2. Add oats, milk, date syrup, cinnamon, vanilla, chia seeds, flaxseeds and banana to a jar or container and stir to combine.
3. Refrigerate for at least 5 hours.
4. Use milk or water to achieve your desired consistency, then add berries and nuts of your choice.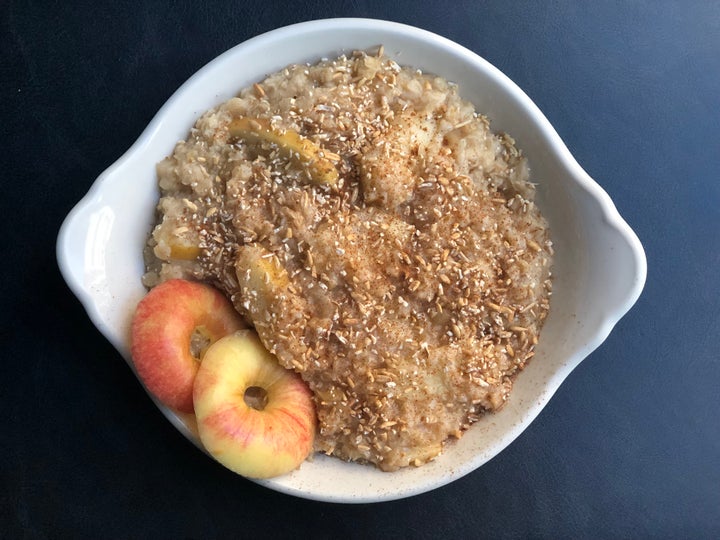 Overnight Oats with Pie
You heard it here: Pie makes for a totally acceptable morning bite, especially when it's added to overnight oats. If you need to clear out your leftover pie inventory post-Thanksgiving, consider this breakfast-dessert hybrid from chef Bryant Wigger of Tavernonna Italian Kitchen in Kansas City, Missouri.
1 cup old-fashioned rolled oats
1 cup almond milk, or milk of choice
1 small to medium slice of leftover apple pie or pumpkin pie
1. Add all ingredients to a sealable container and stir to combine.
2. Refrigerate overnight.
3. Crumble extra pie crust over the top before serving.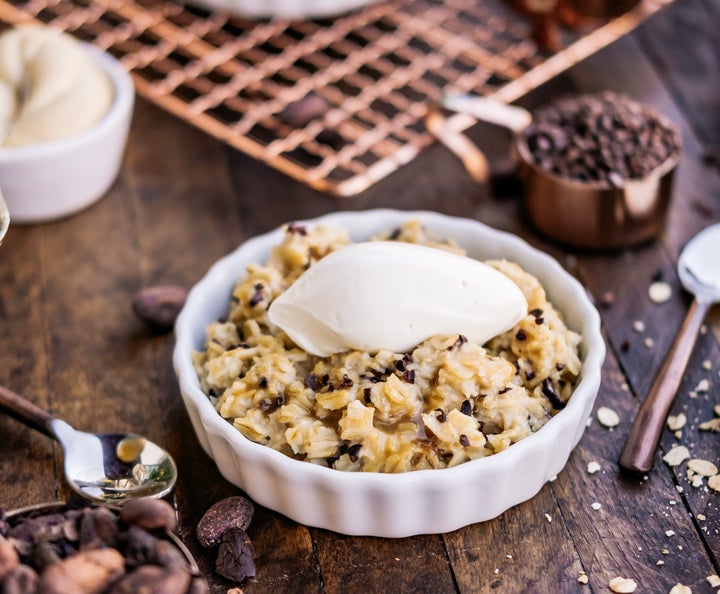 Slightly Fermented Warm Overnight Oats
Fermentation, the chemical breakdown of a material using yeast or bacteria, is a popular process across many cultures and geographic regions. It's the force behind yogurt, kimchi, wine and beer, and sauerkraut, and the process allows foods to release nutrients in a more effective manner. That's certainly the case with this gently fermented overnight oats recipe by head pastry chef Ginger Hahn of Ginger Elizabeth Chocolates in San Francisco and Sacramento. She developed this for her children in the interest of "making nutrients more bioavailable."
1/2 cup rolled or cracked oats

1 cup warm water

2 tablespoons buttermilk, yogurt, whey or kefir

1/2 tablespoon sea salt

1 tablespoon plus 1 teaspoon rapadura (unrefined whole cane sugar)

1 tablespoon cocoa nibs

2 tablespoon crème fraîche
1. Mix together oats, warm water and buttermilk. Cover and place in a warm spot overnight to enable fermentation.
2. The next day, place the soaked oats and sea salt in a medium saucepan and, over medium-high heat, bring to a boil for 1-2 minutes.
3. Stir in 1 tablespoon rapadura and the cocoa nibs.
4. Whip crème fraîche with the remaining 1 teaspoon rapadura.
5. To serve, top the oats with the crème fraîche.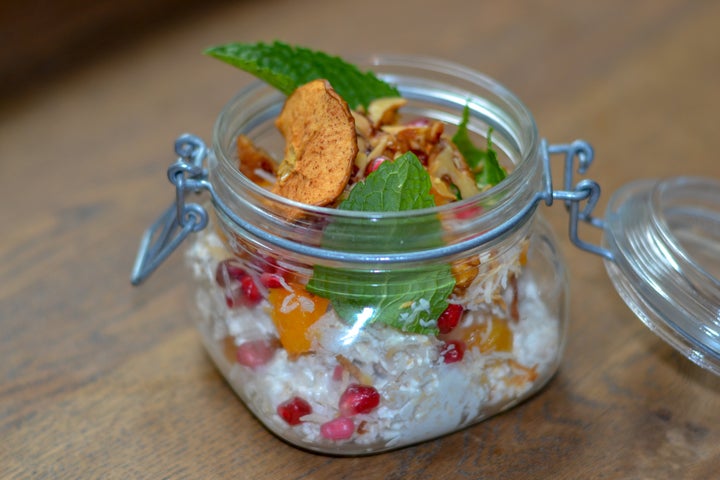 Orange and Pomegranate Overnight Oats
As winter approaches, it becomes trickier to find and utilize seasonal produce. But if you're in a region that grows oranges and pomegranates (or if you have a well-stocked market nearby), your overnight oats can still include a healthy dose of fresh fruit. Chef Ryan Kikkert of The Little Beet Table in Chicago provides ample proof with this quick and flavorful oats recipe.
1/2 cup gluten-free rolled oats

3/4 cup coconut milk

1 pinch powdered ginger

1 pinch cayenne pepper

1 teaspoon honey

3 tablespoons pomegranate seeds

1 orange, zested and cut into segments

2 tablespoons toasted cashews

1 tablespoon toasted shredded coconut

1 sprig fresh mint
1. Combine oats, coconut milk, spices and honey in a mixing bowl. Stir and refrigerate for at least 4 hours.
2. Fill a Mason jar halfway with oats mixture. Add half of the orange slices, pomegranate seeds, cashews and coconut. Add another layer of oats, then the rest of the fruit and nuts.
3. Garnish with fresh mint sprig.
Before You Go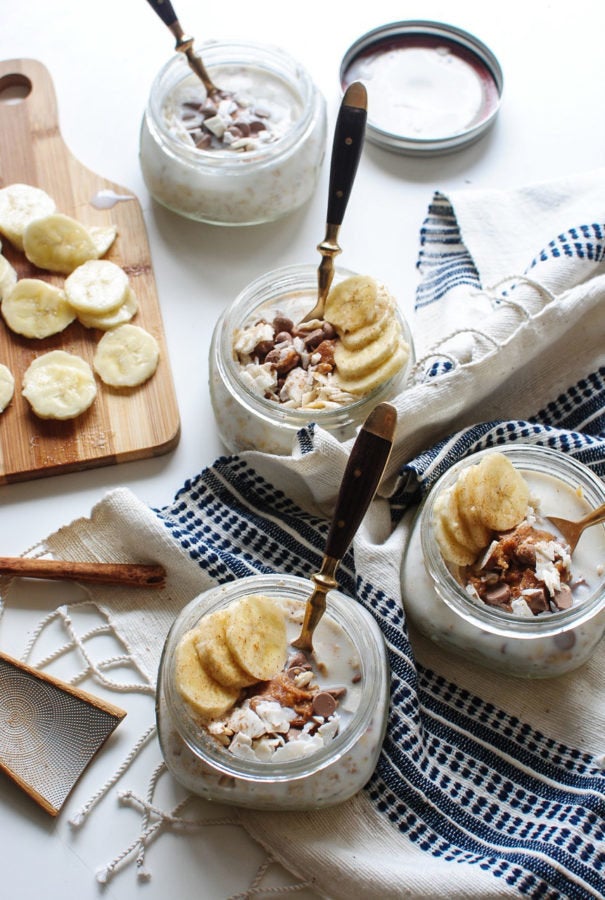 Overnight Oats