The Olsen twins want to scatter their ashes at Bergdorf's. Me? I ask that you scatter my ashes at a French pharmacy—my ultimate "happy place". I've begged friends traveling overseas to bring me home tubes of Biafine, have purchased Labello Lip Balm by the CASE before it became readily available stateside and like everyone who's anyone, I've got a bottle of Bioderma Crealine on my #shelfie.

Though I know I'm not alone in my pharmacie fervor, all the odes to the stars of European pharmacies that I've read over the years have all but forgotten the entire REST of the pharmacy! Well, the Euro stops here. Though I can easily melt my credit card before I even make it past the beauty section of most pharmacies, to do so means missing out on some true health and wellness treasures. So if you think you'll be able to practice moderate spending restraint next time you're in an overseas pharmacie, go explore the wonderful world of personal care and wellness products there. Seems overwhelming? Here are some of my favorite finds.

From France: Osma Styptic Pencil
I love my five blade razor. As I've shared before, it has allowed me to skip a day (or two) of shaving. Usually, I am able to deftly wield this razor without sustaining injury, but when I'm rushing (always), the dreaded cut can sometimes happen. And if you know, then you know: A multi-blade razor cut ain't nothin' to mess with. That's why I always have one of these on hand. This styptic pencil has astringent properties to curb any bleeding from nicks or cuts. I also use it it to reduce irritation from shaving...and even bad insect bites. This styptic pen is also tres chic: It comes in a travel-friendly crystal tube. Oh la la!

From Germany: Melisana Klosterfrau Melissengeist
Full disclosure: I initially only picked up this "health tonic" because the packaging was so beautiful and intriguing. A stunning cornflower blue box with a simple white drawing...of three nuns. Well, OK! Then, when I saw the Santa Maria Novella-esque bottle inside, I didn't really care WHAT it did—I had to have it. Imagine my delight when the shop girl explained (everything was written in German) that Klosterfrau was started by a nun almost 200 years ago as a line of natural (I'd say organic, but in 1826 that's all there was!) health remedies. This health tonic, a mixture of mallow, artichoke, hops, arnica, valerian root, mountain pine, plantain and MUCH more, can be mixed with water and drank or applied topically. What does it do? Well, EVERYTHING. It was designed to improve overall well-being: reduce stress, tension, nervousness, restlessness and anxiety and promote healthy sleep. It also eases discomfort  caused by seasonal changes improves the function of the digestive tract, especially indigestion, bloating and flatulence. It's also a mild way to improve cold/flu symptoms. Applied externally, it supports circulation and is great for sore muscles and muscle tension. This blue box is an absolute must-have for winter cold season.

From India: Monkey Brand Tooth Powder
If "but first, coffee" is your daily battle cry, you need this monkey in your mouth. This organic, ayurvedic tooth powder & whitener, from India's 100 year old Monkey Brand, is composed of essential oils and herbs mixed in finely-ground wood charcoal. This charcoal is not only a breath purifier, but also an organic bleach—a gentle and natural stain-remover. The natural herbs and oils in the powder also promote healthy gums (so important!). Now, one caveat: This stuff is blacker than a stick of Stila Kajal Eye Liner, so know that when you look in the mirror while the powder is on your teeth, it'll look like, well, you're brushing your teeth with charcoal. But once you rinse it out, it's gleam*gleam*gleam.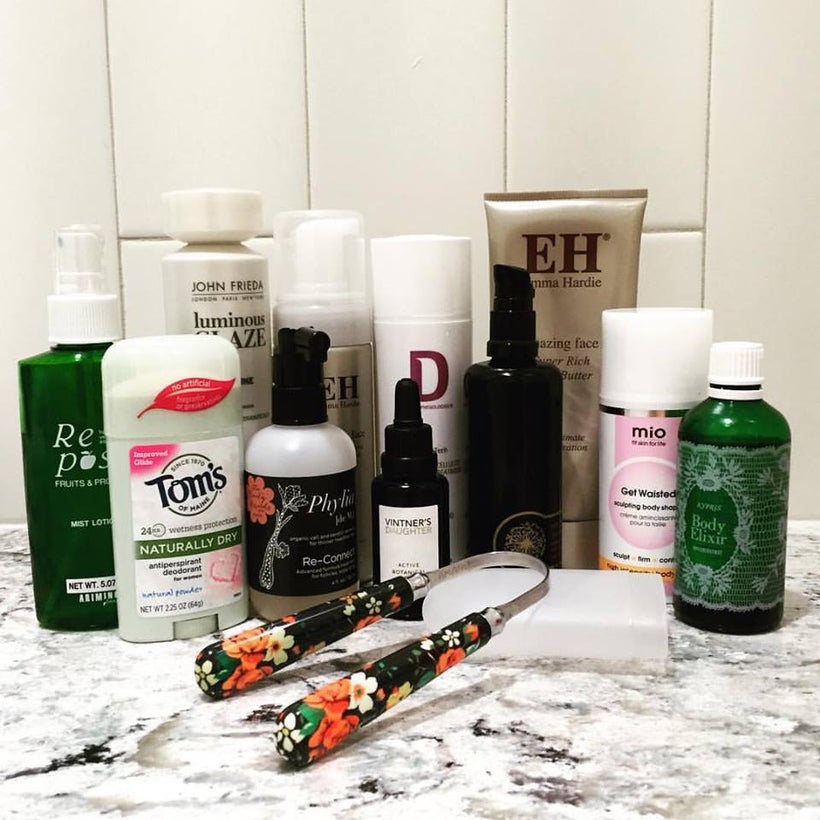 From Italy: Borotalco Powder
Borotalco has been an Italian home staple for decades. As the proud product of a strict Italian grandma, I can tell you firsthand that Italians do not mess around when it comes to cleanliness. This talc looks beautiful in the bathroom, is genius for sprinkling on linens (great for guest room beds & towels) and sops up sweat like no other. The scent is very unisex and does not overpower. If you buy it in the humonga 500 ml size, it comes in a beautiful tin bottle. Be advised, though: I love this product because the super-fine talc is so easy to put on my body...but that also means my bathroom looks like it's been hit by a blizzard if I don't apply it carefully.

From Sweden: Dermatone Coffee Flavored Lip Balm
I love lip balm. I really love lip balm with SPF (sunburned lips are the WORST, amirite?!). But a lip balm with SPF that's COFFEE FLAVORED and enriched with ACTUAL CAFFEINE?!?! I'd marry it if I could. An early morning freezing first run ski essential.

From The UK: Bath House Spanish Fig & Nutmeg Deodorant
Powder Fresh. Shower Fresh. Spring Fresh...we get it, deodorant companies. You want us to know you'll keep our pits "fresh". What if I told you you could smell fresh while not also smelling like a newborn baby? Enter the sophisticated pit products from UK's Bath House. These roll-on deodorants are 98% natural and paraben and aluminium free. Technically a "men's" product, Bath House deodorants are 100% unisex-y. If Spanish Fig & Nutmeg is not your thing, other delicious options include Bergamot Amber.
REAL LIFE. REAL NEWS. REAL VOICES.
Help us tell more of the stories that matter from voices that too often remain unheard.
This post was published on the now-closed HuffPost Contributor platform. Contributors control their own work and posted freely to our site. If you need to flag this entry as abusive,
send us an email
.