Every election, millions of U.S. citizens forgo their right to vote simply because they're living abroad or are an active-duty military member. It remains to be seen whether the heated face-off between presidential nominees Donald Trump and Hillary Clinton will encourage these people to exercise the right this year.
Almost 3.5 million individuals are eligible to vote under the Uniformed and Overseas Citizens Absentee Voting Act, estimates the Federal Voting Assistance Program, the Defense Department organization that assists these voters. Yet states received only about 680,000 absentee ballots from overseas citizens and active-duty military members and their families in the 2012 elections, according to FVAP.
"There are millions and millions of overseas voters who don't take advantage of the franchise," said Susan Dzieduszycka-Suinat, president and CEO of U.S. Vote Foundation, a nonpartisan nonprofit that assists domestic and overseas voters. "They assume it's hard. They assume they have to own property. They don't realize how easy it is now."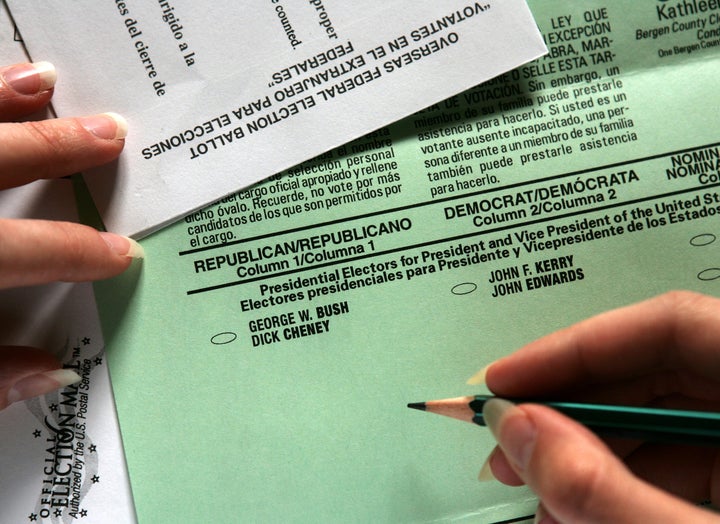 Voters can find assistance and detailed information on the process via FVAP and the Overseas Vote Foundation, an arm of U.S. Vote that focuses on helping citizens abroad and active-duty military members.
Below, we address some basic questions you might have as you attempt to cast your ballot from afar this year.
How do I know whether I'm eligible?
First, you must qualify as a U.S. voter. Are you a citizen and at least 18 years old? You're well on your way.
The overseas absentee voting process applies if you are on active duty with a branch of the military (abroad or away from your voting residence within the U.S.), are the spouse or family member of such a person or are a U.S. citizen living outside the country.
Some U.S. citizens who were born abroad but haven't lived in the country are still eligible to vote once they turn 18. That eligibility is based on the state that your parent or legal guardian — or in some cases, a spouse or civil union partner — last "domiciled" or was registered to vote in.
What if I have never been registered to vote before?
Don't worry! First-time registrants who meet the other requirements are eligible.
What do I need to do?
Register and ask for an absentee ballot by completing the Federal Post Card Application. (You must complete this form each calendar year, even if you haven't moved.) FVAP provides an online assistant to help you complete the form, which you can then download and print. OVF has a similar program that also allows you to save your information so you don't have to re-enter it each year.
Some states allow you to submit the FPCA electronically, which can help ensure you meet deadlines. However, Dzieduszycka-Suinat encourages people to also sign and mail in a hard copy that can be kept on file. Because your signature is the only way your identity can be verified in the overseas voting process, having a hard copy of your request can be useful.
Remember that if you're overseas, you cannot use the domestic absentee ballot form. Instead, you must use the FPCA to request your ballot.
What if I don't have a U.S. mailing address anymore?
No sweat. That's right, you do not have to own property or have a mailing address in the U.S. to be eligible.
Use the address where you lived immediately before leaving the country. Continue using this address even if you no longer own property there or if you aren't sure whether you'll return to the U.S., the FVAP advises. You can even use this information if the address is no longer recognized as a residence.
When is the registration deadline?
Deadlines vary based on the state you are registered through. FVAP recommends submitting your Federal Post Card Application at least 90 days before the election, though the earliest state deadlines are in October. (Some U.S. territories have even earlier deadlines, though.) OVF provides a chart detailing the deadlines in states and territories for registering, requesting a ballot and returning it. FVAP also has a map with the deadlines. (Note that the FPCA serves as both your registration and ballot request.) Remember to allow time for mail delivery if the application must be received by your state's deadline.
You can contact your election official to check if the form was received and accepted.
How do I actually vote?
After you register, a ballot will be sent to you electronically or through the mail, depending on what you request. Dzieduszycka-Suinat said she prefers a mailed ballot if the voting deadline isn't fast approaching because it comes with a return envelope and she doesn't have to worry about printing it out. (Some states format ballots onto paper sizes that aren't common overseas.)
Fill in your selections and mail the ballot back. (Some states also allow ballots to be submitted electronically.) For military voters, the Military Postal Service Agency provides a list of recommended mailing dates from those facilities.
One excuse many people overseas use for not voting is that they believe their ballot won't be counted, Dzieduszycka-Suinat said. However, the law requires all ballots to be counted before the vote is certified ― even if news outlets have already called the election for a particular candidate.
What if my ballot doesn't arrive in time?
FVAP recommends using a Federal Write-In Absentee Ballot if you register but your requested ballot doesn't arrived at least 30 days before the general election. The FVAP and OVF websites have an online FWAB assistant or form you can fill out, print, sign and mail.
If your requested ballot arrives after you have submitted the FWAB, you can also complete and return that ballot. It will replace your FWAB ― your vote won't be counted twice.
In 2012, the most common reason states gave for rejecting a ballot was that it arrived after the deadline, according to the U.S. Election Assistance Commission. Don't let this happen to your vote.
I think I'm eligible, but I'm so confused. Help!
You're in luck. OVF offers a voter help desk staffed with real people to answer your questions. Start here to see frequently asked questions and click to submit a new question. FVAP also offers assistance via its call center and can be reached at 1-800-438-VOTE (8683), vote@fvap.gov or via these toll-free phone numbers from 67 countries.
BEFORE YOU GO
PHOTO GALLERY
What Your Members Of Congress Can Do For You