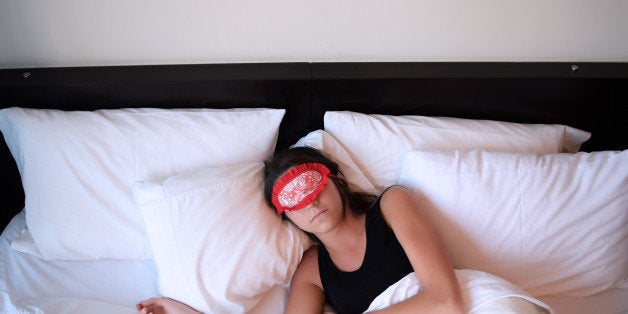 First, let's address what oversleeping means. The gold standard of normal has long been considered eight hours, and it's a good median benchmark. Recent reviews of current research from the experts at the National Sleep Foundation broaden the spectrum a little. They say that somewhere in the range of
is normal and healthy for most adults between 18 and 64 years of age.
Some say closer to seven hours could be even better, such as Arizona State University professor Shawn Youngstedt, who told the
, "The lowest mortality and morbidity is with seven hours." Other researchers have also linked seven hours of rest with things like
and better brain health.
The "right" amount of sleep proves somewhat individual as some people will feel great on seven hours and others may need a little longer. However, in most studies and for most experts, over nine hours is considered an excessive or long amount of sleep for adults.
If you sleep in a little sometimes on the weekends, it's likely no big deal. If you regularly sleep more than nine hours each night or don't feel well-rested on less than that, then it may be worth taking a closer look. It's estimated that about
are naturally long sleepers (typically since childhood), but long sleep can also coincide with health issues and other treatable factors.
Seeking to find the sleep "sweet spot" for optimal health, researchers have been busy recently looking at how different habits connect with physical and mental well-being. Several trends have emerged linking oversleeping with higher rates of mortality and disease as well as things like depression.
Sleep plays an important role in the brain, as the brain clears out waste byproducts, balances neurotransmitters and processes memories at rest. At both short and long extremes, rest may have an effect on mood and mental health.
in the body is tied with increased risk of everything from diabetes to heart disease to Alzheimer's disease. Certain lifestyle factors like smoking, being obese, and prolonged infections can contribute to inflammation, and getting too little or too much sleep may also play a role.
Inflammation in the body is measured by levels of cytokines (also called C-reactive proteins, or CRP).
compared CRP levels and sleep durations in a large group of adults, finding that male and female long sleepers had elevated levels.
While many times it can seem intuitive to rest more when we're in pain, research shows that in some cases too much sleep can exacerbate symptoms.
Back pain can worsen from too little activity or spending too much time in bed. Sleeping in an un-ergonomic position or using an old or unsupportive mattress
. Combined with staying still for a long period of time, these factors mean many people awake with worse back pain especially when spending longer amounts of time in bed.
Oversleeping is also linked with higher rates of headaches. Referred to as a "
," sleeping in may trigger migraines and tension headaches. The cause isn't necessarily sleep itself, though, as some researchers link it with
or increased stress.
A
undergoing in vitro fertilization therapy found that women who slept seven to eight hours had the best chances of conceiving. The moderate sleepers had the highest pregnancy rates (53%) compared to those sleeping six hours or less (46%) and those sleeping nine to eleven hours (43%). Study authors suggest sleep outside the normal range could be affecting hormones and circadian cycles, impairing fertility.
Glucose tolerance refers to the body's ability to process sugars, and impaired glucose tolerance is a associated with insulin resistance and is a risk factor for type 2 diabetes and heart disease.
A
looked at lifestyle habits of 276 people over six years, finding that people with long and short sleep durations were more likely to develop impaired glucose tolerance and diabetes during the timespan compared to normal sleepers (20% versus 7%). A
of diabetes and sleep studies found consistent relationships between increased risks of type 2 diabetes and both short and long sleep as well.
Using the same data as the previous six-year Canadian study,
links between weight gain and sleep. Short and long sleepers both gained more weight than normal sleepers over the six year period (1.98 kg and 1.58 kg), and were more likely to experience a significant weight gain. People sleeping over nine hours were 21% more likely than normal sleepers to become obese during the study.
Other studies generally only support trends of higher body weight for short sleepers, but it could be that associated factors like diabetes risk contribute to weight gain for long sleepers.
Using information from the large National Health and Nutrition Examination Survey (NAHNES), researchers linked both short and long sleep with
and stroke. The study found that people sleeping more than eight hours per night were twice as likely to have
(chest pain caused by reduced blood flow) and 10% more likely to have coronary heart disease.
Analysis of the data from the
, which involved over 71,000 middle-aged women, also found connections between sleep length and heart health. Compared to normal eight hour sleepers, women sleeping nine to 11 hours per night were 38% more likely to have coronary heart disease.
A recent study from
researchers looked at data from around 9700 Europeans over a period of 11 years. People who slept over eight hours were 46% more likely to have had a stroke during the study period after adjusting for comorbid factors. People whose sleep duration had increased during the study had a four times higher risk of stroke than consistent sleepers, suggesting that longer sleep could be an important symptom or warning sign of stroke risk.
older NHANES surveys also found a significant relationship was found between long sleep and stroke risk. People who slept more than eight hours had a 50% higher risk of stroke than people who slept six to eight hours. People who slept over eight hours and who also had daytime drowsiness had a 90% higher stroke risk compared to normal sleepers.
In addition to (and perhaps as a result of) all of the other associated health issues like obesity, heart disease and stroke, longer-than-normal sleeping is also linked with
in general.
In data from the
, researchers sought to see what types of habits of lifestyle factors showed the strongest relationships between long sleep and increased mortality risk. It's suggested that several things might contribute to the higher risk of death, but based on their statistical analysis, the strongest influential factors were identified as depression and low socioeconomic status. In the Nurses' Study data, long sleep was also associated with numerous other conditions from obesity to multiple sclerosis to asthma to depression and antidepressant use.
To further get an idea of why people who sleep longer tend to have higher rates of death in long-term studies, clinical psychologist and sleep specialist Dr. Michael Grandner led a
that identifies a few potential causes:
Looking at the information on the effects of oversleeping, the question of "which came first" is a fairly prominent one for researchers. Does oversleeping itself harm health, or do certain illnesses cause oversleeping?
Whether or not long sleep is the cause or the effect is often not immediately discernible with the data that looks at large groups of people and self-reported habits, however. Some studies indicate getting too much sleep or being overly sedentary may trigger certain problems, while other times the desire for more rest it could a byproduct of co-occurring processes.
Some researchers also highlight that the healthiest people may just need less rest while unhealthy people tend to need more due to known or undiagnosed problems. One way to test the idea of cause and effect for some of the shorter term conditions are controlled studies in which normal sleepers rest for longer hours and changes are observed.
A
on extended sleep finds that when adults sleep longer than normal, they tend to report increased fatigue, irritability and lethargy -- possibly triggering the desire to sleep more and perpetuating a cycle. Also reported are lower mood, slower reaction time, poorer math performance and more fragmented sleep, which has several health implications as well.
of young adults showed that spending an additional two hours in bed each night over three weeks resulted in participants feeling more depressed, reporting more soreness and back pain, and they also showed elevated inflammation markers.
The field of sleep science is still looking into the cause and effect relationship between oversleeping and health, but some habits and steps that promote better quality sleep and a healthy sleep duration are known.
While a small percentage of people naturally sleep longer, for many long sleepers (especially whose sleep needs have changed), there are certain conditions, behaviors and environmental factors that can increase sleep need or affect sleep quality (making you feel less rested on a normal amount).
To get an idea of how to avoid oversleeping and get healthier Zzz's, we reached out a few sleep experts for their words of wisdom. Here's what they had to say:
Based on our experts' advice and current opinions on healthy sleep hygiene practices, here are the key things you can do to promote good sleep habits and ensure your body gets the ideal amount of rest.
Research links eating a balanced diet with a wide variety of nutrients and adequate calories, carbohydrates and fats with normal sleep durations. In
of diet and lifestyle habits using NHANES data, long sleepers tended to eat less variety of foods and less carbohydrates and calories overall. Their diets were also lower than normal sleepers' on a few nutrients:
In the study of NHANES data, long sleepers tended to consume the most alcohol compared to short and normal snoozers.
found that long sleepers were more likely to use alcohol to induce sleep, which could have important implications.
that consuming alcohol within a few hours of bedtime makes sleep more fragment and less restorative.
Engaging in regular activity and
helps promote higher quality sleep and a healthy sleep duration. While studies on exercise and sleep largely focus on reducing insomnia, it can help long sleepers, too. Getting higher quality sleep and
during the night can help you feel more rested and energized during the day.
Our bodies' circadian clocks guide the release of hormones and neurotransmitters that tell us when to be awake and when to sleep. It takes its cues from things like behavior patterns, temperature, environment, and particularly, light.
Exposing yourself to direct sunlight early in the morning
(and Vitamin D production, which may play a role in
). Sip your morning coffee outside, take an early walk, or park further from your office to catch some rays. Working near a
can also be helpful. If you have a difficult schedule or live in a climate where getting morning sunlight isn't possible,
may be beneficial.
Another important way to support your body's internal clock is making your bedtime and wake time
. As explained by Dr. Rosenburg above, irregular hours can throw off rest, making it harder to fall asleep on nights after sleeping in and leading you to be tired the next day.
When bedtimes and wake times are regular, your body's systems learn when it's time to initiate drowsiness and when it's time to be awake.
We all know caffeine close to bed is a sleep no-no, but drinking coffee and tea even in the afternoon
. Being wired at night can ruin your sleep, leaving you tired and prone to oversleeping the next day.
It can take up to 12 hours for the effects to completely dissipate, so try limiting caffeine to the first few hours you're awake or at least before lunchtime.
Pay close attention to your sleep space to make sure lights, sounds and temperatures are optimal for rest.
Related