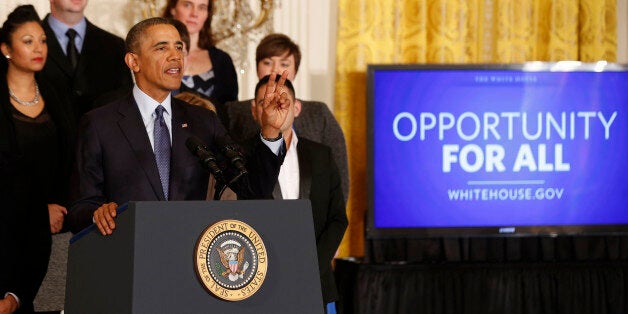 The new mom in Columbus, Ohio who wants to grow her family, yet is falling behind even though she and her husband are working harder than ever.
The single mom in Tucson, Arizona who is an assistant manager at a sandwich shop, who said, "It requires a lot of time away from my son and at times I find it not worth it."
I hear these stories far too often from Americans across the country who feel that they are not being paid fairly for a hard day's work.
Today, more women are entering the workforce than ever before, and currently make up over half of it. As our workforce transforms, our workplace policies should also adapt to reflect the demands our 21st century economy places on our families. That's why President Obama has taken action on paid family and sick leave for working families, supported equal pay for women, called for raising the minimum wage, and for affordable childcare.
This week, he took another step forward: The Obama administration is updating overtime regulations to ensure that millions more workers are paid fairly for their hard work.
Overtime protections are a fundamental part of being a worker in America. If an employer asks you to put in extra hours at work, your employer should pay you extra, too, regardless of whether you receive an hourly wage or a salary. Otherwise, after putting in a hard day's work, you should be able to go home and spend time with your family.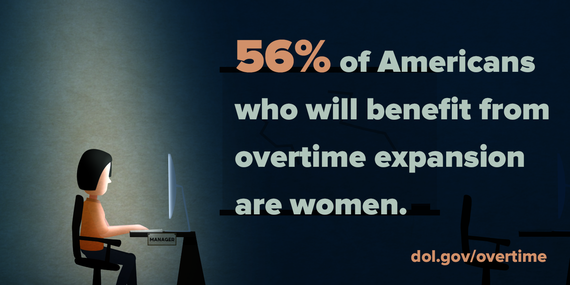 Yet over the past 40 years, overtime protections have eroded as a result of inflation and the efforts of lobbyists to maintain the status quo.
In addition, our workforce is much different than it was four decades ago, and our overtime rules have not been updated to reflect our 21st century workforce.
Today, working moms and dads now have more demands on their time, with all parents working in more than six out of ten households with children.
As of 2011, 40 percent of American households with children had a working mother as the sole or primary breadwinner. And nearly two-thirds of those households are led by single mothers.
There could not be a more critical time to make sure our overtime protections match our changing workforce and empower working women. When we invest in the Americans who account for half of our workforce, we grow and strengthen our economy for everyone.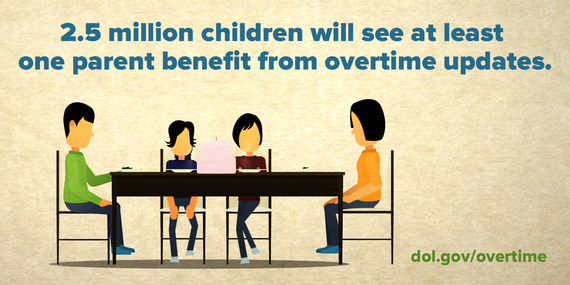 Raising the overtime salary threshold -- which goes into effect December 1 -- will protect a woman's right to a fair workweek and require that most women are paid for every extra hour they work beyond 40 hours in a week. In fact, women make up 56 percent of the millions of workers who will be affected by the update to the overtime rule. That's more money -- an estimated $12 billion over the next 10 years - in the pockets of workers, including working women and families, across the country.
This rule will not only affect working parents, but their families as well -- 2.5 million children will see at least one parent benefit from overtime updates.
Moreover, it will give many women the additional time they need to spend with family and loved ones -- or to pursue other goals or interests that they never before have had the time or means to contemplate before.
This week's announcement is another step in President Obama's effort to grow and strengthen middle class families by raising Americans' wages. He will continue to dedicate himself to this goal for as long as he is president.