 If President Barack Obama goes through with a reported proposal to expand overtime protections, he could end up giving 10 million workers a raise.
Obama will direct the Secretary of Labor as early as Thursday to overhaul the rules governing overtime pay for workers who are considered exempt because their employers define them as an "executive or professional," according to various reports.
The details of the proposal have yet to be released, but if Obama raises the salary threshold for being exempt from overtime pay from its current $455 a week ($23,660 a year) to $970 a week (about $50,000 annually), the move could provide a raise to 10 million workers, a recent analysis from the Economic Policy Institute found.
"It's a joke that you could be paid so little and be considered an executive and exempted from being paid overtime," said Ross Eisenbrey, vice president of EPI, a research organization that advocates for economic fairness.
The chart below from EPI shows how the weekly salary threshold for overtime exemption hasn't kept up with inflation.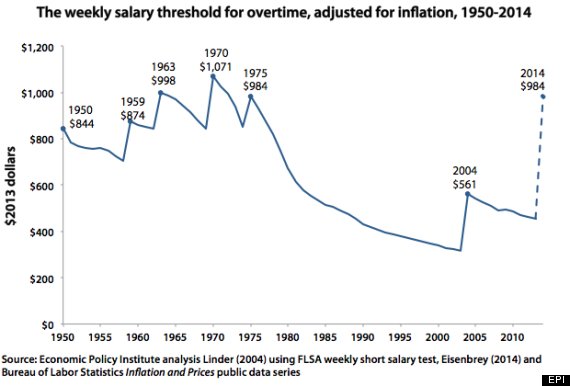 Changing overtime rules is one reform Obama can effect by himself, though his proposal could face opposition from business groups during the required public comment period.
If Obama's revamp meets activists' hopes, it could mean a major life change for a large swath of workers. Under current labor laws, hourly employees are entitled to get paid time and a half for each hour they work beyond the weekly 40-hour threshold. The law makes an exception for salaried workers making more than $23,660 as long as they're defined as a professional, an administrator or an executive.
But many retailers, restaurants and other companies squeeze as much as possible out of low-level workers without paying them overtime by defining them as managers, even though those same employees often do grunt work like stocking shelves, cooking in the back of the kitchen and cleaning up at the end of the day, said Cathy Ruckelshaus, the legal co-director at the National Employment Law Center. To address this, Obama could narrow the definition of a manager, raise the salary threshold or do both.
"Generally the problem is that the so-called white collar exemption has been expanded over time to include lots of surprisingly low-wage workers," Ruckelshaus said. "It sort of is galling for someone who is, say, a fast-food manager to be called a manager even though they may be doing things that a lot of other line employees are doing."
In 2004, then-President George W. Bush revamped overtime laws to expand the definition of an exempt worker to include employees who did very little supervising. He also raised the salary threshold slightly. Democrats and organized labor criticized the changes at the time, accusing Bush of cheating up to 6 million workers out of overtime pay.
"It didn't take 15 minutes for employers to start taking advantage of it," Eisenbrey said.
That problem only got worse during the recession and recovery as workers lost bargaining power. Between 2001 and 2011, the number of lawsuits from workers alleging their employers violated overtime laws surged 400 percent. In many cases, these suits claimed that workers were classified as ineligible for overtime even though they spent the bulk of their time performing menial tasks.
"The workers have started to see their hours increase and the jobs not feel like what are supposed to essentially be white-collar jobs where they have a lot of discretion and control over the decisions they make about their work," Ruckelshaus said.
At the same time these workers are feeling squeezed, companies are reaping record profits. Overtime pay is supposed to be a way of avoiding that dynamic, by incentivizing employers to hire more employees instead of relying on just a few to work long hours, Ruckelshaus said.
"If employers need a lot of work done, they're supposed to hire another person. And especially in economic downturns, that's a good thing because it spreads employment," she said. "The reason why there has been an abuse of this overtime exemption is because people have been trying to get more out of their existing workforce instead of hiring more people."
Calling all HuffPost superfans!
Sign up for membership to become a founding member and help shape HuffPost's next chapter
BEFORE YOU GO
PHOTO GALLERY
Companies Accused Of Withholding Worker Pay