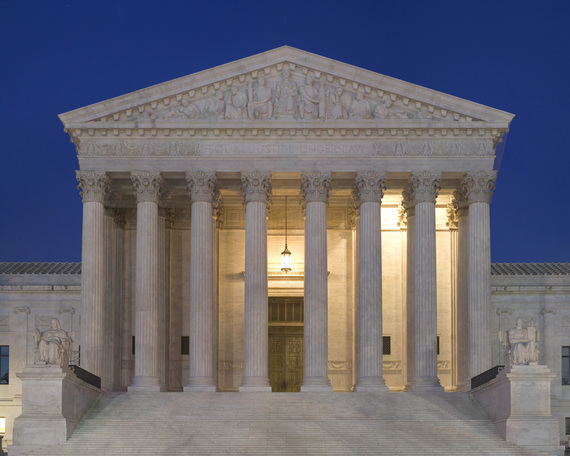 Four years after the Citizens United v. Federal Election Commission Supreme Court ruling -- a ruling that Senator John McCain described as "the worst decision ever" -- we've seen a torrent of big money sweep through our local, state and national elections. In 2012, candidates and groups spent over seven-billion dollars trying to influence the election outcomes. The bulk of the money came from a small group of super-wealthy political contributors. For example, 61 people who gave an average of $4.7 million dollars each, combined matched the total amount of money raised through small dollar donations by both major party presidential candidates. As a result, our government looks less and less like a democracy -- rule by the people -- and more like a plutocracy -- rule by the wealthy.
January 21, 2014 marks the fourth anniversary of the Citizens United ruling and people across the country are taking action. Here are seven ways you can help overturn Citizens United and #GetMoneyOut of politics:
National Lobby day in Washington, DC: National groups such as People for the American Way, US PIRG, Public Campaign and Public Citizen, will hold a lobby day on Capitol Hill on Tuesday January 21st. They will visit key house and senate offices, and will be lobbying in favor of a comprehensive approach to the "money in politics" problem: Particularly, they will be advocating for an amendment to overturn Citizens United and related cases, public financing of campaigns, disclosure laws, shareholder accountability acts and the implementation of SEC Rule [File No. 4-637], which would require all publicly traded corporations to disclose their political spending to shareholders and the public. Interested parties can RSVP to the lobby day by emailing amendment@pfaw.org with the subject line "Lobby Day and/or Lobby Training."
Stamp Money Out of Politics With Student PIRGS: On January 21st, 20 college campuses across the country will organize "stamp stampede centers" on busy thoroughfares to stop thousands of students on their way to class and urge them to legally stamp dollar bills with the message "Stamp Money out of Politics: Amend the Constitution." Stamping money will help student leaders engage their peers in this critical issue and build grassroots support for a constitutional amendment that will void Citizens United. Participating campuses will include New Jersey's Rutgers University, Indiana University, the University of Massachusetts and the University of Oregon. The events will be organized in partnership with Ben Cohen, co-founder of Ben and Jerry's and head stamper at StampStampede.org. You can also create your own stamping event by visiting StampStampede.org and joining tens of thousands of people legally marking messages on their dollars in order to build the movement to get money out of politics.
The New Hampshire Rebellion: On January 11th, citizens led by Harvard Law School Professor and anti-corruption activist Lawrence Lessig, began a march across the state of New Hampshire in protest of our broken political system. Along the way, they will recruit as many New Hampshirites as possible to battle against government corruption, encouraging them to hold presidential candidates accountable by asking each one simple question: How are you going to end the system of corruption in Washington? According to Lessig, "Fifteen years ago, an 88-year-old New Hampshire resident proved that the people can stand up to corporations and special interests. Granny D walked across American for campaign finance reform before Citizens United. It's time to finish what she started." Whether you're in New Hampshire or anywhere across the country, you can stand in solidarity with the rebellion by adding your name to the petition on their website.
House Parties in Maine: Maine Citizens for Clean Election supporters are organizing house parties across the state at 7:30 PM for a live teach-in about the increased role money is playing in our elections. With over 5 events across the state, over 75 Maine citizens will be learning about the upcoming ballot initiative and national actions around public financing of elections, disclosure of dark money, and a response to the upcoming McCutcheon decision. If people are interested in being involved, they can sign up by emailing volunteer@mainecleanelections.org
Lobby day in Iowa and Wisconsin: Public Citizen and People for the American Way is working with national allies and local coalitions in lobby days in Des Moines, Iowa and Madison, Wisconsin, where activists are calling on their lawmakers to pass resolutions calling for a constitutional amendment to overturn Citizens United and related case. To RSVP to these lobby days, please email amendment@pfaw.org with the subject line "Lobby Iowa" or "Lobby Wisconsin."
Arizona Advocacy: On January 23, join Arizona Advocacy Network for a conversation on Citizens United and the state of money in politics in Arizona. Learn about the state's history of protecting voters against corporate personhood alongside Representative Debbie McCune Davis,The League of Women Voters and Arizona Advocacy Network. Learn more here.
'Too Big to Fail' walking tour in New York City: On January 18, there will be a press conference, rally, walking tour of the 'Too Big to Fail' banks that have an inordinate amount of sway and influence over Congress. The day will conclude with a speak-out and assembly about the next steps. Find out more here.
Students United for Democracy: College students across the country will focus on passing student body resolutions calling for a constitutional amendment overturning Citizen United in Spring of 2014, the campaign is kicking off in late January with a conference call headlined by Senator Bernie Sanders. To learn more about this campaign, and how your campus can join the effort, students can email amendment@pfaw.org or visit their website.
Related
Popular in the Community