When historians study the summer of 2011, they might look at little things like the pesky debt ceiling debate or the Casey Anthony verdict.
However, the rest of us may remember it as a period when silly Internet viral trends like planking, coning and, now, owling were all the rage.
For those not in the know, "owling" is a brand new activity where people pose for pictures by crouching like an owl in unusual places, such as on top of a car, fountain or a staircase.
The fad, which is believed to be less than two days old, replaces "coning," where people defy the laws of propriety (and common sense) by grabbing a soft-serve ice cream cone by the ice cream and eating it upside down, cone first, according to TruTV.com.
If you were left unawares by the fast-paced world of Internet prankdom, coning was June's answer to "planking." Back in May, the world swarmed around planking, which is the act of people laying face down and stiff as a board in funny locations to have their picture taken, as shown in this compilation by the website Oddee.com.
Right now, if you planked or coned these days, you'd be laughed off the blogosphere, but, if you hurry, you might be able to jump on the owling bandwagon before this weekend.
The birth of owling came in the form of a photo taken of Allison Smith, 24, a journalism major at George Mason University in Washington, D.C.
"My friend and I were just messing around and wanted to start something besides planking, which we did all over the place," she told HuffPost Weird News in an email interview. "The picture was created by a friend and I, though other people claim it's been around, I haven't seen it before."
Smith used the shot as a default profile pic on Facebook with the caption, "Owling?" and her friend, Dan Joseph, made it into a photo that is credited with inspiring the movement.
She is as surprised as anyone that she has inspired a movement of sorts.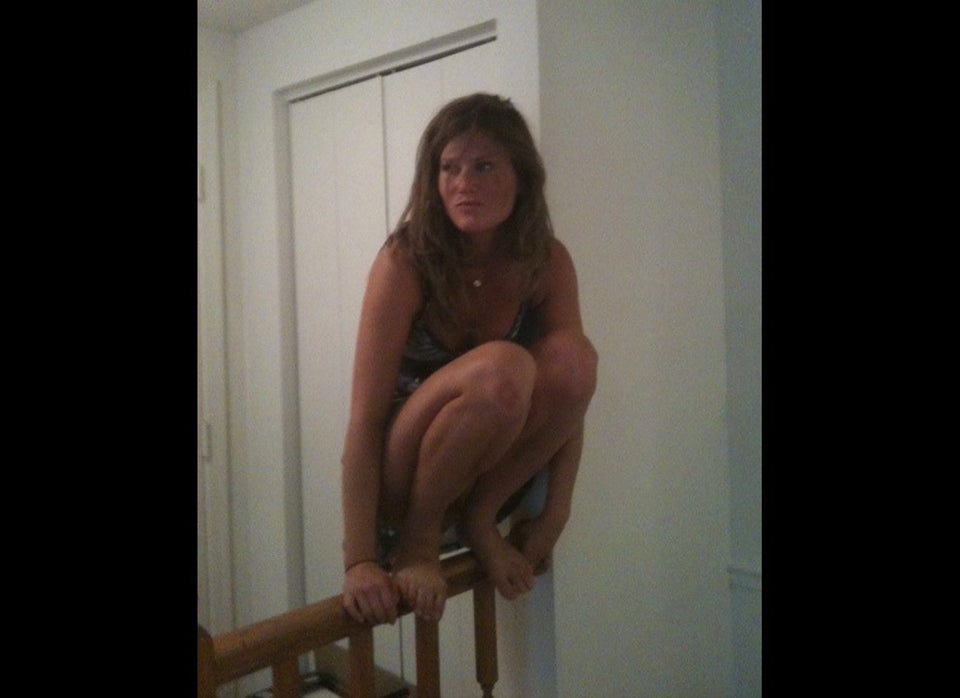 "I'm shocked by the reaction," she said. "It was just a silly Facebook default of mine."

However, Chad Jones, a 13-year-old in Washington, D.C., is taking credit for creating this new sport in a YouTube video he posted on July 11.
"I used to plank, and coning is still fun -- not gonna lie -- but I have founded something better than planking, better than coning, better than anything you do where you sit and freak people out," Jones said in the video. "I know [owling] looks stupid, but it's way funnier than planking, 'cause [with that], all you're doing is laying down. But if you're sitting there owling, everyone's going to look at you, like, 'What the freak is this kid doing?'"
Jones,an aspiring rapper, says he created owling a week ago after seeing a joke on someone's profile.
"I decided this is good," he told HuffPost Weird News. "I started the movement and people crowned me the king and I started writing songs about it. Eventually, people started following after my lead and took an interest in it."
Now that Jones has found out that Smith is the woman in the original photo, he hopes to start discussions with her about making an "official owling movement."
Still, early owlers like Scott Perrin, a radio personality for Planet 1051 in Lafayette, La., who uses the on-air name of "Tard," don't care about who deserves the credit.
He's too busy owling while simultaneously trying to create a replacement.
"When something like planking breaks big, the first thought is to find something to counteract it," Perrin told HuffPost Weird News. "Plus, I think owls are kind of cool."
But unlike planking, which simply required practitioners to lie stiff as a board, Perrin warns that owling presents some health risks because of the deep kneebends required for the proper position.
"You need to drink plenty of water and stretch beforehand," he said.
So far, Perrin and his listeners have gotten into the spirit by owling on top of cars, jeeps and even plankers.
Still, he admits he's trying to jumpstart a new fad of his own.
"I don't know if the corpse has been taken, but we're thinking of 'possuming,' but I'm not sure how you'd do that," he admitted. "Or we could do something around the nutria rat. Have you seen those? They are giant rats with big teeth."
Perrin is enjoying owling for now, but he promises that he sees the big picture to all these Internet pranks that go viral.
"This is similar to the early 1960s when there was a different dance each week and if you didn't know it, you were uncool," he said. "Owling is the new 'Mashed Potato.'"
Support HuffPost
The Stakes Have Never Been Higher
Related
Popular in the Community