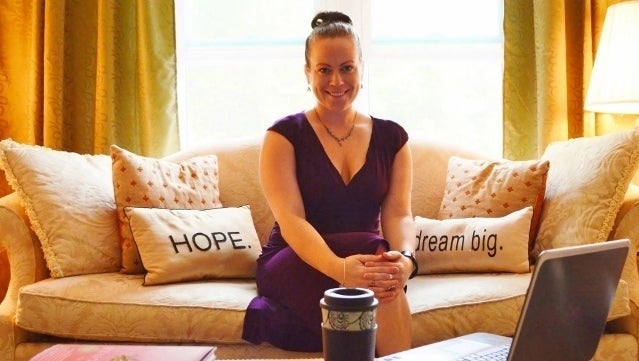 Are you ready for 2017? Did you hit your goals and take your life, business, and relationships to the next level in 2016?
For me, 2016 has been an incredible year... and there's still 1 month left.
Sure, there have been challenges - like being evacuated in a wildfire, being completely off of the grid for 2+ months (which I now wish that I had appreciated more at the time - instead of running at max stress), a lawsuit against an unscrupulous coach, and just adjusting to life in general in a state 2,000 miles away from everyone that I've known for most of my life.
But there were also big wins - like buying my dream house with a guy who I love completely, earning the right to have clients who I adore and adore me too, building a business that is fully aligned to my heart, bringing home the Lily Dog, and having friends who still keep in touch... in addition to the new friends that I've made in CO.
I continue to be grateful, and I seek to be better. Digging in to my upper limits, my money mindset, and re-committing to my trust with the universe. I expect 2017 to be monumental - which is crazy b/c my upper limits would have me believe that 2016 cannot be beat.
Over the past few months, I have been moving my business more and more virtual / online. I have been staying in my cozy place in the mountains with my adorable puppy - meanwhile, helping women across the country to thrive. In 2017, this is going to be even more strategic, amazing, and yes - as I always aim for: even more valuable to those in my tribe.
How can I help you? What would you most like to learn about going after your dreams, crushing your limiting beliefs, and living a life you love?
Here's my biggest piece of advice of where to get started: YOURSELF. Any limitations, any lack of results, and any lack of fulfillment all rests on YOU.
Ouch, right? No one wants to hear or admit to that...
If you are responsible (through visioning - creating a vision board or setting intentions for example) for the good in your life... then guess what... you are equally responsible for the not so good in your life. Can you admit to that? Are you read to move through it, take responsibility and get to the next level?
Your happiness is the most valuable asset that you have. Let's schedule a time to talk. Email me: megan@meganmcavoy.com if you want your 2017 to be more amazing than 2016. It is possible for you.
REAL LIFE. REAL NEWS. REAL VOICES.
Help us tell more of the stories that matter from voices that too often remain unheard.
This post was published on the now-closed HuffPost Contributor platform. Contributors control their own work and posted freely to our site. If you need to flag this entry as abusive,
send us an email
.