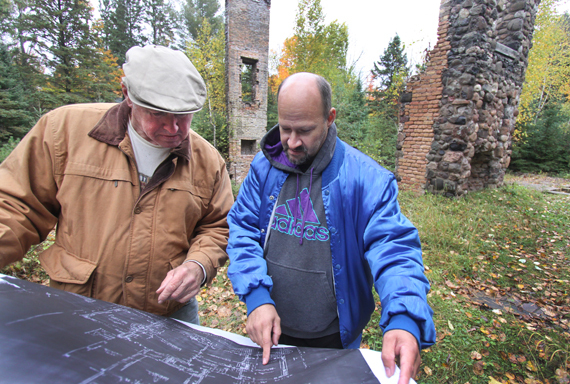 Co-owner Harold Tracy, 67, of Cataract WI (left) and Craig Nehring, 44, of Clintonville and founder of Fox Valley Ghost Hunters look over blue prints as they stand on the ruins of Summerwind Mansion, Wisconsin's most famous haunted house. Tracy, Nehring and sevral others visited the place Saturday afternoon October 4th 2014 to clean up the property and host an overnight camp out to help raise funds for the rebuild of the mansion.
Home owners Harold and Babs Tracy of Cataract WI have longed dreamed of realizing a 28-year-old anniversary gift of rebuilding and living in a once beautiful historic home that sits on the shores of West Bay Lake in Land O Lakes WI. Due to a fire caused by lighting left the house in ruins shortly after they took possession, the lack of funds and other obligations have kept that dream a difficult one to achieve. Also the house they own and love is steeped in legend, mystery and paranormal activity. Known as Summerwind Mansion, the ruins are well known throughout the country with paranormal investigators, enthusiasts and thrill seekers. One such paranormal group form Fox Valley near Appleton WI is looking to help make that dream a reality for the owners.
Originally build by Robert Lamont the US Secretary of Commerce who served under the Herbert Hoover administration in 1916, the mansion served as an escape during the summer months from the pressures of political life in Washington D.C. Lamont and his family lived in the house for fifteen years and abandoned it in the 1930s. The house was later purchased by the Keefer family in the 40s then by Arnold and Ginger Hinshaw in the 70s, and then Ginger's father, Raymond Von Bober purchased the house from her. All four owners reported strange and ghostly activity during the time they lived in the house. Trespassers to the property during the periods when it was left abandoned also experienced strange and bizarre activity.
The current owners Harold and Babs Tracy have their own share of strange stories to tell but despite the mansion's sorted past they still feel a connection and a true love for the place. That feeling are evident when they talk about the many stories that have happened there throughout the years, their eyes light up and twinkle with joy recalling the many visits to the place. "We enjoy coming up here and spending time with family, the kids just loved being here" Said Babs.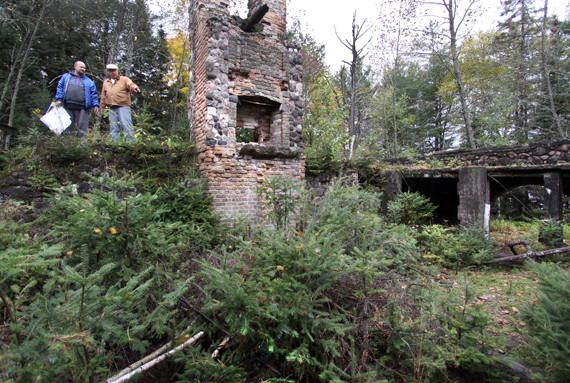 Craig Nehring, 44, of Clintonville and founder of Fox Valley Ghost Hunters, (left) and Co-owner Harold Tracy, 67, of Cataract WI (left) stand near on the stone fire places as they look over the ruins of Summerwind Mansion.
Fox Valley Ghost Hunter and founder Craig Nehring, 44, of Clintionville has been investigating the Summerwind ruin for many years and also has experienced many bizarre activity during his visits. From voices captured on recordings when no one was speaking to very uneasy feelings, Nehring has felt closeness with the ruin and has developed a friendship with the Tracys. "I'm close to the owners and it's a beautiful property, we hate to see they place vandalized" Said Nehring. He also added "It would be great to see the place back to the way it was". Nehring and his fellow investigators have begun to help raise funds for the reconstruction. Through, donations, overnight camp outs at the property and media exposure they hope to raise as much as $500,000 for a near as possible but modern update of a Summerwind mansion replica. Once the funding is achieved and construction complete Nehring and the owners hope to turn the mansion into a Bed and Breakfast. "I have many people willing to donate materials and to help with pounding nails we just need to help raise funds to help get everything going" said Nehring.
There is so much work to be done before construction can start, from rebuilding the foundation to clearing out accumulated junk along the property. Nehring and the owners don't have a set time when they want the Summerwind replica to be complete but hope they see their dream become a reality as soon as possible.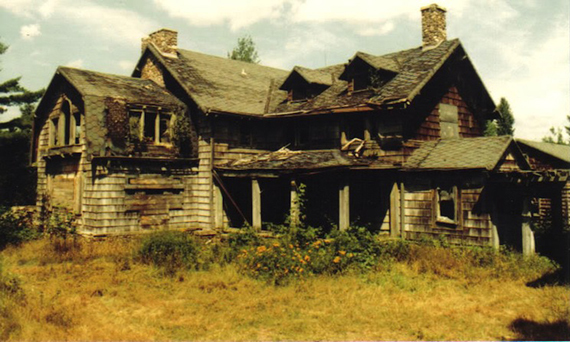 Calling all HuffPost superfans!
Sign up for membership to become a founding member and help shape HuffPost's next chapter