Healthcare is changing. Again. But this time, it's changing for the good. With the rise of digital tools we are more than ever in control of our own health. The Quantified Self, as some may neatly describe it: incorporating technology into aspects of a person's daily life in terms of inputs (like food), states (like mood) and performance (like health). In recent years we all knew that mobile technology would have a lot of impact on healthcare, but the lack of specific evidence seems to hold back both health professionals and 'patients' in massively adopting the tools available. A recent study on the deadliest form of skin cancer, melanoma, shows that we need to put these tools in everyone's hands.
About Melanoma
Melanoma is a type of skin cancer that forms in the cells responsible for skin pigmentation, known as melanocytes. Although it is less common than basal or squamous cell skin cancers, it is much more aggressive. In the United States, melanoma accounts for more than 9,500 of the 13,000 deaths caused by skin cancer each year. What makes this type of skin cancer so dangerous, is that it spreads to other organs when it develops to later stages. When detected early, the melanoma does not get the chance to do this. That's why the detection of melanoma skin cancer is incredibly important - especially when it occurs in an early stage.
More Than Half of Melanomas Are Self-Detected
José Antonio Avilés-Izquierdo, Ph.D., from Hospital General Universitario Gregorio Marañón in Madrid, and colleagues examined how melanoma was detected in a big study involving 783 worldwide patients diagnosed with the disease between 1996 and 2012. The researchers found that 53 percent of melanomas were self-detected. Bleeding, itching/pain, and/or nodule enlargement were the reasons for consulting in 32 percent of these patients. Eighty percent of melanomas noticed by dermatologists were incidental findings.
Self-Detected Melanomas Were in Later Stage
The study also showed that self-detected melanomas were thicker and more often ulcerated, developed metastases more frequently, and correlated with more melanoma-related deaths. So if self detection is correlated with more serious cases of this type of skin cancer, it makes sense to give patients/consumers the right tools to make this detection easier and more precise.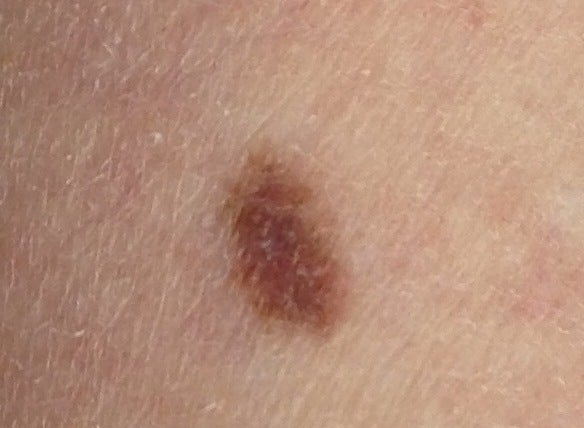 The Adoption Of Digital Tools
As the aging population and prevalence of chronic disease in America grows, internet-connected health devices and applications can help support primary and specialty healthcare. So why is that not happening faster? Thirty-three percent of U.S. consumers are using mobile health apps, compared with just 16% in 2014, according to a recent report by Accenture. So the adoption is growing. But as far as diseases like skin cancer or for example a quit smoking app are concerned, 33% is not good enough. Next to saving lives, it shows in the same report that using digital health tools in primary care could save the US healthcare system $10 billion annually.
Leading melanoma detection apps like SkinVision (full disclosure: I'm part of that team) will not only make people aware of possible risks they are unknowingly taking, but will also give them the tools to easily self-detect spots they worry about. It's a public secret that people don't like to go to their doctor. Especially when it's about a spot on their skin that might be in a place on their body that is not directly visible. Putting technology into the hands of those people will increase the number of self-detected melanomas even further - and will eventually help to detect the disease in an earlier stage, making treatment possible.
REAL LIFE. REAL NEWS. REAL VOICES.
Help us tell more of the stories that matter from voices that too often remain unheard.
This post was published on the now-closed HuffPost Contributor platform. Contributors control their own work and posted freely to our site. If you need to flag this entry as abusive,
send us an email
.