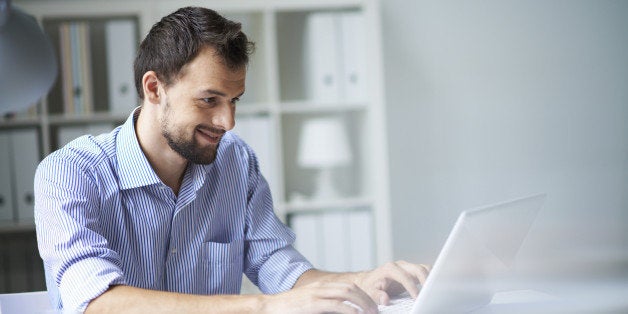 Was it on Tinder? OKCupid? Match? Droves of millennials across the world are meeting their significant others online -- yet some still don't feel comfortable admitting to it.
Before I go on, I'll practice what I preach: I met my girlfriend on OKCupid about a year and a half ago. So, I'm right there with you. When I first explained how we met to friends and family, I felt as if I needed to justify it. I'd say something like, "Well, my roommate tried it out and it seemed to work for him." That was then. Now, I simply say "online" or "OKCupid."
Recently, I was back home for a weekend, where I visited old college friends and introduced my OKCupid girlfriend to my extended family. Being around a group of people who didn't see meeting online as the "norm," as I now do, almost made me revert back to giving reasons as to why I joined. Though when we both admitted to how we met, other couples in the group began owning up to meeting online, too.
I realized that, though it's common in my current group of friends, it doesn't mean that the stigma of online dating has completely washed away. Not only that, but there are now certain stigmas associated with each site you could potentially meet Mrs. or Mr. Right on.
When I mentioned I met my girlfriend on OKCupid, the reaction was something like, "Oh, that's the free site so it's not that serious -- but enough so that people want a relationship out of it." Then, I referenced some of my friends who've met through Tinder. After the shock of hearing about a lasting relationship as a result of a Tinder match, the reaction was, "Oh, that's usually just the casual hook-up site."
Seeing the lukewarm reaction some people have when you tell them you met your significant other online, I can see why others feel apprehensive to admit to it. At the same token, in my opinion, it's akin to having a social media account in our generation. I mean it. I was at a wedding recently, where the father of the bride said it best in his speech: "These two didn't meet online like everyone else. They did it the old fashioned way -- at a bar."
Aside from the joke being a pretty funny reference to how the couple met, it also rang pretty true to me. I mean, think about it. Despite being out of college for longer than I care to admit, I know current co-eds who have various dating apps or online profiles. I really can't imagine online dating in college. If someone were to ask me back when I was frequenting bars equipped with the cheapest drinks of my life, I'd say online dating was for people who were desperate to find a wife or husband. Online dating is truly becoming the "norm."
Like anything, though, it isn't going to be the number of Tinder profiles that's going to completely wipe away the stigma -- but, instead, time. The thing is: If everyone would just start owning up and embrace it, the time might be sooner than you'd think.
Related