Up to six million souls have lost their lives in the Democratic Republic of Congo since 1998. 800,000 people have been displaced from their homes in eastern Congo since this January, when The United Nations mission in Congo (MONUC) ostensibly partnered with Congolese (FARDC) and Rwandan military forces to drive out Ugandan, rebel Rwandan forces (FDLR), and other militias from the Kivu Provinces. The aid group OXFAM did something no one else has done and took a survey of the civilians in eastern Congo and asked them how this campaign was affecting them. The May survey looked at 764 people in 27 communities, where over the past year one million have fled their homes and are now living in IDP camps or crowded into homes with relatives and friends. 85 percent of the persons interviewed in the OXFAM survey reported that the situation had gotten worse.
President Obama squandered a perfect opportunity to speak about Congo during his recent visit to Ghana. Instead, the President made a only a veiled reference to the conflict, mentioning Kinshasa (Congo) and Kigali (Rwanda) in the same breath.
The people of Africa are ready to claim that future. And in my country, African Americans -- including so many recent immigrants -- have thrived in every sector of society. We've done so despite a difficult past, and we've drawn strength from our African heritage. With strong institutions and a strong will, I know that Africans can live their dreams in Nairobi and Lagos, Kigali, Kinshasa, Harare, and right here in Accra. (Applause.)
The people of eastern Congo are lucky if they can sleep through the night, and for Obama to gloss over this conflict and talk about the Congolese "living their dreams," is puzzling if not a downright obfuscation.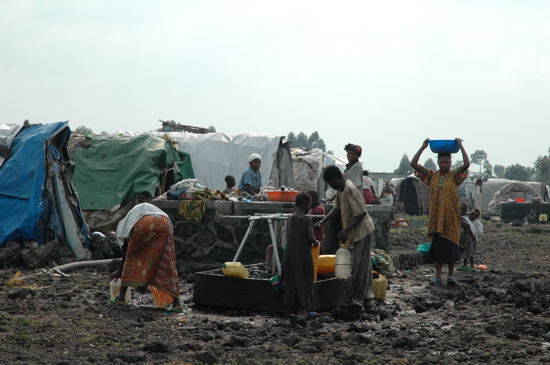 IDP Camp near Goma in January 2009 Copyright © G. Nienaber
The OXFAM survey has stunning testimony, and it gives a voice to the voiceless. This testimony is vital. It comes from those most affected by the "endless conflict" reported by Alan Doss in the Washington Times. "Endless conflict" is a term that does not begin to put a human face on what is happening in DRC. If "endless conflict" is enough to explain how a woman feels having her vagina filled with super glue by rogue military forces, well, let's just say it's an "endless conflict" and leave it at that. We heard the rape testimony in January and reported it here. Doss, the United Nations' special representative in the Democratic Republic of the Congo, wrote a commentary in which he offers a peculiar point of view, one that is at odds with civilian testimony. Perhaps we can offer a pulpit and a microphone for the Congolese here by using the OXFAM testimonies as a counterpoint.
MONUC's joint military-civilian teams work with communities in the highest-risk areas of the Kivus to enable our military commanders to direct their forces to prevent, and not just react to, violence. These teams also work with traditional chiefs, community groups and nongovernmental organizations to promote reconciliation and to resolve grievances that can lead to violence, which has a long history in the Kivus and is not solely related to the presence of the FDLR. More of these teams are needed where they count most -- on the ground in the Kivus' rural areas.
But, the civilian population feels that MONUC has been totally negligent, standing by while rapes, pillaging and general mayhem continues unabated. Consider this testimony from a villager, provided by OXFAM:
"We are in the middle of preparing a letter asking MONUC to leave this town. We are sick of hosting these people who take leisurely walks around our neighborhood while, before their eyes, the FARDC steals goats from people, pillages and harvests from the fields of civilians. How can they hold up their mandate of civilian protection when they let the FARDC position themselves on the paths that lead directly to the villagers' fields? The military of the FARDC and those of MONUC know very well that the FDLR have retaken their former positions in several areas. But they proclaim in a loud voice that peace has returned to Lubero and that the joint Congolese-Rwandan operation was a success."
Alan Doss comments on the needs for reinforcements.
The Security Council mandated MONUC to protect civilians. We are doing so every day across the Kivus, often in very remote areas. But we are thin on the ground and the reinforcements authorized by the Security Council last year are urgently needed so we can extend our protection network.
Here is what a man, a farmer, near the town of Lubero has to say about realities on the ground. He asks, "who will save us?"
Those who should be keeping us safe think that we are the rebel group Democratic Forces for the Liberation of Rwanda (FDLR) and rob us of the little we have left. Who will save us?

For the last six months, people in this part of Lubero territory have lived in fear and worry. The fighting between the rebels from the National Congress of the Defense of the People (CNDP) and the government army (FARDC) at the end of 2008 caused killing and pillaging as well as massive displacement. This situation has only gotten worse. This joint force took its target to be the civilian population. It considers us to be FDLR and has burned entire villages in some areas.

The situation has not changed; our town is packed with even more displaced people, some of whom live in host families and others who live without any support. They fear for their lives if they were to return. The FDLR are in hiding and have re-occupied their original positions. They are becoming more and more aggressive and have killed several civilians and robbed passenger vehicles on one of the main roads here.

People are no longer able to go to their fields to farm because they are besieged by mixed FARDC military (FARDC/CNDP/Mai Mai). Displaced children are not going to school. The infrastructure just doesn't allow it - the school year is totally lost for them.

If you can do something, please make this mixed FARDC brigade leave our town. These military make life so difficult. They have burned private vehicles and have raped women, even minors. The irregular patrols of the United Nations mission to Congo (MONUC) unfortunately have no impact on the situation.

The situation before the joint operation was different. This is worse.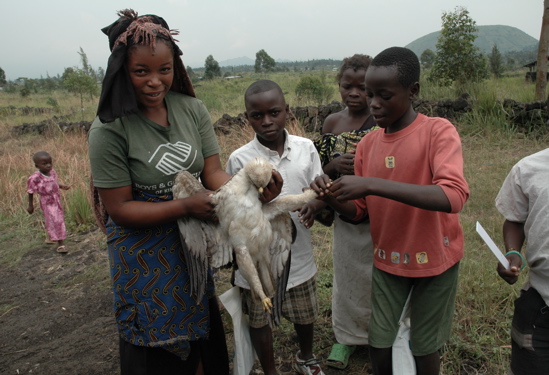 Children outside of camp near Goma catching "dinner" in January 2009 Copyright © G. Nienaber
Operation "Umoja Wetu" was supposed to disarm the FDLR Rwandan Hutu rebel remnants of the 1994 genocide, but proved instead to be a spectacular failure when Rwanda abandoned the exercise prematurely. Wanted war criminal Bosco Ntaganda is now a general in the Congolese army and involved in military operations in eastern Congo. "To allow these troops to be led by commanders like Bosco Ntaganda, with a known track record of horrific abuse, creates a climate in which atrocities flourish," Ken Roth of Human Rights Watch said. Rwanda engaged in a secret agreement with the Congolese president Joseph Kabila to depose CNDP (National Congress for the Defense of the People) rebel General Laurent Nkunda and install Ntaganda in January. Why? For approximately four years Nkunda had erected a wall of protection for ethnic minorities and had also made significant military gains in territory and weapon seizures from the FARDC. Kabila was rapidly losing territory and support and turned to Rwanda to neutralize Nkunda. Rwanda was happy to oblige, since the rebel Tutsi leader had become too popular and too independent. The results of the arrest of Nkunda and the failure of "Umoja Wetu" have been cataclysmic.
There is no doubt that the war between Nkunda and the Congolese army had its own tragic consequences, but it is also clear that the situation has deteriorated catastrophically since Nkunda's removal.
Humanitarian organizations are struggling to find words equal to their anger over what they see in the Democratic Republic of the Congo (DRC) today. They condemn reprisals on undefended communities following operations by Congo's national army against the FDLR. They point as well to the crimes by elements of the army. Some well-meaning observers urge the United Nations to withdraw from all joint operations against the FDLR until the government puts its military "house" in order.

But such a move would not end the brutality and might well perpetuate it. Time and time again we have seen warlords and armed groups re-emerge and flourish when they sense hesitation and vulnerability.
What follows is testimony from a woman aid worker, a resident in a town in Lubero, speaking about MONUC and the aborted operation "Umoja Wetu."
They have swatted the hornets' nest, and now that the hornets are stinging us, they are no longer there to help us.

What good did it do to provoke the FDLR if one was not able to finish them off once and for all? It has only made them more aggressive. Now, these criminals have started to kill and rape women, to mistreat the population, to steal their cows like they just did this week, stealing 37 cows in one town, to ambush private vehicles and pillage them systematically.

These military based in our town continue to steal from the population. The MONUC troops who are based around here don't make themselves visible with the local and displaced population. We are not secure.
Here is Alan Doss' take on operation "Umoja Wetu."
Late last year, the presidents of the Congo and Rwanda took courageous decisions to end the CNDP (National Congress for the Defense of the People) rebellion and initiate determined action to deal with FDLR. Vigorous intervention against the FDLR both in the Congo and abroad, backed by credible reform in the national security forces, will ensure that this breakthrough, long advocated by the international community, is not squandered. The people of eastern Congo deserve a future without fear.
A farmer and member of a farmer's association in Lubero comments on his personal sense of abandonment.
And the hundreds of thousands of displaced people who are along the length of the main road here, who are the direct consequence of these operations, do MONUC and the FARDC simply want to erase them from their memory?

The burning of houses, the fire at a radio station, and the burning of six civilian trucks in one place, as well as multiple killings of civilians - are these a sign of the pacification boasted of by the FARDC? These poor host communities and displaced people in South Lubero are abandoned, without assistance. They are placed between several fires, robbed and raped at the whim of the FARDC and the FDLR.

People are disillusioned. They have the right to assistance and security. Make the mixed brigade here go away. We don't trust them anymore. They are making us less secure.
Much credit should go to OXFAM and Human Rights Watch for their unflinching attempts to stand by the truth in eastern Congo. The people of Congo have had no opportunity to control their destiny. The concept of hope for a better future does not exist in the context of this descent into hell on earth.
As far as the America is concerned, the media has lost its moral compass with respect to the Congolese and cannot afford to "erase them from their memory." Consider this post an attempt to provide a bully pulpit for the residents of the Kivus. When one considers the testimonies gathered by independent journalists and aid organizations like OXFAM and HRW and contrasts it with what the mainstream press is reporting, one wonders if we have not already climbed into the proverbial hand basket on the way to hell.
REAL LIFE. REAL NEWS. REAL VOICES.
Help us tell more of the stories that matter from voices that too often remain unheard.