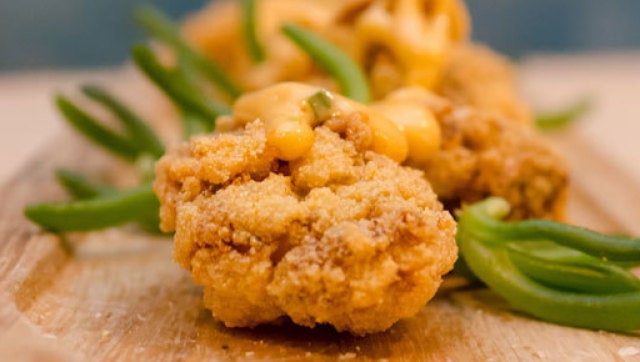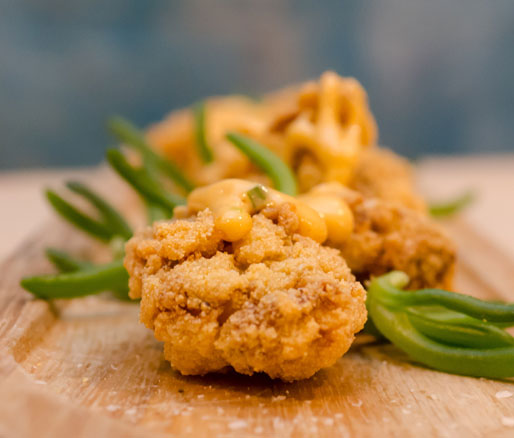 Your football team--fantasy or real--may fall short year after year, but you can always count on an over-the-top spread on the day of the Super Bowl.
While wings, chili, and guacamole are always guaranteed a spot on our menu, the rotating setting of the big game gives us an excuse to throw some regional foods into the mix. This year's Super Bowl takes place in New Orleans, so we're planning on serving a few Gulf-inspired offerings, like these bite-sized oyster nuggets from chef Karey Johnson of Glow restaurant, located a leap down the coast in Rockport, Texas. Johnson coats her oysters in chili and garlic powder-seasoned cornmeal, fries them until crispy, and serves them with lime wedges and a garlicky, sriracha-spiked rᅢᄅmoulade.
Sriracha Rᅢᄅmoulade:
1/2 cup mayonnaise
2 tablespoons sriracha
1 scallion, finely chopped
1 1/2 teaspoons finely chopped cilantro
1 teaspoon lime juice
1/2 teaspoon minced garlic

Cornmeal-Crusted Oysters:
1 cup cornstarch
1/4 cup yellow cornmeal
1/4 teaspoon chili powder
1/4 teaspoon garlic powder
1/4 teaspoon sea salt
1/4 teaspoon dried thyme
1 egg
1 tablespoon water
2 cups (about 20) shucked oysters, drained
Vegetable oil for frying

Make the sriracha rᅢᄅmoulade: in a small bowl, whisk together the mayonnaise, sriracha, scallions, cilantro, lime juice, and garlic. Refrigerate for one hour.
Make the oysters: in a large bowl, mix together the cornstarch, cornmeal, chili powder, garlic powder, salt, and thyme. In a small bowl, whisk together the egg and water. Dip an oyster in the cornstarch mixture and shake off any excess coating. Dip in the egg wash, then dip in the cornstarch mixture again and shake off any excess coating. Reserve on a plate. Repeat with the remaining oysters.
Pour a half inch of vegetable oil into a cast-iron skillet. Heat to 370ᅡᄎF. Working in batches, fry the oysters until golden brown and crispy, about one minute per side. Transfer fried oysters to a paper towel-lined platter to drain. Be sure to let the temperature of the oil return to 370ᅡᄎF before frying a new batch.
Serve immediately with lime slices and sriracha rᅢᄅmoulade on the side.