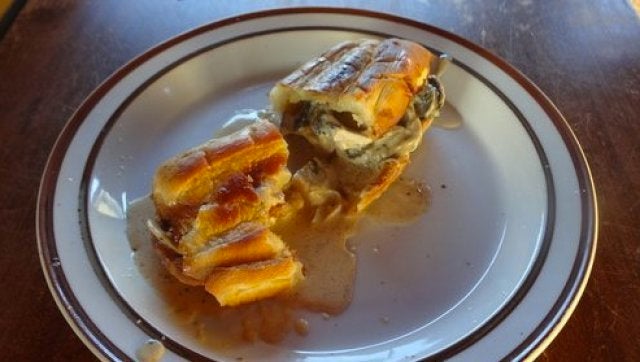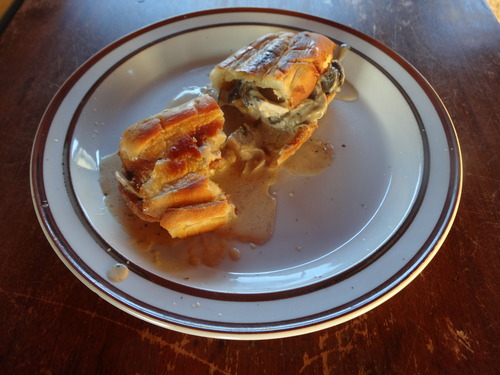 Utter decadence. Big, fat juicy oysters in a tangy, creamy sauce oozing out of a freshly baked and then broiled buttery roll.
Most good grocers in areas where fresh oysters are found will sell those already shucked in a jar in the seafood section. These oysters are great for cooking (not really so good for eating raw).
Serves 4
12 oysters - assuming they're quite large (which they typically are in the jars)
4 rolls
1/2 cup sour cream
1/2 cup heavy cream
4 oz butter
dash of cayenne
salt and pepper
Pull out the inners of the rolls so that there is room for the oysters to be nested. (Nested!) Less bread, more oyster. Butter (about 3oz) both sides of the rolls and then broil all sides in the oven. Watch them broil, they'll burn the minute you turn your head.
Melt the remaining butter and gently saute the oysters for about 30 seconds (Save the oyster juice from the jar). Assuming they're big fatties, remove them and slice them in half otherwise they'll just be far too big and come shooting out of the sides of your sandwich.
Add the sour cream, heavy cream, the oyster juice left in the jar, stiring keenly and add a dash of cayenne for a bite. The sauce should thicken up after about 2 or 3 minutes.
Now add the oysters to the sauce to reheat them fleetingly. 20 seconds or so.
Lay out the rolls onto individual plates, fill one side of the roll with oysters and sauce, and then top off with the lids.
Serve with big napkins. Be sure to tell your friends if they have creamy oystery sauce running down their chin.