Aw shucks ― the French think of everything!
Tony Berthelot, an oyster farmer and breeder, recently made waves on the internet after he introduced a vending machine that dispenses live oysters 24 hours a day. Berthelot's machine, which Reuters reports is a part of a growing vending trend in France, is located off the coast of France on the island of Île de Ré.
"People always arrive when the shop door is closed, which is frustrating for customers and for us," Berthelot said in an interview with Ruptly, an international video news agency, via Eater.
"So we looked at the systems, we looked at what was being done in agriculture, because there are many distributors in the countryside. We contacted a manufacturer who responded and who fitted a machine for oysters since it is a particular product that is not very restrictive, but requires some adjustments."
The oysters, which are available in various sizes and varieties, are displayed in a glass vending machine.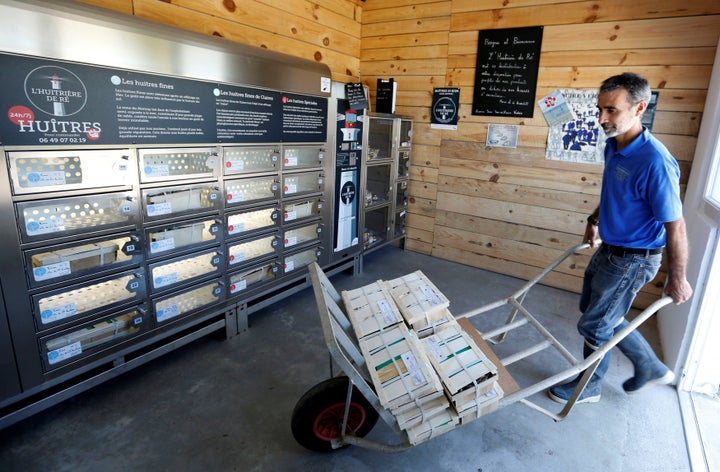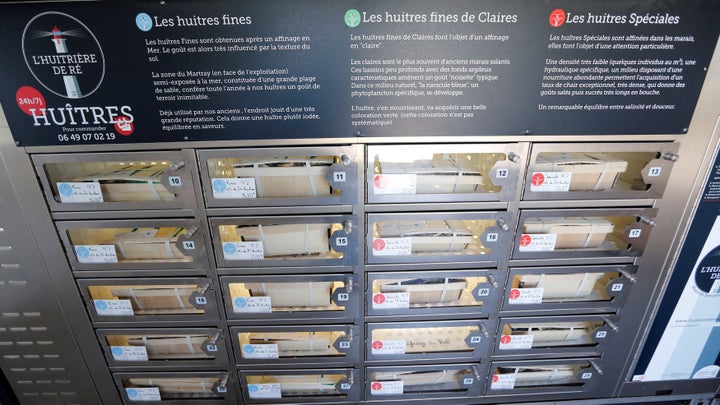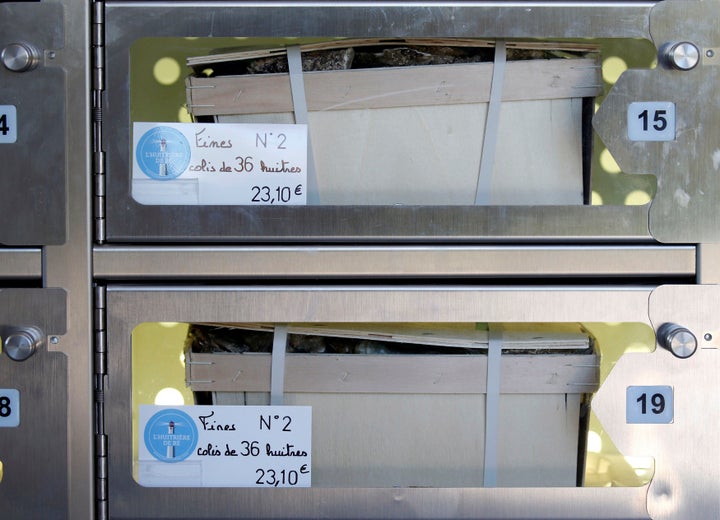 The only downside is that customers have to shuck them after purchase. Considering oysters need certain conditions to stay safely edible, HuffPost reached out to a few oyster experts to ask about the safety of eating oysters from vending machine.
"Provided these oysters are served alive and kept in a chilled state, below 45 degrees Fahrenheit, and rotated frequently (i.e. high turnover of inventory) then I see no reason why it wouldn't be safe," Davis Herron, director or the retail and restaurant division of the Lobster Place Seafood Market/Cull & Pistol Oyster Bar in New York, told HuffPost. "It's hard to really judge the safety of this without seeing it in action and talking to the owner though."
Robert Rheault, executive director of the East Coast Shellfish Growers Association, explained why it's so important to make sure the temperature never exceeds 45 degrees F.
"Below 45 degrees F there is essentially no bacterial growth (for the species of bacteria that we worry about) so the oyster should be as safe as it was coming out of the water ― as long as it has been held under constant temperature control," Rheault said. He added, "Now if the machine could shuck the oyster ― that would be a trick."
Julie Qiu, oyster sommelier and oyster blogger for In A Half Shell, said that she would approve of eating shellfish from a vending machine, as long as there were a few conditions in place.
"Oysters from a vending machine can be safe to eat as long as they are procured, handled and stored properly," Qiu said. "There's a ton of regulation around live shellfish harvest and processing, and the rules vary from state to state ― enough to make you go cross-eyed."
"Many things must go according to plan, and I would only feel good about using this system if I knew that a producer or seafood distributor was being held accountable (not just a retailer... they're too far removed from the process)."
Qiu also explained why she would want to try out something like an oyster vending machine, especially in New York City.
"Right now, the options for buying fresh, unopened oysters to enjoy at home is pretty bleak," she said. "I've given up on trying to find high quality oysters from traditional grocers. I usually have to get oysters shipped to me directly from the farm or place a pickup order from my wholesale friends if I wanted to shuck oysters at home. Generally, the oysters in retail have been out of the water for way too long and the store associates have no idea where they actually come from."
"I do know a few companies are exploring direct to door services, but shipping oysters and keeping them cold during transit is both costly and not very environmentally-friendly yet. This vending system would be a great solution for both producers and end consumers."
Sounds like we need to head to France to bring one of these machines home.