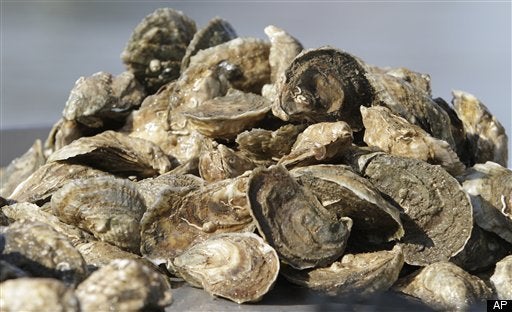 Oysters aren't disappearing from the dining table anytime soon, but they may be disappearing from our oceans.
A recent study published in BioScience has shown that the mollusks, declared "functionally extinct," are disappearing quickly as 85 percent of their reefs have been destroyed through disease or over-harvesting, according to the AFP. 75 percent of the remaining wild oysters can be found in 5 locations in North America.
So what does "functionally extinct" mean?
Oysters no longer play almost any significant role in their ecosystems.
"Oyster reefs are at less than 10 percent of their prior abundance in most bays (70 percent) and ecoregions (63 percent)," said the study.

"They are functionally extinct -- in that they lack any significant ecosystem role and remain at less than one percent of prior abundances in many bays (37 percent) and ecoregions (28 percent) -- particularly in North America, Australia and Europe."
While the study didn't include parts of South Africa, China, Japan, North Korea, and South Korea, other studies suggest that there's been a significant decrease in oysters in these regions as well, according to the authors.
However, according to the AFP, native oyster catches are highest in the Gulf of Mexico. The world's 5 top sites for oyster catches were in North America.
Related
Popular in the Community