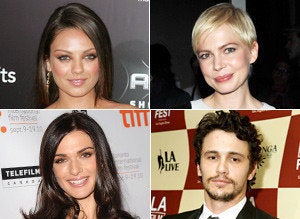 Though the Yellow Brick Road didn't lead to Anaheim over the weekend -- instead, it was snaking through the film set in Detroit -- director Sam Raimi and star James Franco sent over to the D23 convention a video that gave a quick first look and some new information about their upcoming "Wizard of Oz" prequel.
Titled "Oz: The Great and Powerful," the film, which began shooting last month, casts Franco as Oscar Diggs, a huckster magician who gets swept up in a storm and delivered to the beloved land of Oz. Boasting a cadre of major co-stars -- his assistant will be played by Zach Braff, while the land's witches include Mila Kunis, Michelle Williams and Rachel Weisz -- and a director who specializes in epic, special effects-driven films, the project is in its early stages, but still offered some concept art for the fans and press members in attendance.
Concept art included several images of the lush, emerald green hills of Oz, with the yellow--but not always bricked--road winding it's way throughout. The impossible geography of Oz showed through as well, with arching rock formations seemingly miles long and a mountain shaped like an elephant. Pictures of the Emerald City showcased an art deco influence.
Disney also re-released an official synopsis for the film, which is due out March 8, 2013.
Walt Disney Pictures' fantastical adventure "Oz The Great and Powerful," directed by Sam Raimi, imagines the origins of L. Frank Baum's beloved character, the Wizard of Oz. When Oscar Diggs (James Franco), a small-time circus magician with dubious ethics, is hurled away from dusty Kansas to the vibrant Land of Oz, he thinks he's hit the jackpot--fame and fortune are his for the taking--that is until he meets three witches, Theodora (Mila Kunis), Evanora (Rachel Weisz) and Glinda (Michelle Williams), who are not convinced he is the great wizard everyone's been expecting. Reluctantly drawn into the epic problems facing the Land of Oz and its inhabitants, Oscar must find out who is good and who is evil before it is too late. Putting his magical arts to use through illusion, ingenuity--and even a bit of wizardry--Oscar transforms himself not only into the great and powerful Wizard of Oz but into a better man as well.

Related
Popular in the Community