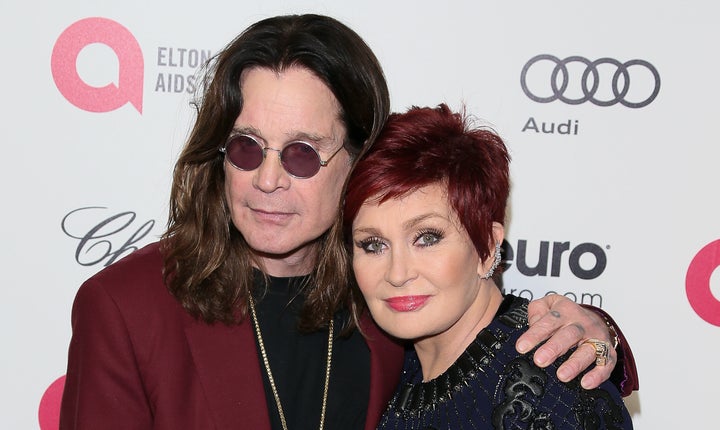 Earlier this year, it was reported that heavy metal couple Ozzy and Sharon Osbourne had split after more than 33 years of marriage. But according to the Black Sabbath frontman, things are "back on track." 
In an interview that aired on Monday's episode of "Good Morning America," Osbourne revealed that the separation was "just a bump in the road." When "GMA" contributor Jesse Palmer told him that plenty of fans want the couple's love to prevail, Osbourne stated, "It's back on track again." 
The rocker's son Jack joined his dad in the interview to add his two cents about married life. Jack married Lisa Stelly in 2012. 
"As a married person myself, marriage is not like, 'Hey, we're married, all is good.' I mean, it's just life," Jack said.
The senior Osbourne added, "And we both live happily ever after? I'd like to find the person who wrote that and poke him in the eye with a burning stick. Some days it's good, some days it's terrible, some days you just drift apart for a while, but you get back on the horse, you know?"
Watch the whole interview below: 
UPDATE - 3:40 p.m.: Sharon Osbourne has responded to Ozzy's interview, admitting that while the two are working on their issues, it's not so simple. 
"Um, 'Get back on the horse,' how dare you? He's such a romantic fool. So romantic back on," she said on Monday's episode of "The Talk." "It's been very hard ... I shouldn't speak for him but I know he wants to come on the show anyway and talk for himself to you all. I'm fine with that. He feels he owes everybody here an apology because he's put us all through it."
"He's very embarrassed and ashamed about his conduct. Through his shame and embarrassment he finds it hard to get it out. With you guys, I think he'll be much better. It will be easier for him to speak," she continued. "I can't speak for him. But for me, um, yes, you know. I forgive. It's going to take a long time to trust but you know we've been together for 36 years, 34 of marriage, and it's more than half of my life."
"I just can't think of my life without out him. Even though he is a dog. He's a dirty dog," she said. "So there we are. He's going to pay big."
REAL LIFE. REAL NEWS. REAL VOICES.
Help us tell more of the stories that matter from voices that too often remain unheard.
BEFORE YOU GO
PHOTO GALLERY
Celebrity News & Photos