Boasting 900 acres of unhindered wilderness preserve views near Telluride, the Pa Gomo estate sits in rare panoramic surroundings. Pa Gomo is located in the exclusive Gray Head community and enjoys amenities from Element 52, a kind of club located in Telluride allowing residents to have even their own access to private ski-lifts on Telluride's premier slope, spa and stone pools.
It's name, "Pa Gomo" means "on the mountain" in the Chinyanga South African dialect. Quite like the cliff dwellings at Mesa Verde, Pa Gomo is tucked into the hillside of Hawn Mountain.
Pa Gomo is listed on the market for $19.5 million, down from its original $20.5 million listing. The home features five bedrooms and six bathrooms on a 35 acre lot that was built in 2008. Other luxuries include a glass staircase, wine cellar, work-out room, guest wing, his and her offices, a tennis court, equestrian center, and 16 miles of hiking trails nearby. The lot also includes fly fishing and ice skating.
The master suite is separated from the great room by an elevated bridge that crosses a recirculating creek.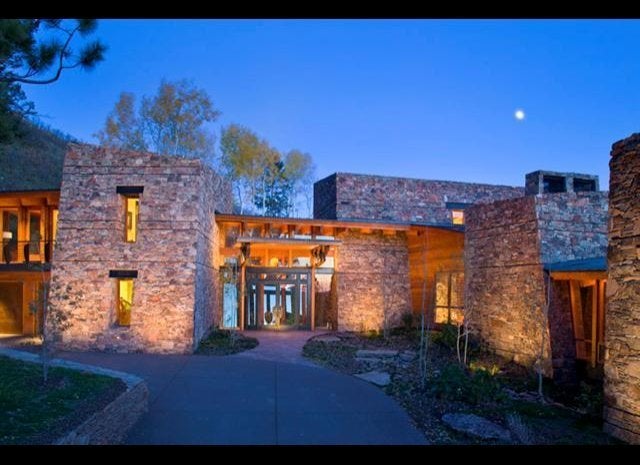 Pa Gomo Estate, Telluride CO