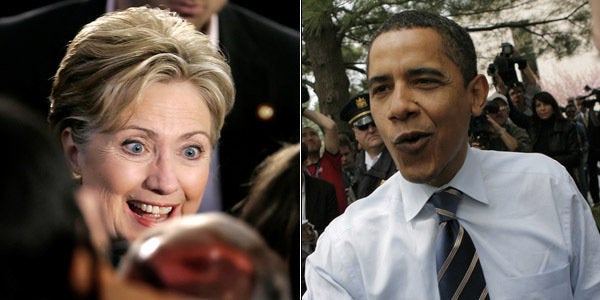 As the Pennsylvania primary comes to a close, Democrats Barack Obama and Hillary Clinton are battling for every vote. And with a large number of undecided rural voters to court, the candidates are pushing their own pro-gun credentials.
Election Central uncovers some gun-related robocalling from Hillary Clinton:
I've just obtained audio of a harsh new robocall the Hillary campaign is pumping into Pennsylvania -- it directly accuses Obama twice of lying about his position on the Second Amendment, and says explicitly that it's an issue that John McCain will use against him in November.
The Obama camp has fired back with a robocall saying Clinton allowed guns to be confiscated from gun owners:
For example, Pittsburgh-area residents received a recorded message from Dick Lanzoni, a local sportsman supporting Obama, who portrayed the Illinois senator as a friend to gun owners and criticized his rival's record.

"I don't trust Sen. Clinton as much on issues that are important to sportsmen," says Lanzoni in the message. "Sen. Clinton voted to allow guns to be confiscated, and this raises real doubts." [Listen to the call.]
Robocalls are a less spectacular way of getting a negative point across, but that doesn't mean Pennsylvania did see one or two controversial television ads, found here.
Popular in the Community