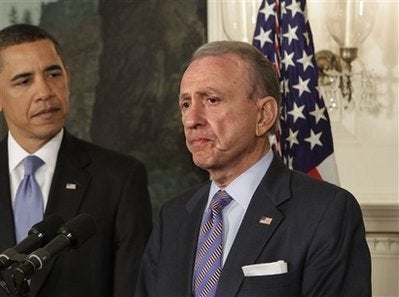 As many of you know, over the last five days, the Progressive Change Campaign Committee, in partnership with a number of progressive organizations and blogs including Senate Guru, asked those in the netroots, "Should a Draft Sestak movement be created to take on Sen. Arlen Specter in the Pennsylvania Democratic primary?"
The results are in and they are overwhelming. 85% of Pennsylvanian respondents and 86% of respondents nationally want Democratic Congressman Joe Sestak to challenge Arlen Specter in the 2010 Democratic Senate primary. The poll has even gotten the attention of Congressman Sestak, as the PCCC points out:
"I am honored that so many of you took the time to vote in the recent grassroots Straw Poll. Let me tell you, I and many others were paying attention. If I decide to run it will be in large measure because of the grassroots energy of so many people like you. Until I and my family make that decision, please accept my thanks and my best wishes as you continue be active participants in our people-powered democracy. Thank you so very much!"
Due to such an overwhelming response, a Draft Sestak Fund has been created on ActBlue. To contribute and further encourage Congressman Sestak to enter the race, click on the image below:
If you need any additional motivation to contribute to this effort to draft a real Democrat to oppose Specter in the primary, consider Specter's actions since announcing his Party switch:
The netroots have displayed overwhelming support for Congressman Sestak to take on recently-Republican Arlen Specter. Help the effort by contributing to the Draft Sestak Fund.

REAL LIFE. REAL NEWS. REAL VOICES.
Help us tell more of the stories that matter from voices that too often remain unheard.