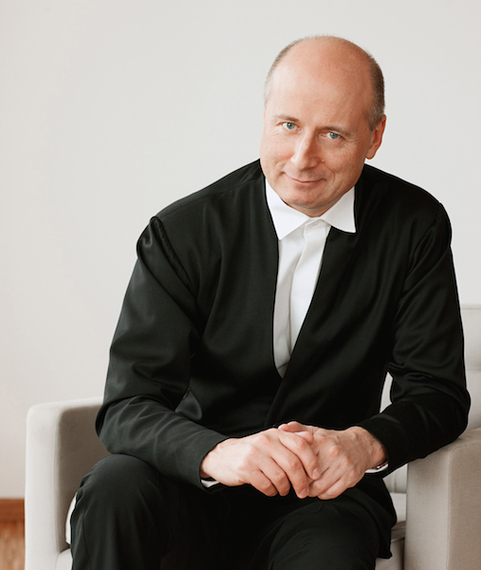 Paavo Järvi, conductor; photo: Julia-Baier
By Christopher Johnson, ZEALnyc Contributing Writer, August 8, 2016
At the close of Friday night's Mostly Mozart concert in Geffen Hall, Paavo Järvi and the Festival Orchestra brought down the house with Beethoven's Fourth Symphony--and how many times do you get to say that of anyone these days? You might think that everything that could be done with this piece had already been done a thousand times over, but you would be wrong.
Without reaching or pulling anything out of shape, Järvi took a piece that's usually programmed as a familiar makeweight and clattered through in a quaintly calisthenic manner ("Well, it's not the Fifth, you know."), and played it as if it were bran-new, fresh as paint, and thrillingly important. Tempi were perfectly judged: a rocket-ride of a first movement, erupting out of a truly mysterious introduction; a real, singing Adagio, with heart-stopping rubato; a zingy scherzo-menuet, torquing down perfectly to a floaty, sly trio; and a lightning-quick, hilarious finale with a mock-breakdown just before the end that got a spontaneous Chris Matthews-style shout of laughter from somewhere audience-left. (If Järvi ever gets tired of the conducting game, he's got a great career as a comedian ahead of him.) Counterpoint was brought to the fore and brilliantly played. The syncopations in the first and third movements--usually slammed so hard that they confuse the beat rather than pointing it--were perfectly controlled, played for wit and winkingly varied each time around. And you could hear where this piece sat in its time, combining Haydn's punch and vigor with Mozart's dash and sheen, while opening a door not only to many of Beethoven's most important later developments, but to Schubert and Rossini as well.
And let's not waste words about the performance: it was magnificent in virtually every way. Järvi is musical down to his toes, and watching him work is almost as much fun as hearing the result. The Festival Orchestra, which is on a roll this year, played beautifully, even for them. It is hard to believe that a group so cohesive, so attuned within itself, so united in its ensemble and so eloquent in its expression, only works together for--what?--six weeks out of the year. Järvi gave out solo and sectional bows all around, and the orchestra, which plainly adores him, insisted that he take one, too--and a good long one, at that. Richly deserved. Bravo, one and all.
Before intermission, the New York chapter of the Society for the Preservation and Encouragement of Coughing performed a rousing reenactment of the Great Influenza Pandemic of 1918, with backup provided by Järvi and the clarinet virtuoso Martin Fröst. Järvi got the ball rolling with Arvo Pärt's La Sindone, a short but typically intense piece composed for the Turin Winter Olympics in 2005 and revised just last year, and Fröst followed up with Mozart's clarinet concerto, played on a basset instrument in what must have been a close approximation of the concerto's long-lost original form. Under the circumstances, the players might have been forgiven for marking the notes, taking their checks, and going home; instead, Järvi and the orchestra gave what looked like a passionate, deeply committed account of La Sindone that might have been riveting in better circumstances, and Fröst physicalized the Mozart with impressive vigor, although you didn't actually have to hear what was going on to see that tempi throughout the piece were startlingly fast, and that Fröst paid closer attention to the concertmaster than to the conductor, frequently getting out of synch at vital structural points. Still, the crowd awarded Fröst two cell-phone fanfares (both exquisitely placed during the Adagio, for maximum effect), a howling ovation, three extra bows, and an encore (his brother Göran's brilliant Klezmer Dances).
It was all very puzzling. The Mozart concerto is as close to perfection as music comes, and for all that it was the last instrumental piece Mozart completed before his final illness, it radiates joyful ease in the outer movements, and a kind of quivering peace in the great Adagio. In this performance, however, everything seemed pressed forward, and the notes often tumbled over one another without really landing. The Adagio, which started in slow waltz-tempo and picked up speed as it went along, wound up being chiefly memorable as an opportunity to witness Fröst's legendary legato and awesome breath-control. (For reference, in Fröst's latest recording of the concerto, which he also conducts, the Adagio clocks in about a minute faster than Jack Brymer's 1986 recording, which Fröst credits with inspiring him to take up the clarinet in the first place, and more than two minutes faster than Brymer's classic 1958 recording with Sir Thomas Beecham.) To see what was missing, you had only to wait for principal clarinetist Jon Manasse's three short solos in the Beethoven Adagio, which arose softly, hesitantly, from the surrounding orchestral fabric and then blossomed into passionate, full-toned utterance, taking as much time on each note as felt right, supported with tender care and exquisite precision by Järvi and the other players. These were magical moments, filled with all the existential wonder and quietness of heart that the Mozart should have had, but didn't.
_____________________________
Lincoln Center's Mostly Mozart Festival presented the Mostly Mozart Festival Orchestra with Paavo Järvi, conductor, Martin Fröst, Clarinets, on August 5-6, 2016, David Geffen Hall, in the following program:
MOZART Clarinet Concerto in A major, K.622
BEETHOVEN Symphony No. 4 in B-flat major, Op. 60
Christopher Johnson writes frequently for ZEALnyc about classical music and related performances.
Related
Popular in the Community