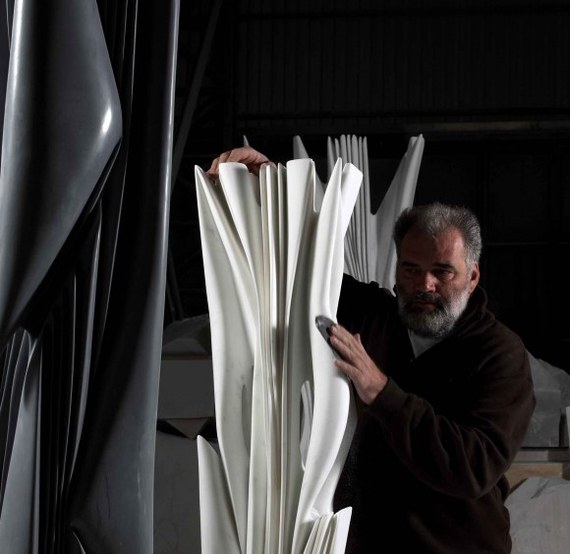 Pablo Atchugarry cuts through the beauty of marble and metal to make his exquisite masterpieces of sculpture. Born in Uruguay to parents who encouraged Atchugarry's unusual talent for art, he has spent a lifetime carving some of the most sensuous, elegant pieces of large scale (many feet tall, as large as Roman columns) to small foot high pieces from natures own materials. They are blend of the ethereal and the resilient; impressive in their very distinctive manifestation, never feeling dense, they have spiritual impact. On view now at the Hollis Taggart Gallery through June 11th in New York City, "Invocations of the Soul" will find you working hard to resist touching these sumptuous monolithic pieces of art, their smooth, fine surfaces are that compelling.
Talking with the artist I saw why. Though he does not speak much English, I heard him clearly through his warm smile and his expression of love for nature through his artwork, upon the emergence of form from huge slabs of marble. As Michelangelo said "I saw the angel in the marble and set him free." Atchugarry possesses a special calm humility, one that is not confounded by presumption, totally gracious, and ignorant of pride. He has earned his place at the table and we are fortunate to see his inescapable spiritual revelations through his creations. According to his son Piero, "He was never formerly taught and he comes by his gift like breathing." He dedicated himself to his work despite any financial set-backs as a young man, and somewhere in the 1990s he began to get the public recognition he undeniably earned.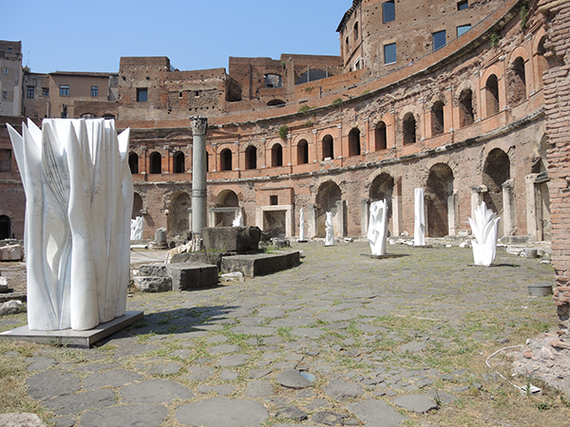 The key word here is to "create" not to "invent" or "copy," as so many artists are in the habit to do in the current conceptual arena. As water will carve arcs and crevices into mountains, this artist seems to have the capacity of water and the indelible habit of sand blown in the wind to pumice exquisite Portugal and Carrara marble into physical form. Into the marble quarries Atchgarry goes to seek out pure whites, fleshy blushes and soft warm pinks, membraned with the veins of millions of years and cultivated by the elements.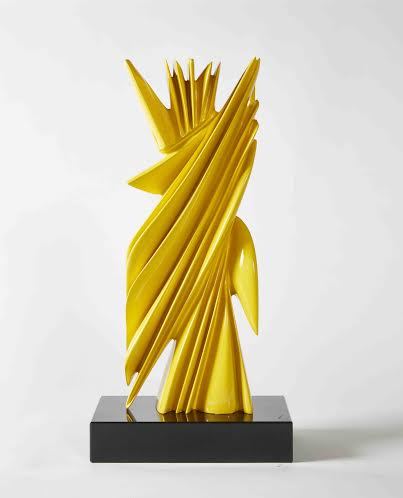 I would be remiss if I didn't point out one of the loveliest sleek sculptures in the Hollis Taggart show. The only one of its kind...His 2016, 29 inch high, black marble piece is a dazzler. An accordion like sculpture 10 inches wide; masterfully hollowed and carved to perfection. Then there are the bronzes which are molded to flawlessness and painted in glossy reds, crisp navy blues, mellow yellows, and rich, bright greens...They feel reminiscent of 1920s modernism. They have the sharp edges and allure but none of the devices.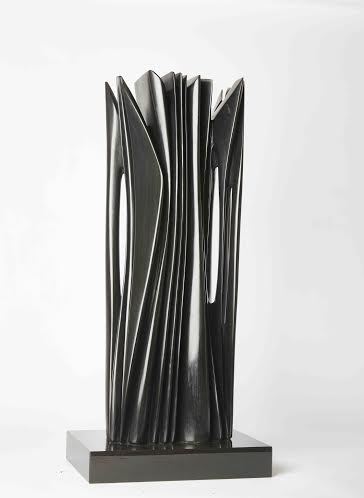 This past summer Atchuggary had an outstanding show in Rome. According to Artnet news, "Across the street from the Forum, visitors to Rome were treated to an unexpected sight, Pablo Atchugarry's "Eternal City, Eternal Marbles," was on view at Trajan's Market, a building complex dating back to the second-century." Considered to be the first shopping mall without brand name recognition. A sight I regret not seeing.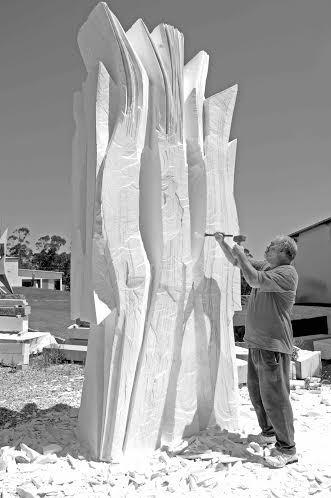 "Translucent marble next to the crumbling red brick (recalling the emperor Augustus's famous boast that he "had found a city of brick but left one of marble"), and the unexpected presence of contemporary art set against a backdrop of ancient ruins."
"For more than 2,000 years, architects and artists have mined the marble quarries of Carrara, Italy. The stone has been used to create the Pantheon, the Duomo of Siena, and Michelangelo's David." According to Architectural Digest, noting that "he is using classical material and transforming it to modern form."
Coming up in July is his show in Belguim "Exclusive Sculptures" at the Boon gallery from Friday 8 July - Sunday 24 July at Knokke-Zoute.
I suspect as Pablo Atchguarry gains transaction in the United States, you will see his work more often, but for now, go see this wonderful work while you can at Hollis Taggart on 26th street.
Related
Popular in the Community