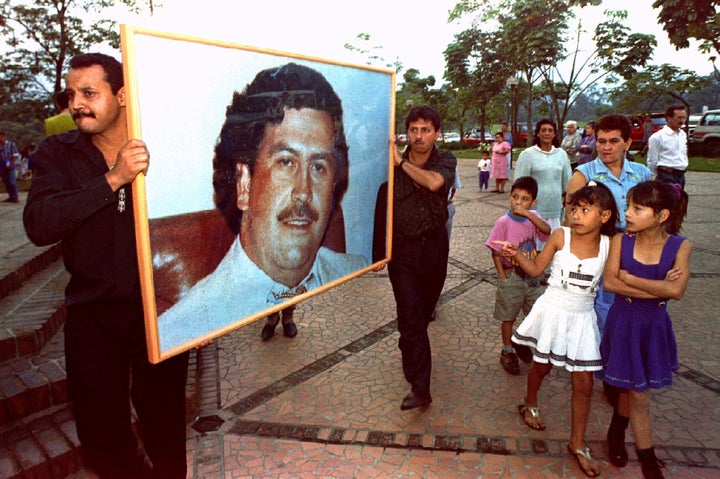 Sebastian Marroquin was born in Medellin, Colombia, in 1977. He is the eldest son of Pablo Emilio Escobar Gaviria, the most famous drug lord in the history of Colombia and perhaps the world.
Escobar died in December 1993, following a police chase through the streets of Medellin, the capital of Colombia's mountainous Antioquia province. Officially, Colombian soldiers killed him, though theories that rival cartel members working with anti-narcotics agents murdered him persist. Marroquin learned of his father's death through a journalist. He immediately vowed during a live broadcast before the whole country to avenge the killing. "I will kill all those fuckers. I'll kill them myself," he said at the time.
"My babysitters were some of Colombia's worst criminals."
Those famous words cost him, his mother and his sister an exiled life in Argentina and the adoption of a new name, he said. Marroquin regrets having uttered them and said today he is "a man of peace." Though he still loves his father, he acknowledges the man was "a bandit," one who did a lot of damage to Colombia and his family.
Twenty-three years after Escobar's death, Marroquin is profiting from his father's legend: he starred in a documentary called "Sins of My Father" (2009); he wrote a book about him, Pablo Escobar. My Father; and he launched a clothing brand.
"My father has become a character of great importance worldwide," he said.
Marroquin spoke with HuffPost Spain about his late father, the peace deal in Colombia and his life as the son of the notorious drug kingpin.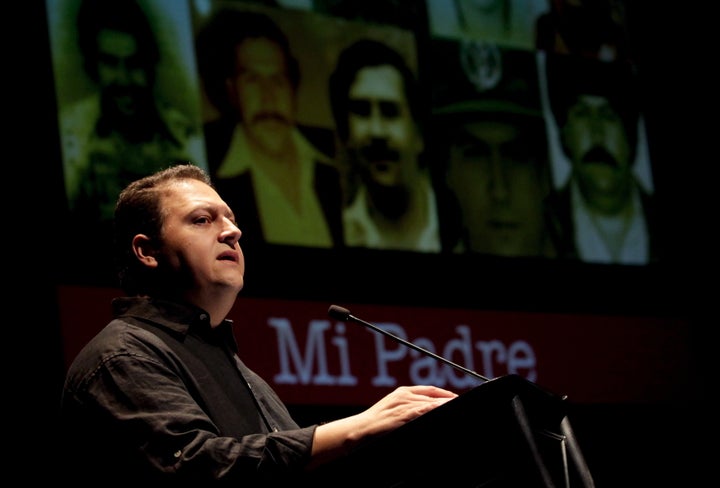 Everyone knows you as Pablo Escobar's son, but who is Sebastian Marroquin?
He is a Colombian who, just like more than 5 million other Colombians displaced by violence, was forced to change his identity in order to regain his right to life and education. I am an architect, an entrepreneur, a man of peace and a father. That's who Sebastian Marroquin is.
How much of Juan Pablo Escobar is there in Sebastian?
One hundred percent. Nothing has really changed, only the name. A document. A procedure. The change in my identity card didn't mean a renunciation of the relationship or the love I still feel for my father. It was just a tool that allowed us to save our lives.
"North Americans sometimes think that everything can be solved with a gun, but drug trafficking is a human drama that can't be solved with weapons or with super powerful drug agencies."
Your mother and sister rarely appear in the media. Meanwhile, you have established yourself as the family spokesman. Why?
It's something I chose. I could have chosen other paths, such as complete silence or, much worse, becoming Pablo Escobar 2.0. I went with architecture, peace, reconciliation and forgiveness from all those people with whom my father had conflicts. That's what I've dedicated my life to in recent years.
What is the best advice your father gave you?
"Brave is he who does not try them," he once told me, referring to drugs. He was aware of the poison he was selling and, being his son, he didn't want me to try them.
How did growing up in the cartel environment affect you?
I was raised among bandits. My babysitters were some of Colombia's worst criminals. I am now a man of peace. I think being so close to them made me quite aware of the consequences of their actions and of the pain they caused themselves, us and many other Colombians. It was like a mirror in which I saw the just reflection of the people I should not become.
"Reconciliation is not part of the Colombian vocabulary, it is not part of our culture."
What is your relationship with drugs?
It's a relationship of respect. They've done a lot of damage to Colombia and Latin America in general. The prohibition of drugs and not of substances is what has brought us wars, corruption and human rights violations. These challenges have also been driven by the market and by the lust for power. This hasn't changed even 20 years after my father's death. Everything remains intact, everything is identical and the business is running smoothly in spite of the traffickers who are killed or captured.
North Americans sometimes think that everything can be solved with a gun, but drug trafficking is a human drama that can't be solved with weapons or with super powerful drug agencies. The only thing that approach guarantees is greater problems.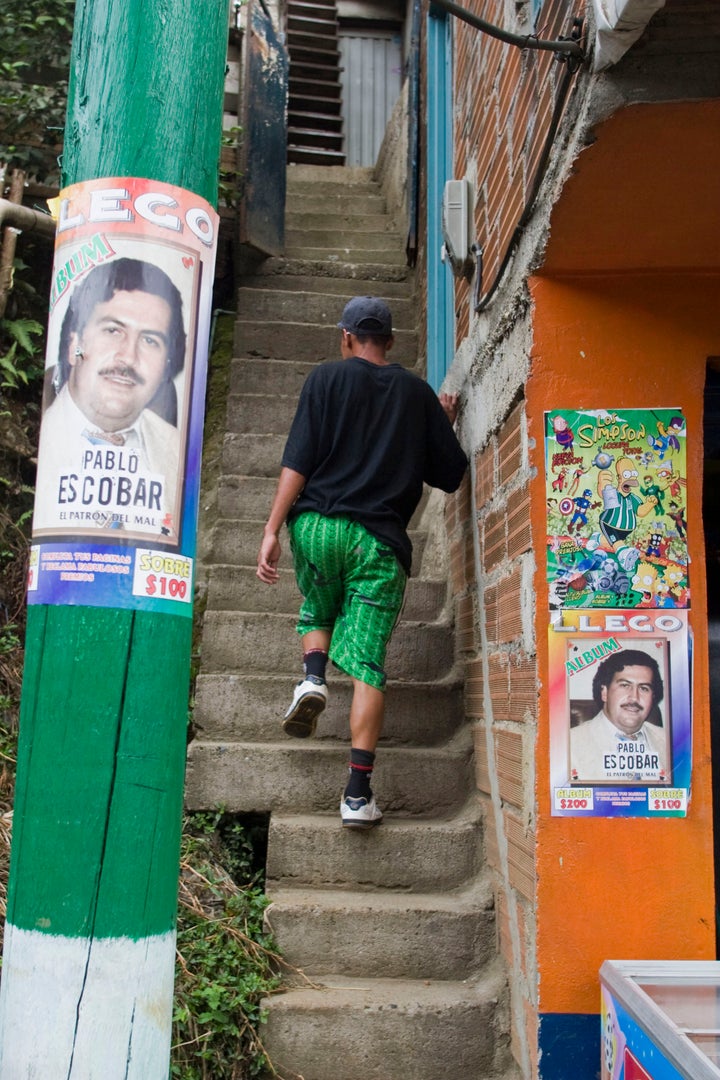 The truth is that we were already used to that kind of treatment. Nevertheless, this time was hard because we had been outside of Colombia for five years. I had finished my studies. I was a professional and I had a very different and distant life, not at all like the life of Pablo Escobar's son, and I was suddenly surrounded by police and receiving media attention. At that point you wonder: "Is it worth it being good if you end up in jail anyway?" Prison seems to be the reward of good behavior. You question many things.
Your father amassed a fortune and many estates that passed to the Colombian state after his death. Many buildings are in ruins, but private companies run some, like the Hacienda Napoles, which is now a theme park. What do you think should be done with your father's properties?
His fortune should be in the hands of the victims, not politicians. Someone should investigate what happened to the properties they took away from my father because I guarantee you that not a single one of Pablo Escobar's victims has been financially repaired with money confiscated by the Colombian government. It just stayed in the hands of politicians.
That ended up delegitimizing the state's action, because it ended up looking like a mobster fight where everyone tried to get everything they could. In that war, the winning side kept all of the losing side's money and it didn't use it to compensate the victims.
It seems that people in Colombia still have mixed feelings about you.
I think it's fair because when my father died I made the big mistake of threatening the country, of talking about avenging his death. That is what people remember me for: an act of pain and despair upon hearing the news of my father's death. They don't remember the second promise I made 10 minutes later: I was going to get an education and contribute to my family's education and my country's peace. This is what I've been doing for years. But some people just remember my threats more than two decades ago. They don't value all this time of behaving well.
Could you have carried out that threat?
Yes, I have no doubt about it. That's why I think that people have started to realize that, like my sister, I answer for my acts and not for my father's acts.
Beyond the mixed feelings I may have had, today I don't speak with promises; I speak with facts. When I have answered for my father's actions, it has been in the context of the search for reconciliation. I take over the moral responsibility for his crimes because there is nobody else to do it, and I think it is my responsibility to do it. I am a man of peace and that can be verified. If I wasn't, I'd be dead.
You've said that reconciliation is not usually a part of Colombian culture. In your book, you say that you were able to save your life because you and your mother made peace with other cartels. Colombia has now effectively ended another conflict in signing a peace treaty signed with the FARC rebels. From your experience, how do you see the process?
I can't speak specifically about this peace because I don't know it as thoroughly as the one I had to negotiate, but the peace I can talk about is the one that we did with all the Colombian drug cartels. Based on that experience, I believe that Colombians are able to make peace. Even the cruelest people get tired of violence and war.
We negotiated peace under totally unequal, totally unfavorable conditions for us and yet, even under such adverse circumstances, we value the peace we achieved and we reached a conclusion that seems like nonsense, but isn't. Peace will always be cheap, no matter the price you pay for it.
That's what Colombians have failed to understand. The enormous significance, the dimension of it and what it means for a country to grow, live and develop in peace. We have been killing each other for about 50 years or more. Reconciliation is not part of the Colombian vocabulary, it is not part of our culture. There will be thousands of arguments against the process, but making peace isn't easy. War is for cowards, peace is for the brave.
There are many legends regarding your father. People talk about his hidden money stashes, a buried fortune, the circumstances of his death and about eccentric things he bought with his money. What is one of your favorite stories?
I've heard everything about him. The most unlikely and the most dramatic accusations, but also ones that are true. The one I like the most is that he is still alive. He must be with Elvis and he's probably telling him: "Play me a little song. Sing one for me."
This article first appeared in HuffPost Spain. It has been translated into English and edited for clarity.
Popular in the Community