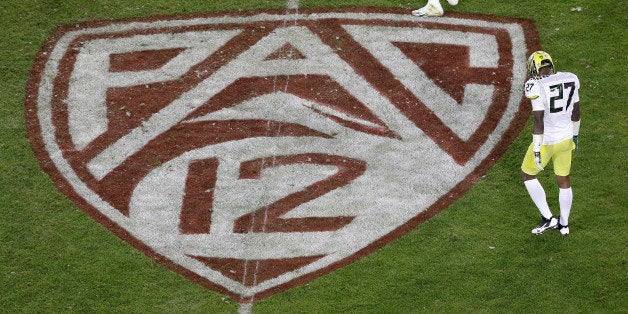 An internal survey of Pac-12 athletes has discovered that student-athletes dedicate an average of 50 hours a week to their sport during the season, a time commitment that is leaving them underslept and struggling to keep pace at school.
The "Student-Athletes Time Demands" study, which was conducted by consultancy firm Penn Schoen and Berland, surveyed 409 Pac-12 student-athletes in every sport and across nine of the 12 schools. USC, Arizona and Utah did not participate.
- 50 hours per week is typical mid-season time commitment
- 71% of student-athletes say sports most get in way of sleep
- 93% of athletes satisfied with experience
The vast majority of the student-athletes said they were happy with their athletic, academic and overall college experiences. But the study found that student-athletes devote 50 hours a week on average to their sport, the vast majority of that coming from required athletic activities (21 hours) and travel (22 hours).
A HuffPost/YouGov poll conducted in February found that only 2 percent of those surveyed thought top-tier college basketball and football players should dedicate more than 40 hours a week to their sport. Sixty-four percent thought student-athletes should spend 40 hours a week or less to athletics, and 34 percent were not sure.
"Student-athletes feel they have the resources at their disposal to succeed academically," the report reads, "but do not have the time to do so."
Fifty-four percent of the student-athletes said they don't have enough time to study for tests, and 80 percent said they have had to miss classes to compete this school year. Others said practices also get in the way of class, as they can often run late.
When asked how the athletic season affects their ability to focus on academics, students say they are too exhausted to study effectively, that they are unable to devote enough time to both their academics and tests, and that athletic stress negatively impacts their academic focus.
In fact, student athletes said, "Sleep is the number one thing their athletic time commitments prevent them from doing, ultimately hindering their athletic and academic performance," the report states. More than seven in 10 said their athletic commitments were hindering their sleep schedule more than anything else.
Just
, making you less able to focus and more likely to have memory problems, two problems for any student. Over time, a lack of sleep can also lead to even more serious health problems, including an increased risk of stroke and heart disease.
Infographic by Alissa Scheller for The Huffington Post
Jamie Zaninovich, the Pac-12 deputy commissioner and chief operating officer, notes that athletes' sleep-related issues might also be a result of the typical college experience.
"When you're talking about the student-athlete experience, you're also talking about the student experience," he told The Huffington Post. "Some of this has to do with general campus life, and sleep goes beyond the purvey of just student-athletes."
The study is part of a larger plan by Pac-12 presidents to improve the treatment of student-athletes at its campuses. The Pac-12 announced late last year that it was adopting a number of reforms to its athletic programs, including guaranteed four-year scholarships and better health care.
Asked which of eight proposed reforms most appealed to the students, the athletes said they'd like it to be easier to have a part-time job, make "voluntary" workouts actually voluntary, rather than de facto mandatory, and create a rule that practice cannot start before 6 a.m. or finish after 10 p.m.
Zaninovich emphasized that 93 percent of the student-athletes surveyed said they were very or somewhat happy with their overall college experience, and that the Pac-12 hopes to "fine tune" the existing structure, rather than "revolutionize" it.
"The next step for us is to take the conversation that was started here and to report on that with our larger group of administrators and coaches," Zaninovich said.
REAL LIFE. REAL NEWS. REAL VOICES.
Help us tell more of the stories that matter from voices that too often remain unheard.