AMES/DES MOINES IOWA- Prominent women are arriving in Iowa to support former Secretary of State and now Democratic presidential candidate Hillary Clinton. Clinton has been gaining the support of influential women in leading roles across the country and these women are proud to endorse the former New York Senator.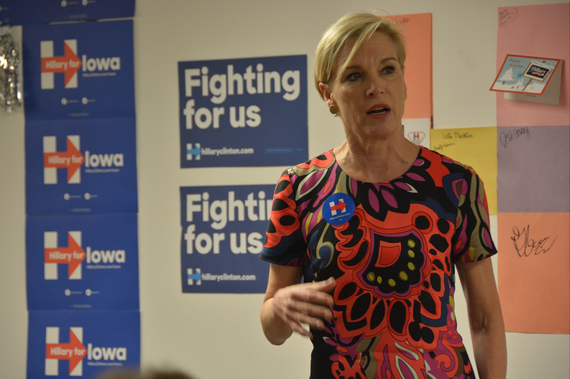 Planned Parenthood President Cecile Richards spent Saturday attending events throughout the state of Iowa encouraging women to support Clinton. On Friday, Stephanie Shriock president of Emily's List, a political action committee dedicated to recruiting, training and supporting Democratic, pro-choice women get elected, endorsed the former secretary of state at a Clinton campaign manager's home in Des Moines.

Clinton is known for her activism for women's rights, especially reproductive rights, making the decision easy for which candidate the nonprofit would endorse.

"There was one person that stood far and above everyone else... One person who had been a champion for women and families and reproductive healthcare access her entire career and that's Hillary Clinton," said Richards.

Richards said during her endorsement at Clinton's campaign office in Ames that she is the only presidential candidate to have written any bills relating to women's rights during her brief time in the United States Senate.

"While in the Senate she introduced eight different bills to expand healthcare and reproductive healthcare access," Richards said. "Eight more than anyone else."

Shriock said her political action committee is committed to doing whatever it can to elect Clinton. "We are going to have a $20 million independent expenditure program focused on millennials, really millennial women, to engage with the Hillary Clinton campaign," Shriock said.

For Planned Parenthood, this year's election could be pivotal. Richards said every Republican candidate is looking to eliminate the non-profit, and she does not want to see women have to go back to the 1950s in terms of health care and the right to bodily autonomy.

Although Planned Parenthood endorses candidates during the general election, as shown by the organization's backing of presidential hopeful Barack Obama in 2008 and again in 2012, Richards said this is the first time Planned Parenthood has endorsed a candidate this early in the campaign.

"We took this process very seriously," Richards said.

Candidates from both parties were invited to meet with Planned Parenthood representative but no Republican candidates accepted the invitation.

Richards also said she hopes to see the issue of reproductive rights and issues surrounding a woman's right to her own body, to become less of a party issue and become a universal issue.

"Health care is a basic human right. It shouldn't come with a party label," Richards said.

The Texas-native and daughter of former Texas Governor Ann Richards said she is unhappy that her home state forces women to travel hundreds of miles for "preventative healthcare".

"It's wrong and if there were ever a cautionary tale about whats at stake in this election, it is the state of Texas," Richards said.

Emily's List president Stephanie Schriock and Richards are just two prominent women of the many who have openly supported and endorsed Clinton this weekend.

Among the recent supporters of Clinton, pop-singer and former Disney channel star Demi Lovato performed at the University of Iowa Thursday night to help draw millennial support for Clinton in Iowa.

With the caucuses approaching quickly, endorsements like this are vital to the perception of Clinton to women in this country.

"I truly believe there is nobody more qualified to run this country," Lovato said.

Schriock believes seeing a woman running this country "would be an inspiration to women and girls in this country and around the world".

"She will be a fighter and a champion and we have never needed one more because the stakes my friend are very, very dire for women in America," Richards said.
Calling all HuffPost superfans!
Sign up for membership to become a founding member and help shape HuffPost's next chapter