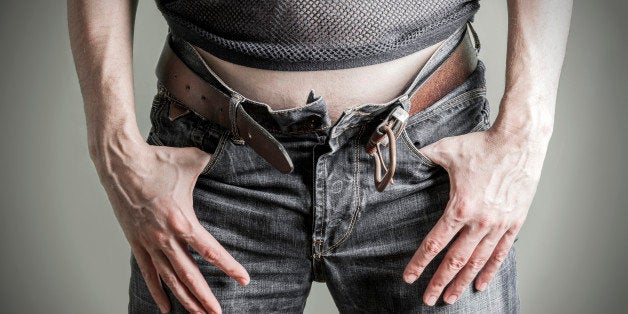 Note: Huffington Post Gay Voices is a media sponsor for Pace University and ProofPilot's study, "How We Date, Have Sex, and Form Relationships Today." This is the first report from this study from Tyrel Starks, assistant professor of Psychology at Pace University, and focuses on pubic hair.
Thank you, readers of The Huffington Post for checking out the study I am doing with Pace University and ProofPilot called "How We Date, Have Sex, and Form Relationships Today."
Registration to participate in the study closes on Monday, April 14, so there's still time to join us, and we would love to add more women to the mix, gay and straight. You can join the study here.

My main goal of researching this topic is to dispel some of the myths and stereotypes between the dating habits of the LGBTQ community and heterosexuals.
My report below comes from data collected from the first week of our six-week study, and is entitled PUBIC HAIR: To Trim or Not to Trim.
The human is perhaps the only mammal noticeably concerned with the decision to remove its own hair. We trim, pluck, tweeze, wax, shave and sugar. We thread our brows and we Nair our legs. But the preoccupation may not be completely unwarranted. Research suggests that what we do (or don't do) with our body hair really does matter to those whom we are so trying to attract. Men (at least the ones who are attracted to women) seem to find women more attractive when they trim or shave their pubic hair. Women (at least the ones who are attracted to men) have a more flexible aesthetic; some studies suggest that women find men with manicured pubic hair are more attractive than those who don't, and others say it doesn't matter. Meanwhile, there's cultural variability to be accounted for. Women in Britain and Cameroon, for instance, simply prefer hairier guys.
Most men and women in the US trim or remove some patch of body hair below the chin. When asked why they do what they do, guys typically report that shaving their pubic hair makes them "feel cleaner," or helps them look more defined -- muscular. Women, on the other hand, tend to seek normalcy through hair removal. It's less about accenting the goods and more about making them acceptable.
In the first week of our six-week study -- a study in which we ask participants to update us on what's going on in their sex and dating lives each week -- we asked participants to tell us a little bit about what their own down-there hair care protocol is. The verdict among the group of women and men who have responded so far: trimming one's pubic hair is the preferred look. More than half of our sample consider themselves Trimmers, only 10% of men and 20% of women leave their pubic hair alone, and about a third of women report shaving their pubic hair completely while none of the men do.
We asked participants, male and female (most of whom find men sexually desirable), if they preferred that their partners trim, go bare or be natural. Not surprisingly, it looks like our respondents (so far) are again in agreement: trimming is winning. And men seem to have the more pronounced preference on this one.
We want to know how this sits with you. Is it accurate? Are you #trimming? This week is the last chance to enroll in our dating study, which closes Monday April 14. As more people respond to our study's week 1 questionnaire, we'll be sure to update our grooming stats and bring new material to the table! Meanwhile, along with their week 2 update, we'll ask our respondents about selfies! How many are really sending and receiving those self-pics? What are people taking off and keeping on in them? And how much does that pic need to look like yourself anyway?
If you are interested in finding out more information or participating in this Pace University study head here.
Basow, S. A., & Braman, A. A. (1998). Women and body hair. Psychology Of Women Quarterly, 22(4), 637. Boroughs, M., Cafri, G., & Thompson, J. J. (2005). Male Body Depilation: Prevalence and Associated Features of Body Hair Removal. Sex Roles, 52(9/10), 637-644. doi:10.1007/s11199-005-3731-9 Dixson, A., Halliwell, G., East, R., Wignarajah, P., & Anderson, M. (2003). Masculine somatotype and hirsuteness as determinants of sexual attractiveness to women. Archives of Sexual Behavior, 32, 29-39 Rantala, M. J., Pölkki, M., & Rantala, L. M. (2010). Preference for human male body hair changes across the menstrual cycle and menopause. Behavioral Ecology, 21(2), 419-423. doi:10.1093/beheco/arp206 Smolak, L., & Murnen, S. (2011). Gender, Self-Objectification and Pubic Hair Removal. Sex Roles, 65(7/8), 506-517. doi:10.1007/s11199-010-9922-z
Popular in the Community