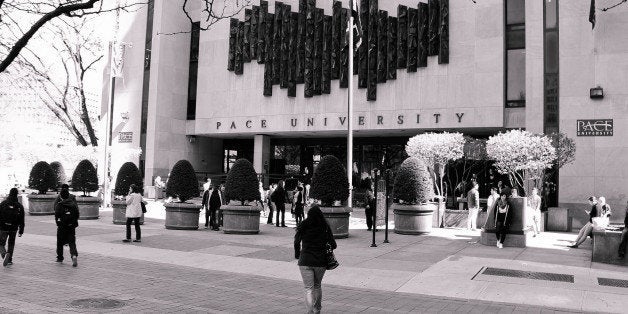 NEW YORK -- Pace University forced the victim of an alleged sexual assault into an investigation, found the alleged rapist not responsible without saying why, and then attempted to require both students to attend a program on alcohol and date rape, a complaint filed with the Education Department claims.
The student who filed the complaint, and who asked to remain anonymous due to the private nature of her experience, received word in July that the department's Office for Civil Rights would look into her grievance.
The Pace case underscores how complicated it is to investigate sex crimes on campuses and why victims might choose their own privacy over punishment of their aggressor. Those who work with the victims argue they should have that choice -- one apparently denied the student at Pace.
A survey of 236 colleges and universities, released in July by Sen. Claire McCaskill (D-Mo.), found that more than 40 percent of those schools had not conducted a single investigation of sexual assault in the last five years. At the time, the American Council on Education, the main lobbying group for higher education, noted that victims aren't always cooperative or willing to seek punishment.
Others suggest that forcing an investigation on a reluctant victim can even be harmful.
"Imagine someone overriding your wishes, talking to every single person in your social circle [about an alleged sexual assault]," said Laura Dunn, founder of the survivor advocacy group SurvJustice. "How could you stay on campus? You have no autonomy, no privacy."
The Pace student said she had no intention of reporting the Feb. 14, 2014, incident, but did disclose it to a doctor at the New York university's health center on Feb. 27 when she went to get tested for sexually transmitted infections. The doctor fetched another colleague, who agreed they needed to inform campus security, who would in turn have to start an investigation, the student said.
"I said I don't want an investigation, don't want the police involved at all, don't want an in-school investigation, but they told me it had to happen," the student said to The Huffington Post. "I did not want to report my rapist, because it is a very miserable and tedious process in which the victim rarely gets justice."
Neena Chaudhry, senior counsel at the National Women's Law Center, points to the problem here: that the student didn't know that by talking to the doctor about the alleged assault, she had "reported" to the university.
"What the Office for Civil Rights makes clear is it's important for schools to tell everyone in the community who has to report and who doesn't have to report, so student survivors know at the outset," Chaudhry said.
After Pace University staff talked to the student in an exam room for two hours -- she didn't feel she could leave -- the student agreed to cooperate, figuring that if it had to happen, the investigation might as well be done right, according to the complaint. She submitted a written account of her version of events the following day, and the university issued a no-contact order between the two students involved.
The university took a little over a month to investigate the case, during which time the reported victim was never interviewed in person by the investigators, the complaint states.
"The Title IX investigators never met with me, not once," the student said. "They never told me how they questioned people or which of my friends they questioned. But they ended up with the conclusion there wasn't enough evidence to really punish him."
On March 31, Marijo Russell-O'Grady, Pace's dean of students, told the reported victim and the accused assailant that the school was dropping the charges, according to a copy of the decision letter obtained by HuffPost. The reported victim said she never received an explanation why the school was finding him not responsible. Pace did determine that both students should be required to attend training on alcohol and substance abuse and on date rape.
Russell-O'Grady later told the female student in an April 23 email, obtained by HuffPost, that she "should never be forced to report." The dean promised to follow up with the Title IX coordinator. She did not return a request for further comment from HuffPost.
Scott Trent, a Pace spokesman, declined to comment on the details of this case. But Trent said Monday, "If any employee becomes aware of an instance or claim of sexual assault, it will be investigated."
"That's a matter of policy, and that's done for public safety reasons," Trent told HuffPost in a phone conversation. "Certainly, if there's a sexual predator on campus, that's something that could impact the greater campus community. Even if someone who was alleged to be a victim of sexual assault didn't want an investigation, an investigation would take place for that reason."
Trent described the school's sexual assault investigations as "very thorough" and said that each party in a case is given the option to appeal the final decision. He pointed to Pace's extensive sexual assault policy for additional information.
Chaudhry said that when survivors don't want to pursue punishment for their attackers, schools should carefully evaluate whether they need to do an investigation regardless. If the school has reason to believe that the accused may be a repeat offender or if the offense poses a threat to the larger campus, Chaudhry said, it may be appropriate to go forward without the victim's cooperation. But the key is letting victims know before they tell a school employee, "so then people can make choices on what they want," she said.
Dunn, who recently served on an Education Department committee helping to draft new regulations under the Clery Act, added that sometimes colleges don't know what the federal campus safety law actually mandates.
"A lot of schools think under the Clery Act that they're required not just to keep the statistic but to investigate, and that is wrong," said Dunn. "And under Clery, health centers are exempt [from reporting requirements]. They are supposed to essentially be confidential sources [for students]."
Colleges are required to disclose to both the accused and the alleged victim the outcome of any investigation, Chaudhry said. "Realistically, part of that should be some explanation of why they found what they found," she said.
The reported victim at Pace was able to get out of the educational training after she appealed. But having been pushed into an investigation she didn't want, which caused more anxiety and stress than it was worth, the student said she decided to transfer to another school and file a federal complaint against Pace.
"Basically at the very end, there's no way I can ever return to [Pace]," she said. "I've lost my faith in the school completely."
Popular in the Community