Just hours before the 2010 Olympic Games officially kicked-off, the Pacific Coast Collaborative--established in 2008 and consisting of Governor of California Arnold Schwarzenegger, Governor of Washington Christine Gregoire, Secretary of State of Oregon Kate Brown, and Premier of British Columbia Gordon Campbell--gathered in Vancouver to discuss issues of mutual interest. One thing was clear, if action is going to be taken on the environment, it's going to have to start at the local level.
The four leaders had just finished a meeting in which they went over cap-and-trade systems, the hydrogen highway, ocean health, renewable energy, and high-speed trains. At the end of the press conference, the four leaders signed a Memorandum of Understanding, which committed them to collaborate with each other and federal officials to develop renewable energy and improve the air quality of their ports.
Alaska is also a member of the PCC, but was not able to send a representative to the meeting.
The star of the event was no doubt Governor Schwarzenegger, who ran with the Olympic torch through the streets of Vancouver earlier that morning. "We're united, there's no two ways about it. Politically, ecologically, we speak with one voice," he said. Keeping with the athletic theme, he continued, "There's no sports team that ever has won without being together and being one unit, and all running the same direction and having one plan."
"We saw at Copenhagen that national governments and the national community has not yet been able to come to an agreement to reducing green house gas emissions. The UN and the national governments have realized that the sub-national governments are really the ones in the end who can put the pressure on and engage the kind of action that is needed."
The United States federal government currently only has a 2.8 per cent renewable profile, a number Schwarzenegger would like to change through the example of the PCC.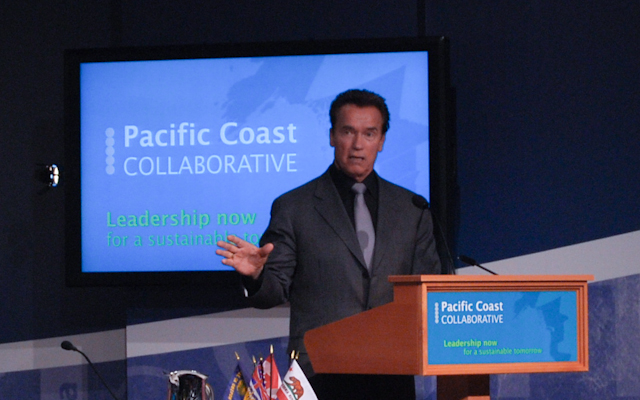 Schwarzenegger said it's his intention to continue building the hydrogen highway all the way up to Canada. He also said that developing a high-speed rail from Dan Diego all the way to Vancouver is crucial. "It makes no sense for our trains to move at the same speed they did one-hundred years ago. Economic power is how fast you move people and goods around."
After expressing her gratitude to Premier Campbell for allowing the Olympic torch to make a quick pit-stop over the border in Washington a few days ago, Governor Gregoire said, "Environmental sustainability is economic strength. It won't only be great for our environment, but for the people of our respective states and province, because those are the jobs of tomorrow."
She also drew attention to the fact that they all share an ocean, and that it's critically important to maintain its health, and the health of their shared fisheries. "Our action should not allow borders to be a barrier."
Secretary Brown, who was representing Governor of Oregon Ted Kulongoski, said "We as a Pacific community can leverage our buying, consuming and producing power to increase our impact as a player in international trade." Oregon will be hosting the next forum to be held later this year.
Schwarzenegger says that a cap-and-trade system makes much more sense than a carbon tax, especially in a state like California, where it takes two-thirds of the vote to get a tax increase. He said that if mistakes are made with the system in the beginning, like they were in Europe, then they will make changes.
It's surprising Premier Campbell even had time to sit down and talk about the environment between all of the appearances he's been making in the days leading up to the opening ceremonies, but he said it's a critical issue. "The reason we have a Pacific Coast Collaborative is because there's no time to waste. And if we have to lead North America from the west, I think we should get used to that."
California is proof that the economy and the environment are positively correlated. Schwarzenegger said they have created ten times as many jobs in the green sector than any other.
"We're going in the right direction," he said. "Even though there have been attempts to derail some of the regulation, it won't happen, not over my dead body."
Popular in the Community