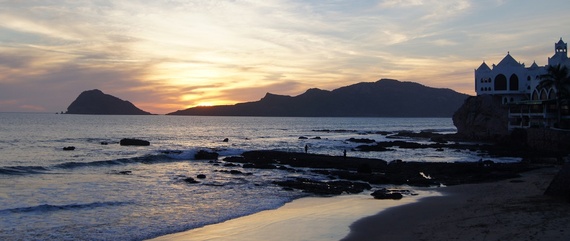 Mexico has suffered a bum rap in the retire overseas arena over the past half-dozen years or so. Drug lords, gang violence, swine flu ... the combination has translated into a dramatic falloff in this country's appeal for the would-be American retiree.
Meantime, Mexico is home to more than a million American expats. They can't all be misguided.
They're not. They understand that Mexico is a big country. Some spots don't belong on a list of top retirement havens because of safety concerns. Beyond those localized regions, though, as American retirees have recognized for more than 50 years, Mexico has a great deal to offer. The weather's great. The culture is more familiar than farther south, in Central and South America. You can drive back and forth between a U.S. base and a part-time home in Mexico. And the cost of living is affordable, especially right now with the U.S. dollar up almost 30 percent in the past 24 months and trading currently at about 15.40 pesos.
Mexico is not only a big, but also a diverse country, offering great choices for highlands, colonial city, and coastal living. One particularly appealing Pacific coast option is worth a fresh look right now: Mazatlán.
Mazatlán boasts almost 20 miles of beautiful beaches bordering the deep blue Pacific. The historic center, undergoing a renaissance, is increasingly popular among tourists, but, in Mazatlán, the beaches reign.
The weather in this part of Mexico is ideal during North American winter, with warm but not smolderingly hot days and cool nights, making Mazatlán a great choice for snowbird retirement or a second home in the sun. Thanks to its position as a tourist destination, the resort infrastructure is developed, with good restaurants, cafes, shopping, and nightlife. You can spend a day on the water fishing, boating, diving, or snorkeling, then dine that evening in an elegant Italian or Spanish restaurant.
Mazatlán has always had a lot to offer the would-be retiree, but it's particularly interesting right now thanks to its depressed property market, which has yet to recover from its post-2008 fall.
Where, specifically, might you think about reinventing your retirement in this sunny, sandy paradise? Here are five top options for embracing beach life Mazatlán-style...
This is the main tourist and hotel sector in Mazatlán, dense with shops, boutiques, cafes, and restaurants. Zona Dorada is both fun and convenient, the most walkable area of the Mazatlán metro area.
On the other hand, because it attracts big numbers of tourists, Zona Dorada suffers the annoyances that come with them, including ever-present hawkers selling their wares and tour guides chasing you for your business. These things are to be expected when you're visiting a tourist area, but they can become annoying as a resident.
However, if you're interested in part-time retirement on the Pacific, Zona Dorada could make sense despite all its tourists and their trappings. This is the most rentable zone in Mazatlán, attracting both international visitors and wealthy Mexicans. If your objective is a part-year beach escape that you're able to rent when you're not using it yourself, your best options could lie in Zona Dorada. You could buy a very rentable one-bedroom, one-bath apartment for less than $200,000 at the current rate of exchange.
The Marina District is an exclusive area built around a well-designed network of waterways, golf courses, and marinas. It consists of some mature neighborhoods and also some undeveloped areas, along with a handful of restaurants and cafes.
The southern part of the Marina District is adjacent to the north end of Zona Dorada and convenient to its restaurants, bars, clubs, and shopping. The northern end is more isolated and an appealing option if you prefer more peace and less traffic.
Big picture, the Marina District is the top choice for boaters. If you like being around boats, this would be the place to base yourself. Waterfront property in the Marina District sells for much less than oceanfront property. Even if you don't have a boat, you might be tempted by this part of Mazatlán for that reason alone.
You could own a luxury-level three-bedroom, three-bath condo that comes with a private yacht club membership for $300,000 at today's exchange rate.
Beyond the Marina District are more tranquil Cerritos and Nuevo Mazatlán with their high-end resort condo developments offering plenty of on-site amenities. The amenities are important because these are not walkable locations. Living in this part of the city, you might want to own a car; it's about 10 minutes' drive from Cerritos to the thick of the Zona Dorada.
Cerritos in particular is for you if you want peace and quiet and, especially, if you like golf; the area boasts a great course. This is also a reasonable location for rentals, with good off-season occupancies.
In Cerritos, you could own a large apartment, directly on the beach, for less than $250,000.
I've saved the best for last. Based in Malecón, you'd have access to mile after mile of relatively uncrowded beaches, including the best Mazatlán has to offer. The beach here extends for almost three miles, all walkable and all relatively uncrowded and noncommercial.
In addition, located here, you're just a few minutes from Centro Histórico and the Zona Dorada. The northern end of the Malecón area is within walking distance of the area's largest mall, biggest gym, and supermarkets.
Note that, in this case, "malecón" is a bit misleading. In Spanish, a malecón is a seawall or a pier. In practice, malecón is often used in Latin America to mean the waterfront road or a seafront promenade. In Mazatlán, it's both these things and also a sector of the city that runs along the beach between Centro and Zona Dorada.
PHOTO GALLERY
7 Hot Travel Trends For Boomers
REAL LIFE. REAL NEWS. REAL VOICES.
Help us tell more of the stories that matter from voices that too often remain unheard.