When Suntory Holdings Limited bought America's Beam Inc. last April for about $16 billion, the Japanese corporation became the third largest premium spirits company on earth and adapted the slogan "Suntory is Crafting the Spirits that Stir the World."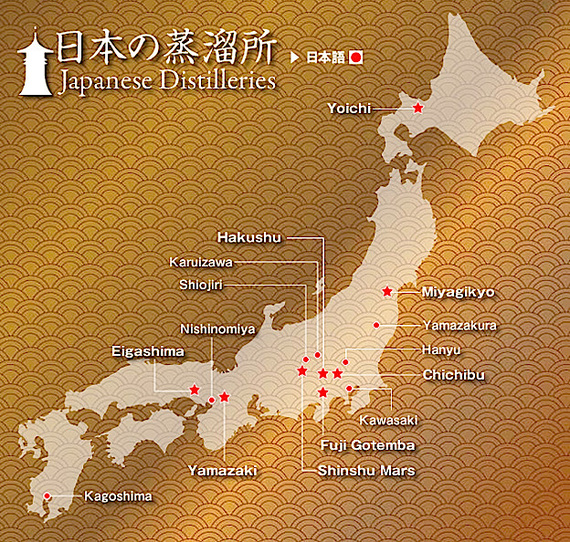 With the Beam acquisition, Suntory, with about $4.6 billion in worldwide sales, added to its own Yamazaki Japanese whiskey brand some of America's best known bourbons, including Maker's Mark and Knob Creek, along with Japanese competitors Hakashu and Hibiki, Teacher's, Laphroaig, and Bowmare Scotch whiskey, and several other spirits brands. The new company is called Beam Suntory, Inc., headquartered in Deerfield, Illinois.

Still, even with such new clout in the marketplace, Suntory, which started making whiskey back in 1923, has stiff, growing competition, not least from rival Nikka Whiskey Distilling Co., which makes a Yoichi 15-year-old ($130) single malt, Taketsuru 12-Year Old pure malt ($70), 17 Year-old ($150), 21-Year-old ($180), and Miyagikyo 12-Year-old ($120). Chichibu is another Japanese spirits producer, known for its Ichiro's Malt ($240).
Notice that none is labeled "Scotch Whiskey," which is forbidden by law, but the prices are up there with some of the most expensive Scotches made, like Macallan 18 Year-old ($200) and Talisker 18-year-old ($109). Yet these Japanese whiskeys are in short supply outside of Japan, with only about 8,000 cases total entering the U.S. market. For the time being, they are connoisseurs' whiskeys, with sales largely in New York, Chicago, California and Hawaii.
Almost all the Japanese whiskeys are blends of several years' production. In Japan they are usually drunk fairly young and with three parts soda, called a "highball" that is even sold in cans at convenience stores. Only recently have the distillers begun to lay away their spirits for aging.
Suntory--whose mantra is "Yatte Minahare!" (Go for it!)--received a huge boost in visibility when its product appeared in the movie Lost in Translation as the whiskey Bill Murray does a TV ad for--"It's Suntory time!"--and drinks at Tokyo's Park Hyatt Hotel's New York Bar, where visitors ask to sit at the stool Murray perched on in the film.
I have had occasion to taste many of the Japanese whiskeys and come away impressed. And when I visited Taiwan last year, I found that the Chinese are coming apace fast in the spirits market, not least Kavalan, opened by the King Car Whiskey Distillery, in 2008 in a state-of-the-art distillery amidst some of the island's most beautiful scenery in Yilan County. Less than three years later, Kavalan won the International Wine and Spirits Competition's trophy as Asia Pacific Spirit Producer of the Year. (Suntory took a gold medal in the same competition for its Yamazaki 12-Year-old.)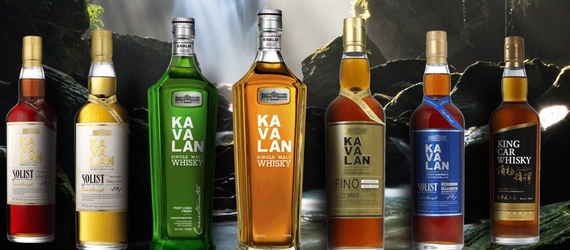 Though there a few of smoky, peaty Asian whiskeys, overall they tend to run on the sweeter side of the genre, with a good deal of caramelization from the charred barrels used for Sherry or bourbon, in the case of Hibiki, plum liqueur casks.
Suntory's Hakushu 12-Year-Old, has both fruit and citrus notes, with just a light smoky scent and flourishes when you add a dash of water (which is the way professional tasters drink whiskey). It has a definite sweetness, so those interested in a premium Japanese whiskey will want to taste some lighter entries before going to the Hakushu. Hibiki 12-Year-Old won top prize in its category at the 2010 World Whisky Awards and a Gold Medal in 2012 from Whisky Worldwide.
Taiwan's Kavlan spirits also establish their identities through various barrel aging (below). They are very cleanly made, most with that fruited sweet component. The Concertmaster label is first matured in American oak then aged in Portuguese Port barriques "as the main flavor." A variation called ex-Bourbon Oak is diluted to 46 percent strength that softens the edge of the Solist whiskey; Solist Sherry is matured in Spanish Sherry oloroso casks, with no additional coloring, and results in the company's most complex whiskey. The top of the line is its Solist Single Cask Strength, which comes in at 55-60 percent, matured in Fino Sherry butts.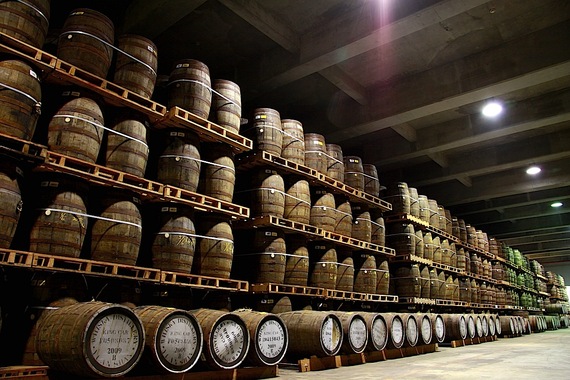 Not unlike premium Scotch single malts and small batch bourbon, these Asian whiskeys are aiming at a rarefied world market for first impressions. But with the Asian market for such spirits expanding rapidly, production goals might well turn inward in the years to come, and sooner than later.