John M. White has been making art for a long time. A fixture on the Los Angeles art scene since the early '70s, and honored last year by a retrospective at the Armory Center for the Arts, John M. White's considerable contribution to contemporary art in Los Angeles is further acknowledged by being included in four of the Getty's Pacific Standard Time exhibitions.
Throughout his career, White has focused on three major areas of work: performance art, installations, and drawing and painting. White's work has always been cross-disciplinary, seamlessly blending object-making and performance. In today's art world, there's nothing unusual about that, but when White was getting his MFA at Otis Art Institute in the late '60s, it was almost unheard of.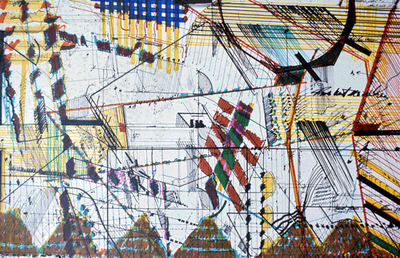 John M. White, Performance Guide, 1969, Ink on Paper, 28" x 32"

I spoke to White earlier this week about those early days.
JC: How did you initially become interested in performance art?
JW: I was a student at Otis from 1965-69. One day I saw a flyer on the school bulletin board saying that performance artist Yvonne Rainer was in town and that she was looking for helpers. So I signed up and went down to this abandoned Cadillac showroom. Yvonne was very interested in common movement, and wanted a bunch of people to follow her around and emulate what she was doing. Very simple instructions. We met a couple of times, about 50 of us, and I began to really fall in love with the idea of just walking, then getting on the ground and rolling around and getting back up and just doing common things.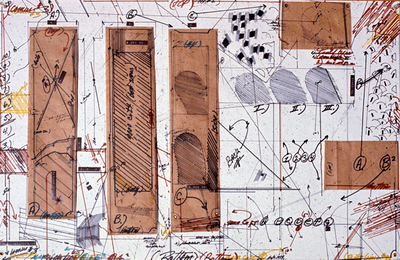 John M. White, Performance Guide: Boulder Delivery, 1970, Ink on Paper, 28" x 32"

Next I went up to Dwan Gallery with Steve Paxton and he said he'd like to use me in a piece. "Just hold on to my body and as I walk around the audience, talking to the audience, you just hold on to my sweater." I said ok, so we did that and the audience went crazy, they went nuts, they were clapping -- there were about 200 or 300 people in the audience. Then he took me outside, we walked around the block and then came in the back way, did the same thing again and the audience went absolutely crazy again. I kept saying to myself, "What is this?" It was wonderful.
We tried lots of different things. I remember a really break-through piece when Steve asked me where I worked. I told him I worked in a brewery. He then asked me what I did there. I said, "Well I do a lot of hard labor until about three in the morning and then I come into a room and I take a newspaper and I put it over my face and I fall asleep for a couple of hours on a bench." He suggested I make a piece out of it.
About a month later Steve and I went down to Del Mar to this huge factory and warehouse. I got about 15 stacks of leftover newspapers and put them in a big circle and went to the audience said I needed about 20 people to work in the piece. I pulled them aside and said I was going to cover them with newspapers and they were to count to 1000 and get up and leave. So they laid down in a circle and I asked the rest of the audience to take the newspapers, crinkle them up into a ball and throw them on top of the performers. We made this gigantic stack of crinkled newspaper, lit by one light from above which made it look very dramatic and then we all sat down and waited. One by one the performers got up and left. It was called "Paper Pile." It looked very good, it was very beautiful. So that was my initiation to performance art.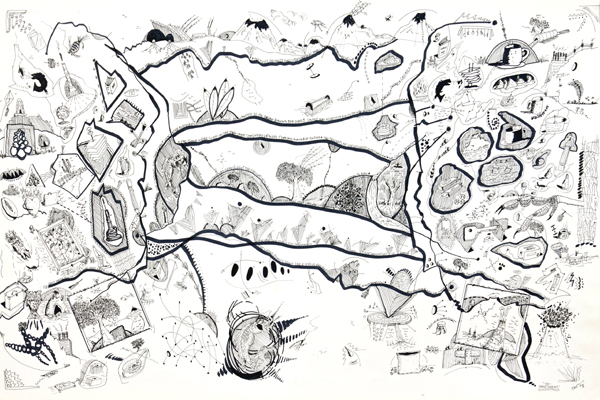 John M. White, Mind Field III, 2009, Ink on Paper, 23" x 36"
JC: So from then on you did performance as well as drawing and painting?
JW: Yes. While I was still at Otis I started making paintings called Floor Plans for Performances, but when I titled them that way, Otis wouldn't let me graduate. They said they weren't a dance school and they weren't a theater school. They loved the paintings, but they hated the titles. So I changed the titles temporarily -- I called them untitled painting #14, things like that, and then I was able to graduate!
JC: Fast forward to the last couple of years. You've had a retrospective at the Armory Center for the Arts in Pasadena and you are represented in four Pacific Standard Time shows around LA. What has this meant to you?
JW: With Pacific Standard Time, I think they were trying to highlight a lot of artists like me who were under the radar. I think the older you get, the further under the radar you get if you haven't established yourself early on. So for me Pacific Standard Time has really been a godsend in terms of my public career, but I always work anyway. I don't care if it's public or not. But it has given me a chance to do a lot of things I wouldn't have career-wise.
JC: Where does your self-validation, for lack of a better term, come from? What has kept you working all these years regardless of how your public career was going?
JW: That came from my first teacher -- he ran a private art school in his house in San Francisco and that's what he taught. I lived there for three years. He was a very strong figure.
JC: That was Giacomo Patri?
JW: Right, the Patri School of Art Fundamentals. He was a consummate teacher, an extraordinary person. He taught us to work our way through things, to do it ourselves and not to worry about getting famous or discovered. He said it was a blessing to be able to enjoy what you're doing.
I was going to become a brewmaster like my dad, and I just stumbled into his school, started taking a class, and before I knew it, I had moved in. I stopped working at the brewery and learned how to exist on almost nothing. I lived there like a monk. I've been making art ever since.
Images courtesy of Sylvia White Gallery.
Calling all HuffPost superfans!
Sign up for membership to become a founding member and help shape HuffPost's next chapter