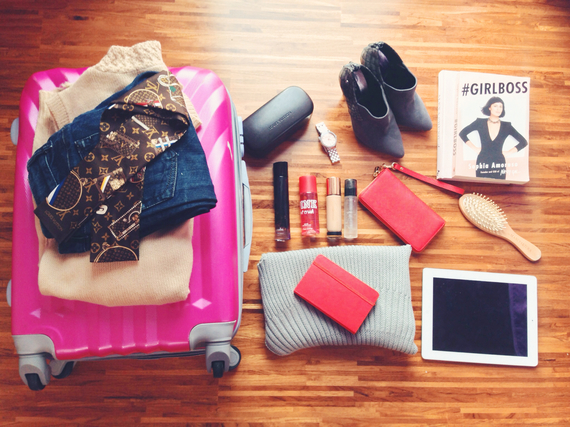 Whether you are packing for a business trip or going on vacation, it pays to travel light. Packing can be problematic -- you don't want to lug too much from place to place, but you also don't want to pack so light and end up forgetting important items. You want to be carrying the least amount of items while at the same time being prepared for any sort of situation.
When I first started traveling, I packed for every contingency. Over-packing was one of my biggest travel problems. The What Ifs got me. But, years of over-packing has taught me that I enjoy hefty baggage fees even less. Thought I'd share my seven tips on how to pack light.

1. The right suitcase is a must. Fashion designer Diane von Furstenberg once said: ''When you figure out your suitcase, you figure out your life''. Before you start to think about packing, choose the right suitcase. Think about your destination and what is the trip for -- business trip or going on vacation? Check the size of the suitcase; no one wants a suitcase that is too big for them that they cannot manage. It's key to consider the weight of the suitcase; it makes a big difference at the final weigh-in. You also must consider the length of your journey. If you're only planning a weekend getaway or short trips, then a rolling carry-on will suffice.
2. Make a list. Never underestimate the power of making a list. Making a list is a fail-safe way to ensure that you never, ever forget to bring something important. For example, I focus on the activities I know I will do on my trips and focus less on those that I am not as certain about. This helps me cross off items that I don't need and devote space to items I will actually need. It is very important to schedule a packing time and start the packing process early to allow yourself enough time to assess the items you need. This will help you lighten your load.
3. What to bring? Think about what you will be doing on your trip and where you will spend most of your time. A great way to save space in your suitcase is to choose wardrobe basics that you can mix and match. I stick to clothes that are transitional. I have learned that by picking transitional and versatile pieces of clothing I can mix and match the items into a number of outfit options for multiple purposes.
4. Layer up. This approach gives you more outfits and the flexibility to adapt to any temperature weather condition. For example, I take a pashmina scarf with me no matter where I am headed. Pashmina scarf travel well and compliment almost any outfit. It will also offer some warmth on a colder evening and on airplanes.
5. The base layer. One of the simplest but often overlooked packing tips is to put heavy, irregularly shaped items like shoes or toiletries bag at the bottom of your suitcase -- near the wheels of a suitcase. This helps to distribute the weight evenly throughout the suitcase, which prevents items from being damaged. It is very important to put all the heavy ones in first.
6. Roll or fold? It's a matter of type of trip or personal preference. Whichever way you use, the key is not to over-pack. I personally like to roll my clothes such as pants, jeans, sweaters. Why? Because rolling keeps wrinkle to a minimum and frees up a lot of space for other traveling necessities.
7. Combined items. Many items can be packed together. I never thought of using a belt to keep my collar stiff, packing my jewelry in my shoes or protecting glass fragrance bottles by slipping them into socks before packing them. These are just examples of space-saving ways, but if you look at the spaces and items you need to pack you can think of many new ways. Be creative!
I hope these packing tips will come in handy-dandy as you plan your next trip. Happy light travels!
Related