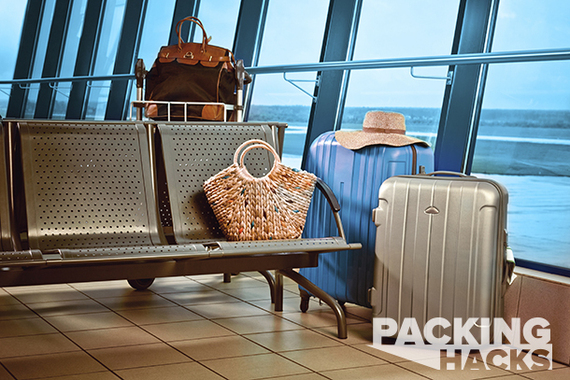 Each day on SmarterTravel.com, we'll offer packing tips and advice, plus opportunities to win fabulous prizes along the way. The more you follow Packing Hacks, the more chances you'll get to win!
Confession: I used to travel with a baby-blue JanSport backpack that I'd had since sixth grade. It had highlighter doodles, it was thoroughly unfashionable, and once, an elderly man at the airport told me to stay in school and study hard (I was 24.) I was a bit of a cheapskate, scoffing that no way in the world would I spend a couple hundred bucks on a stupid suitcase.
Since then, I've changed my ways. I've now researched, written about, and traveled with carry-on luggage a great deal. I've lugged all different types of carry-ons in different airports and on trains, boats, ferries, and once, on a horse. And I finally found a few bags that I love—and that you should love, too.
So with my firsthand knowledge—and without my dirty old JanSport—I'm happy to share what you need to look for when choosing the perfect carry-on bag.
√ Which features you need (and which you don't)
√ The type of bag that's best for you
√ My surprising pick for a great carry-on bag
Obviously the first thing you should consider in a bag is its price tag. I've seen carry-on bags priced for as little as $40 and as much as $1,000. (For $1,000, it had better do my laundry and look like George Clooney.
Of course, only you know what your budget can handle, but note that a super-cheap bag likely won't last long; on the flipside, just because a bag is expensive doesn't always mean it's a good choice.
Something in the hundred-dollar range is generally a good place to start, but you can often get high-quality bags on sale during the holidays or when newer models are released. Check out discounting sites like eBags and Overstock.com for good deals; rarely, if ever, will you have to pay full price for a bag.
Before you go carry-on shopping, research the size and weight limits for your preferred airline (yes, different airlines have different size requirements, something to be aware of when booking international flights or codeshares). If you fly multiple or international airlines often, consider the smallest, slimmest models available. And be sure to consider what you're able to comfortably lift over your head and lug around for several hours.
Theoretically, anything can be a carry-on, as long as it meets your airline's size requirements and can be carried onto a plane. I've traveled with someone who used a reusable plastic grocery sack. Was it a carry-on? Technically. A wise choice? Probably not.
Here are some good types of carry-on bags for you to consider.
When most people think of carry-on bags, this is what comes to mind first: a small piece of luggage on either two or four wheels and with a telescoping handle. The options are nearly endless, with hard-sided or soft-sided exteriors, four spinner wheels or two inline wheels, and any number of storage configurations. On Day X of Packing Hacks, Julianne Lowell gave you a great summary of what qualities to look for in any suitcase. Here's a quick rundown of some roller- and spinner-specific features you need to keep in mind:
Durable, weatherproof materials, whether the bag is hard-sided (plastic or polycarbonate) or soft-sided (ripstop nylon). Carry-on bags get tossed around—a lot.
High-quality wheels and handles that don't wobble, lock, or bend easily. Spinner wheels especially are prone to getting knocked about and broken.
Organization, both interior and exterior. At a minimum, I like two exterior pockets (preferably one that will fit my laptop or iPad), a large interior pocket for toiletries, and a smaller interior pouch for dirty laundry. I'm in the more-is-more crowd when it comes to pockets: I want, and will use, all of them.
My absolute favorite, can't-fail, never-gonna-give-you-up carry-on is my Samsonite Silhouette Sphere. It has smooth spinner wheels, tons of organization, and an exterior pocket that fits a full-size MacBook Pro (I love not having to schlep a separate laptop bag through security).
Imagine your average roller bag shrunk and slimmed down to an absolute minimum. That's what an under-seat bag is: a smaller carry-on bag designed to fit in the space beneath the airplane seat in front of you.
If you're packing light for a weekend getaway or a short business trip, an under-seat bag is a great buy. You can stash a few outfits and toiletries in the main compartment and use exterior compartments for reading materials, gadgets, and so forth. But because these bags are larger than most airlines' personal-item limits, it will count as your carry-on item—and you probably won't want to pair it with a full-sized checked bag if you can help it.
If you don't want to blow a lot of money on such a small bag, this Lucas model is a great option at just $40; it even contains a separate cosmetics bag and document holder. If you want to make an investment, the Briggs & Riley Baseline Cabin Spinner is my pick. It's pricier, but you're getting a well-constructed bag with smart organization, smooth-as-butter spinner wheels, and a ballistic-nylon exterior.
Within the last 10 or so years, luggage retailers have discovered that travelers need to bring technology with them wherever they go. Enter the category I call "smart bags": small handheld luggage that is designed specifically for those traveling with tech devices. Smart bags have fancy bells and whistles that appeal to flyers with tablets, e-readers, laptops, and smartphones. They're compact and often not much larger than the size of a handbag or regular personal item. Each bag generally has dedicated pockets or labeled slots for your gadgets as well as other features like portable chargers, space for battery packs, and cord-organizer systems.
Even if you don't travel with every product Apple ever made, a smart bag is a great choice for someone who travels with lots of extra stuff: books, earbuds, snacks, lip balm, tissue, and all the other little things that sink to the bottom of your bag mid-flight. And smart bags often count as personal items (not full-fledged carry-ons), which make these a great supplement to a larger bag. The downside is that these types of bags are often quite small.
The options are exhaustive. Some favorites that have crossed my desk are the Genius Pack High-Altitude Flight Bag (a slim bag that straps onto the tray table and for which you can buy a mobile battery charger) and the Cocoon Grid-It line of backpacks (absurdly well-organized, with rubberized straps to hold all your stuff in place). If you want something slim and unobtrusive, the STM Maryann laptop tote is perfect for minimalists—and it's pretty cute.
There are plenty of quality backpack and duffel options out there (that aren't my baby-blue JanSport). Even super-high-end luggage line Tumi hawks a fine leather backpack—for a cool $675.
What's great about backpacks and duffels is that they're naturally lightweight and come with comfortable straps, leaving you hands-free for your travels. They're extremely easy to stow beneath seats or stuff in overhead bins, and some convert into rolling bags for easy transport. Of course, the tradeoff for all that convenience is that they're often smaller than classic rolling carry-ons, and the exterior materials tend to be sporty, favoring durability over fashion.
Look for low-profile, high-quality bags from major luggage lines. The Verb backpack from Briggs & Riley is a good option: It has countless compartments for smaller items, fits a large laptop, and is made of sturdy moisture-resistant nylon. If you're more of a duffel fan, this convertible Osprey Ozone bag offers the convenience of straps with the added bonus of a handle and wheels (perfect for adventure travel).
This one is a wild card but stick with me—our marketing manager, Erin Liszewski, shared this tip, and I thought it was brilliant. She says a stylish diaper bag is the perfect travel companion: "Back in college, my friend showed up at the dorms with what we initially made fun of and then came to admire and covet—a Kate Spade diaper bag. The bag looked like a sleek tote for carrying books on the outside, but inside had tons of different compartments for everything a college student needs throughout the day—a (water) bottle holder, zipper pouches for her student ID and T pass, even a little place to keep her lunch cool and dry. My friend is now a world-traveling mother of an infant, and she—as well as I—carry sleek diaper bags when traveling, even without kids."
I think this is a super-smart move. And diaper bags are even roomy enough to fit a change of clothes, which makes them a great option for a weekend-getaway bag.
Almost any of these cute options from Kate Spade are a good place to start; simply toss out or donate the included changing mat and, voila, you have a stylish designer carry-on. Also check out the bag options from Layla Grayce (so many patterns!) and Marc by Marc Jacobs. Trust me, no one will know it's a diaper bag.
How to Pack Your Perfect Bag
Once you're the proud owner of the perfect carry-on bag (congrats!), you'll want to develop a packing strategy that you can use again and again.
Related