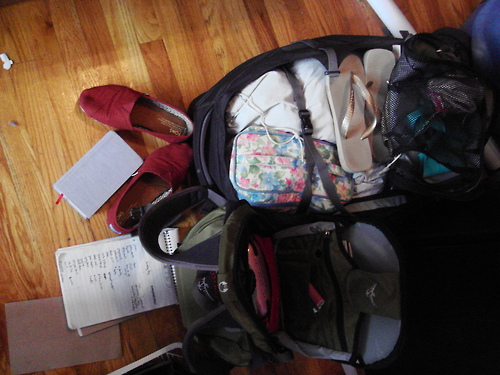 With a small bag and a five month itinerary, I thought long and hard about each item I wedged into my bulging pack. But more often than not, I was wrong, wrong wrong. After 149 days in South America, here are the lessons I learned about making the most of your backpack.
For starters, let's talk bags. I used the Osprey Farpoint 70 Travel Pack, which I came to love. I purposely wanted to limit the weight of my bag to avoid throwing out my back out every time I hoisted it up, and this guy was perfect. It comes with a nice little detachable daypack (which I never once wore attached -- when packed, it's simply too cumbersome to be functional). I used it as a carry on instead. A major benefit of an Osprey pack is its zip-up backside, which encloses the shoulder and waist straps. It's perfect for avoiding damage when checking the bag on a bus or plane. I also liked the bag's front loading zipper; I never had to dig to the bottom of my bag to find something small. My only complaint? The bag was maybe almost too high tech. Every week I'd discover some new feature, like a secret pouch, or a hidden zipper pull, or headphone loophole, even a whistle on the daypack buckle! Who knew it'd be worthwhile to read the user manual on a bag?
Moving on to contents. The stuff in my bag is much different from when I started. Half of my clothing fell apart and another 25% got lost in the mix. I re-bought plenty of necessities and ditched many un-necessities.
Here's a breakdown of specific items:
Things I'm glad I packed

The best things I packed were a synthetic black camisole, black cardigan, and black yoga pants. They don't show stains or fall apart, the cami and cardi weren't too casual for going out, and the yoga pants were perfect for sleeping and hiking. Most importantly, since they're basically polyester, they dried quickly when I washed 'em in hostel sinks.
I'm happy I packed hiking shoes even though I only wear 'em every month, they take up tons of space in my bag, and they smell like crap. For the big hikes, my Toms or little tennies just wouldn't have cut it. Speaking of shoes, I am officially a Havaianas convert. They're cheaper in Brazil and my pair lasted the entire trip with only the rarest of blow-outs.

I'm glad I didn't rip apart my copy of Lonely Planet as originally planned. I ended up going to four different countries not in the initial route after hearing rave reviews from other travelers.
Important item: headlamp -- it was basically required on all of the hikes and helpful for rummaging through your bag in a dark hostel dorm. Not to mention electricity outages.
Also of utmost importance: a tiny little extra absorbent towel. By now it looks disgustingly musty ("suspicious" is the word one friend used) but it was important since a lot of hostels don't supply towels.
I had a pack of those facewash wipe things (like baby wipes but for your face) which were really nice for long bus rides.
And don't forget sunscreen. Bring a massive bottle to avoid spending a fortune on it away from home. For example, South Americans don't seem to wear much of the crap, so it comes with a tourist premium priced in. In beachy areas where you really need it, it'll cost more than your room for the night.
Things I wish I had packed

I could have used more "going out" clothing. Back in New York, I dress pretty casually for hitting the bars (and I don't really do clubs). But that doesn't translate everywhere in the world. Apparently, it's frowned upon to show up to a club on any continent, in flip flops and a cotton tank top. A pair of flat black riding boots and "fancy tank tops" I picked up in Brazil and Argentina were helpful for that. (For guys, one shirt with a collar helps.) In the same vein, I wish I had packed a purse or slightly less backpacker-y day pack. It's not really cool to tramp around a city carrying an army green hiking backpack (not to mention it screams "TARGET"). And while I didn't mind carrying my money in my bra, I was very ready for that to end. I can't tell you how many times I've found a bill stuck to the side of me, or trying to creep out of my shirt! Perhaps a Rack Trap would have helped me out in that department.
I also wish I had gone a different route with organization in my bag. I sewed myself two stuff sacks for clothes, which worked okay, sometimes, depending on what was clean/dirty and wet/dry. My travel buddy used massive Ziplock baggies which fit smoothly into his pack, allowed him to see the contents and easily sort dirty and clean clothing. I usually just stuffed dirty clothes into the bag wherever I could fit them, which translated to dropping dirty socks and random things along the way like Hansel and Gretel.
Things I really didn't need

My cotton Toms shoes were lightweight and comfy, but started falling apart after a month of daily wear. And they were too casual to wear at night time and too light to wear with socks in the cold. Not to mention they got very, very dirty and very, very smelly. Wearing them into the shower didn't help, I tried.
I never once used (unfortunately for the environment) my reusable tote bag because I never carried it around with me. In fact, we often used plastic bags to carry valuables like cameras to throw off potential muggers.
Other basically unnecessary items: rain jacket, sleep sack, hairdryer, five books (you're better off starting with just one and hitting up hostel book exchanges). I didn't like the wicking underwear that my travel mate and I somehow thought we would really need. They were weird and not comfortable.
I smartly didn't pack any expensive clothing, because most everything I took ended up ruined in some way, but I wasn't smart to pack cheap, old clothing, either, since it fell apart almost immediately. What brands held up best? American Apparel tees, a Target cardigan, and New York & Co. shirts.
And that's the story of my stuff. What essential backpacker item did I miss?