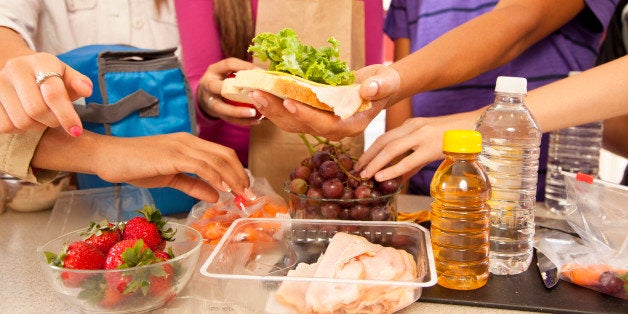 It's a mere few weeks into the school year and I'm already dreading lunch. What's more stressful is a tossup: the caffeine-enhanced frenzy of packing lunches at the crack of dawn or the frustration of opening my daughter's lunchbox at the end of a long school day to find it completely untouched.
It makes me a little crazy -- actually, a lot crazy. For all of the time I've spent working on improving what we eat on our home turf, I have yet to master the away game. That said, on our journey, I have stumbled onto a few strategies that help ease the pain of lunch packing, both for my kids and me. None of them are your silver bullet. You will not find one, so stop looking. But I've found that using these "ingredients," in any combination, help me minimize lunch packing stress and answer that nagging question, "What's for lunch?"
Follow a formula: Three colors + one protein + one healthy grains. This simple formula is the basis of our healthy eating game, Crunch a Color, and equally forms the foundation of a winning lunch in our house. I've schooled my kids on this formula, so when they're packing (and eating) they know what to do. It's become second nature. As for those colors, the farmers' market offers a bounty of options for your box at this time of year: green Granny Smith apples, red and yellow peppers, deep purple grapes. I love how Rebecca at Bentos on the Bayou and Deb at iPackLunch used our simple formula to pack their lunches full of healthy colors.
Involve the kids: The likelihood of lunch consumption increases dramatically if I take the time to involve my kids in planning their lunches. Ideally we plan a week's worth of meals on a simple lunch meal planner. At a minimum, we work out what snacks they would like to eat. I store things like whole wheat bread sticks and dried fruits on a low pantry shelf, fruits and veggies in an easy-to-access refrigerator drawer, for mornings when they are feeling inspired to help. Like my friends Venia at Organized Bites and Keely McGuire, I find that my kids are more likely to eat what they pack (or at least put on the menu).

Keep ingredients ready to go: There is a lot to be said for good preparation. Meal planning is part of it, but having fruits and veggies washed and chopped and a couple of bowls of rice and pasta at the ready is a huge time saver. I generally find that a small investment prepping foods on Sunday results in a big payoff during busy weekday mornings. Re-purposing leftovers is another huge time saver. Our basic lunch vehicle is usually some version of a rice dish: rice with edamame and bok choy, rice with black beans, corn and peppers, or rice with curried chicken, carrots and celery. Rice dishes are a breeze if you have everything prepped ahead of time -- morning mayhem if you try to do it all before 7:30a. Check out Tickled Red and Lunch, Snack and Sinner for a few more time saving tips.
Think Out of the Box: School lunches can be the worst offenders when it comes to processed and over packaged foods. Inspired by a project in my son's class where the kids investigated the impact of the trash we create on our oceans, my six-year-old son James decided to make our boxes 100 percent plastic baggie free. It was one easy way he felt that we could make a tangible difference. This simple change led my kids to choose fresh, whole foods over anything that arrived in a box, bag, cup or carton. We took it one step further by remaking some of our boxed favorites in a healthy way, like homemade granola bars and healthy no-bake cookies made with rolled oats, sunflower butter and honey. The focus on this one simple idea helped us easily make the shift to boxes loaded with whole foods. For more ideas, Susan at Our Family Eats offers some great inspiration for packing a box-free lunch.
Try New with a Tried and True: Working new foods into your lunch can be a challenge, especially for picky eaters like my daughter. But we are always trying to work a little variety into our regular routine, so occasionally something new will make an appearance in our boxes. When you venture to pack something new, include it with a "tried and true"--a familiar favorite that you know your kids will love. Serve it separate, or mixed together (with a favorite food), depending on what will be most appealing for your child. Check out Bent on Better Lunches and RoxxBox for a few clever ways to serve up new foods in your lunch. A dip can help too (for any kind of foods, new or not). Although we've witnessed the wonders of ketchup in this domain, try something different like a healthy Caesar salad dressing made with Greek yogurt or a nut-free basil pesto. Then celebrate the fact that your kids were willing to try something new, even if they don't like it. It's their openness to trying that is important.
A mother of two, Jennifer Tyler Lee is the creator of the award-winning healthy eating game, Crunch a Color®, and author of the upcoming book, The 52 New Foods Challenge (Penguin/Avery 2014), a week-by-week playbook to get your family eating healthy, one new food at a time.