With the holidays fast approaching, many of us will be packing suitcases and driving or flying to visit family. But let's face it: packing for cold winter weather is no easy task. Here are five packing tips to maximize space when headed for cooler temps.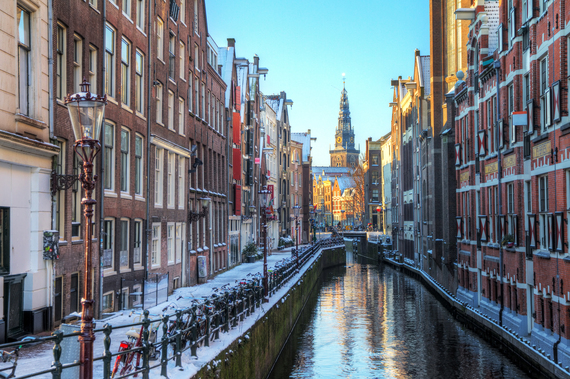 1. Invest in quality clothing
Functional fabrics make it easy to stay warm while you're on the road. Look for high-tech layers that wick away sweat and dry quickly--they'll dry fast if you need to wash them in a hotel sink, but will keep you warm without adding bulk. (You can find plenty of options at most sporting goods stores.) For your outer layers, cashmere is great for staying warm without taking up space in your suitcase.
2. Layer up
Chilly temps outdoors and warm, heated spaces indoors can turn dressing into a challenge, so rely on multiple layers. Choose a neutral sweater and pair it with long-sleeved t-shirts underneath. Long underwear or leggings add extra warmth and versatility when worn under a dress or pair of pants. The bonus? Layering allows you to re-wear multiple items without having to pack extra--no one will see what you're wearing under your favorite sweater!
3. Try compression bags
A travel miracle, compression bags are a great way to organize and separate belongings (like dirty laundry, for example) without taking up precious packing room. Simply fill the bags with your bulkier items and roll to remove air.
4. Pick the right coat
Coats are generally your biggest, bulkiest item, so consider your itinerary and bring the jacket that will work for as many occasions as possible. A city trip that involves museum visits and fancy dinners may warrant a sophisticated wool peacoat, while hiking trips spent primarily outdoors will require a versatile jacket with a waterproof outer layer and warmer inner layer.
5. Wear your bulkiest items on the plane
It's not always fun to wear your boots and winter jacket when you're leaving a relatively warm climate, but doing so will free up some coveted space in your luggage. Planes also tend to be chilly, so wearing layers will keep you warm. (If you get too hot, a jacket can make a great pillow.)
What are your cold-weather packing tips? Tell us in the comments!