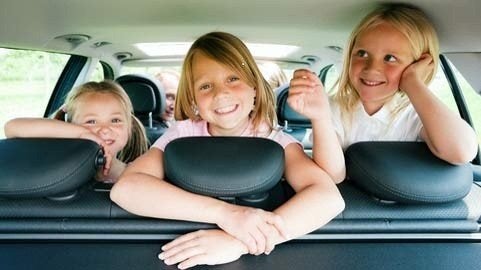 Whether you're heading across country or just a few hours to grandmother's house, getting in the car for a road trip is a time-honored summer activity. Unfortunately, with gas prices such as they are, you may be looking for ways to save a little money while on your family voyage. One way you might be able to keep a few more pennies in your wallet is to pack a cooler of snacks and meals instead of buying pricey treats at convenience stores along the way. Sure, your kids may miss the spectacular artificial flavors of the chips and drinks they offer, but your healthier homemade items could save more money and make for very happy (and less sugar-enthused!) travelers.
A few tips to follow when packing your cooler for a road trip:
Favorites
Include in your cooler a thermos of iced coffee (it is summertime, after all), bottled beverages and sweet and salty snacks that make it a feel like a genuine road trip. You don't have to load up on junk food, but everyone in the car will appreciate a few favorite treats.
Unexpected (but welcome!) snacks
This is where you can sneak in healthier food options for your travelers. Snacks that you wouldn't usually expect to have on a road trip -- homemade granola, popcorn (popped at home and stored in zip-top bags), apples -- but ones that can travel well are always fun items to pack in a cooler. My grandmother used to bring homemade pimento cheese sandwiches whenever we traveled with her, and they were always eaten with the same eagerness as the chocolate bars.

Water bottles and travel mugs
Staying hydrated is a good idea in any situation. Instead of buying bottles of water, use refillable bottles of water from home and fill them before you hit the road. Travel mugs are also great if people want to share a bottle of something with a car-mate and for that iced coffee you packed.
Enough for everyone
A good idea is to plan for one drink and one snack every two hours for every person in the car. A car with four travelers going on a 10-hour drive can have at least 20 drinks and 20 snacks! Even if you stop for a full meal, I've still found the two-hour desire to snack applies. If it turns out to be too much food, you'll have snacks for the first day of your trip. It's better to have full and happy passengers than hungry and angry ones.
Pack coolers with long-lasting cooling packs
I've found that messing with melting ice in a cooler can be a pain while on a road trip. Ice packs that get warm after just a few hours are also annoying. As a result, I like to use ice packs that last for days before losing their cool. Packs like these may be pricier than others, but they'll last for the length of almost all road trips.
Paper towels, wet wipes, and a grocery sack
You want to be prepared for spills and sticky hands, so consider including a roll of paper towels and some wet wipes. A plastic grocery sack for trash can be a good idea, too.

About Women & Co.:
Women & Co.®, a service of Citibank, is the go-to personal finance source for women. Women & Co. delivers financial content with sharp, insightful commentary and a female point of view. Sign up for free at womenandco.com.