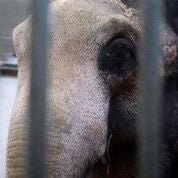 Let's make February 9 "World Zoothanasia Day" in honor of Packy
I've just been told Packy has been killed — zoothanized — some might say murdered — at the horrific Oregon Zoo! The handlers were correct when they said zoo administrators had been planning this for a while. How sad and deplorable. For more on this magnificent being please see "Animal Advocates and Keepers Urge Oregon Zoo Not To Kill Packy the Elephant if There Are Plans to Do So" and links therein. Deep and hearty thanks to all the wonderful people who tried to stop this. Let's make February 9 "World Zoothanasia Day" in honor of Packy and all of the many other nonhuman animal beings who are needlessly killed at zoos (please see links below).
In this post from In Defense of Animals we read:
According to Team Packy, an organization that was dedicated to Packy's wellbeing, a member of the zoo staff was quoted as saying the following during a staff meeting, "How much is a 54 year old bull worth compared to a 4 year old reproductive calf?" These statements seem to reveal the true value that the Zoo placed on Packy value that was based on economics above anything else.
Cruelty cannot and must not stand the spotlight: Please don't let the zoo get away with murder
Please contact Oregon Zoo, the Zoo Foundation, and Metro Council to register your disgust: Oregon Zoo's Director, Don Moore, 503-220-2450, don.moore@oregonzoo.org; Metro Council President, Tom Hughes, 503-797-1989, tom.hughes@oregonmetro.gov; Oregon Zoo Foundation Communications Coordinator, Rita Paolo, 503-220-5771.
Marc Bekoff's latest books are Jasper's Story: Saving Moon Bears (with Jill Robinson), Ignoring Nature No More: The Case for Compassionate Conservation, Why Dogs Hump and Bees Get Depressed: The Fascinating Science of Animal Intelligence, Emotions, Friendship, and Conservation, Rewilding Our Hearts: Building Pathways of Compassion and Coexistence, and The Jane Effect: Celebrating Jane Goodall (edited with Dale Peterson). The Animals' Agenda: Freedom, Compassion, and Coexistence in the Human Age (with Jessica Pierce) will be published in April 2017 and Canine Confidential: An Insider's Guide to the Best Lives For Dogs and Us will be published in early 2018.
Popular in the Community