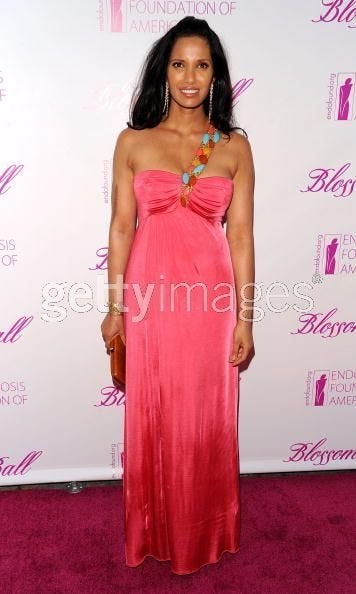 New mom Padma Lakshmi was out Thursday night at a benefit for endometriosis, which she overcame to conceive daughter Krishna, born in February.
While there she raved about her daughter, talked about her baby weight and talked about her love for Teddy Forstmann, a long term companion who is not the baby's father. The father is ex-boyfriend Adam Dell.
She said of Teddy during her speech:
"I am lucky to have someone who unwaveringly gave me love and manly support -- and is also the person that I love. So thank you, Teddy."

About her baby weight, which piled in part because for six weeks she was bedridden during her pregnancy:
"The minute I wasn't bedridden... I got to work.... I was 25 pounds heavier than people are used to seeing me. There was nothing I could do about it, so I just accepted it," she adds. "I just thought, I had a baby, that's way more important. Women are beautiful in all shapes and sizes and I wanted to show women that you can dress well, that you can still feel sexy, that you can still feel confident, and it was OK if my boobs were big because I was feeding another human being."

"I felt good then, I feel good now, I'll feel even better when I lose the last 15 pounds," she told Us.
To People: "She's a delight in every way and everything is better with her around... Her personality is bubbling forth."

To Us: "I love giving her a bath in the bathtub. I love just holding her and nursing her and falling asleep with her on my chest."

REAL LIFE. REAL NEWS. REAL VOICES.
Help us tell more of the stories that matter from voices that too often remain unheard.