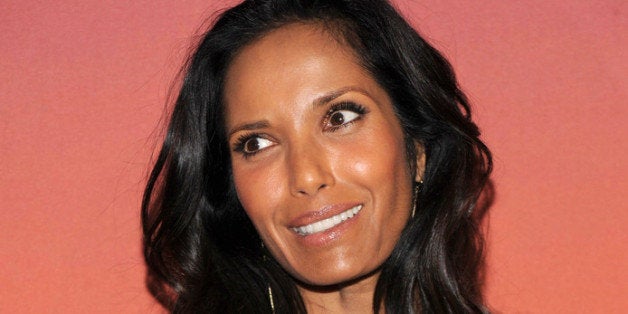 Have you ever watched an episode of "Top Chef" and thought to yourself, "How does Padma Lakshmi stay so impossibly skinny eating all that delicious food?" Well, the short answer is: she does gain weight. The longer answer is: she gains weight, but she doesn't care in the least bit.
After each season, she follows "a clean diet: no meats, no sweets, no alcohol, no cheese, no fried food, no wheat. And I work out five days a week, boxing three days, lifting weights the other two."
The 43-year-old also talked to Fitness about her pregnancy weight, and said she went from a size four to a size 14 when carrying baby girl Krishna, who is now three-and-a-half years old. "It took 13 months to get the weight off. It was hard," she said. "What's interesting, though, is that, in my experience, men don't want skinny girls. When I was a size 14, I got much more attention from men than I do now."
This isn't the first time that Lakshmi has discussed the weight she gains on the show. In 2011, she told Parade magazine: "I don't stay in shape during the season. I go up one to two dress sizes. What you don't see on camera is that I do have a rack full of clothes that range in sizes, and as I gain weight, I just wear bigger clothes."
Five months after the Parade interview, Giuliana Rancic caught up with Lakshmi on the Emmys red carpet and got more specifics. "I get bigger for me, then I lose weight," Lakshmi said of filming "Top Chef." "I gain 15 pounds in six weeks, then I take like 12 weeks to lose it because it always takes longer to lose it. I love the food and I love my job and it's worth it."
Calling all HuffPost superfans!
Sign up for membership to become a founding member and help shape HuffPost's next chapter
BEFORE YOU GO
PHOTO GALLERY
Slimmed-Down Celebrities: Stars Who've Kept The Weight Off