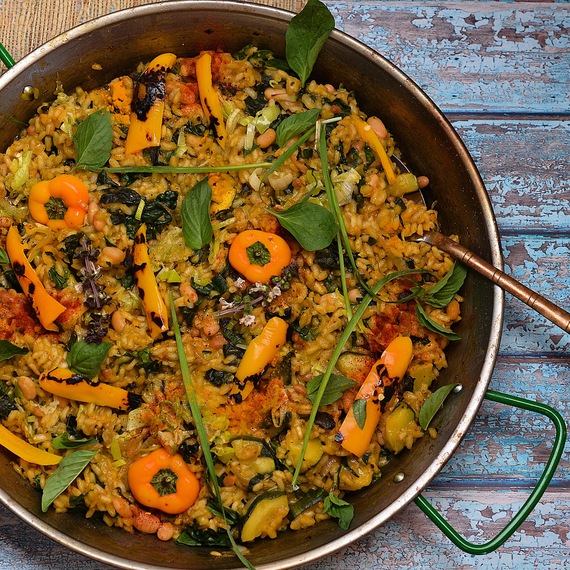 Paella is traditionally meant to feed many. The Italians call it risotto, the Spanish, paella. There are similarities and differences, of course, such as the smoky paprika and saffron in paella, and the parmesan and creamy nature of risotto. The first time I had true paella was at a little hole in the wall place called Lola's on Esplanade Avenue in New Orleans. Garlic aioli comes to the table in a little dish, creamed up like butter, served with a big pan of paella, toppling with abundant rice studded with shrimp, calamari, scallops, mussels and other fruits de mer. The seafood paella, Lola's specialty, serves four people easily, most of them, if not all, reek of that marvelous garlic aioli. I came to learn later, after spreading the stuff on every bite, the bedsheets become perfumed with the stinking rose of garlic, along with my clothes, my skin, everything. Ah, but the garlic-infused paella, bountiful with your choice of either seafood, meat or vegetarian. Garlic, saffron and paprika are the trinity of paella.
Since the beginnings of paella back in its mother region of Valencia, Spain, a few old-fashioned paella-making basics have remained standard routine. Begin making paella with a smoky sofrito, a flavor base of chopped up vegetables sautéed in oil with garlic and tomatoes, onions and Spanish red peppers. Sofrito means "gently fried" and this is your secret sauce. For a rich flavor, cook the sofrito longer. Then the rice is added and cooked through for about 20 minutes until that toothy al dente tack is reached. For a flavorful crust, called socarrat, turn up the heat for a moment before finishing the paella to toast the rice on the bottom of the pan.
My paella pan is large enough to feed a table of people, and that is all you will need. Once you have made your rice, just put it on the table and serve. This makes paella an easy weekday dinner or a weekend dish after the Sunday farmers' market. There are endless ways to make paella, but vegetarian style allows humble vegetables to showoff and become luxury ingredients. Especially because paella might be considered parallel to a casserole of sorts, an ordinary feed with the purpose of using up leftover ingredients or produce that doesn't have much left to give, which summons up some kitchen inspiration for creating an ordinary dish into something extraordinary. I've used the same paella pan for years and it only improves with the patina of age, as I'd like to believe the pan gives the rice more flavor, the chewy caramelized crust of rice at the bottom and the al dente tenderness at the center of the one-dish pan is the spice-fragrant treasure one seeks until completely scraped out, spoons and forks licked clean.
This recipe is more of a suggestion than an exact recipe, so please add your own choice of vegetables to this paella as you please.
Vegetarian Paella
(serves 6)
1/4 cup olive oil
1 large onion, chopped
1 leek, chopped
6 cloves garlic, minced
4 cups vegetable broth
2 cups short grain paella rice (bomba, Valencia or Calasparra)
3 small sweet peppers, yellow, red and orange, charred and sliced
4 medium tomatoes, seeded and chopped
1 bunch basil, leaves
chopped green olives (optional)
a few threads of saffron, crushed
1 tbl smoked sweet paprika
1 lemon, juiced
sea salt
Prep all veggies before adding to your paella: roast peppers, sauté any other veggies you choose so that they are ready to add to the paella near the end of cooking.
Heat the olive oil in the paella pan and sauté the onion, leek and garlic on medium-high heat until tender and translucent, about 10-15 minutes. Sometimes I splash a little sherry or marsala at that point, it adds some dimension to the caramelized ingredients.
In a separate pan, heat the vegetable broth until simmering.
In a small bowl, put saffron into a little hot water, allow to stand about 10 minutes.
Add the rice to the paella pan with the onion, leek and garlic and sauté about 3 minutes.
Add tomatoes and paprika. Cook and stir for 5 minutes. Add more paprika and any other Spanish peppers to make the luscious sofrito seasoning into a richer, deeper flavor, and cook a little longer.
Add veggie broth and saffron water. Cook for about 20 minutes on medium-high heat until al dente texture. If the broth has been absorbed but needs more cooking time, add more broth accordingly, taste to check the cooked rice until desired consistency. Reduce heat to low.
Cook without stirring at high heat, 1 to 2 minutes, allowing a crust to form on the bottom.
Add in the sweet charred peppers and chopped green olives (if desired), as well as any other veggies you want.
Toss all vegetables gently in the pan to incorporate into the rice, taking care not to scoop to the crispy soccarat bottom, and cover with foil. Remove from heat, allowing the rice to set, about 10 minutes.
Drizzle lemon juice and season with sea salt to taste.
Garnish with basil leaves (parsley and/or cilantro can also be used) and serve.