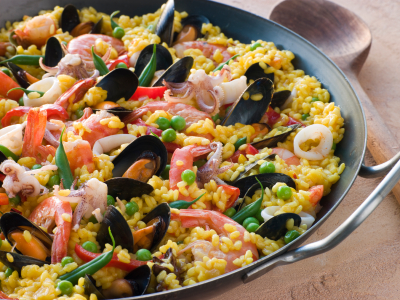 I was so saddened by the recent death of food writer Penelope Casas. I never met her, but I've long depended on her work for my own research. Her first cookbook, The Foods & Wines of Spain, was published in 1979 and was for decades the only act in town if you wanted to know about authentic Spanish food. She wrote a book about tapas long before small plates became fashionable ("Tapas, The Little Dishes of Spain," 1986), and a comprehensive book on the regional cuisines of Spain ("Delicioso! The Regional Cooking of Spain," 1996), a tome whose index does not include El Bulli, Ferran Adrià or foams.
Casas was not Spanish herself, but Greek-American, born in the borough of Queens in New York City. She studied Spanish in high school and majored in Spanish literature at Vassar. When she was 19, she went to Madrid on a student exchange program and fell in love not only with Spain and Spanish cooking, but also with Luis Casas, a medical student and the son of the woman who hosted her. He guided her through the tapas bars of Madrid that semester abroad, and eventually became her husband.
Sometime in the early 1970s, when the couple was living in New York, Craig Claiborne made an error of nomenclature when writing in the New York Times about a Spanish tapa called angulas. Casas wrote a letter to him about the mistake, and this eventually led to a Spanish dinner that she prepared for him in her home. He was very impressed by the meal and urged her to write a book; this became The Foods & Wines of Spain, published by Knopf and edited by Judith Jones.
One of my favorite Penelope Casas books is Paella! Spectacular Rice Dishes of Spain, which she published in 1999. This book, with more than 60 paellas, needed to be written, as Americans have long had misconceptions about what paella is and how to prepare it correctly. "The horrors that have befallen this exquisite dish and the indignities it has suffered!" Casas writes in the opening paragraph of the book's introduction. "Paella is not a steamed rice, cooked in a covered pan, but generally a 'dry' rice that cooks uncovered in a wide, flat paella pan. It is not bright orange (that comes from artificial coloring) and it is not a precooked pot of Uncle Ben's rice to which lobster, chicken and clams have been strewn on top to give a pretty appearance and to disguise what is usually very ordinary rice."
Paella is meant to show off the rice itself and to highlight a few special ingredients. These can be vegetables, fish, shellfish or meat. Sometimes you will find sausage in a seafood paella (though rarely in Valencia, home of paella, where mixing sausage and seafood is heresy, according to Casas), but you will not also find chicken in that dish; you'll find chicken in a typical paella Valenciana, however, and possibly rabbit.
Whatever paella you make, it should use short- or medium-grain rice, which should be cooked uncovered in a flavorful stock. You can get the highly regarded Spanish Bomba rice at specialty markets, but at more than $7 a pound I usually opt for a California-grown Valencia-style "pearl" rice from Goya Foods. It's fun to make paella over a grill, and a bit easier than making it on the stove unless you have a large center burner. I don't, so when I use the stove I position my paella pan over two burners and rotate it every five to 10 minutes while the rice is cooking.
I made a big seafood paella recently for a dinner party I gave for what I thought was going to be a dozen people and turned out to be 14. I had sold the dinner at my son's school auction and didn't know anybody who was coming except for the principal, but figured a festive paella would be a great dish for breaking the ice, if ice had to be broken. Paella is the perfect party dish because it's a one-pot meal, and because it feeds a crowd (I didn't know that there was going to be an extra couple at the table until we sat down and I found that I was two places short; I scrambled to set places but had no worries about having enough food). You can get much of the cooking done in advance, and the finished dish can sit for some time before you serve it. You can make it with seafood or meat, as well as vegetarian (I ate a wonderful vegetable paella in El Palmar, a small town near Valencia known for its paellas, and published the recipe it inspired in "Mediterranean Harvest").
I didn't know that Penelope Casas had died when I decided on my dinner party menu, but I'm glad to have cooked a tribute to this wonderful, pioneering food writer.
Paella de Mariscos

Serves 10

Ingredients
24 littleneck clams, scrubbed and purged (see Notes)
1 pound medium shrimp, in their shells
8 jumbo shrimp, in their shells (use 1½ pounds shrimp in all if jumbo shrimp are not available)
7 cups water, fish stock or chicken stock
Generous pinch (about ½ teaspoon) of saffron threads, crumbled
½ pound uncooked sweet Spanish (NOT Mexican) chorizo sausage or mild Italian sausage, cut in ½-inch thick slices (optional)
1 pound monkfish, cut in 2-inch pieces
1 roasted red pepper or 2 pimientos, cut into strips
3 large tomatoes, cut in half, seeded and grated against the large holes of a grater
1 tablespoon sweet paprika
1 pound short- or medium-grain Spanish rice or Arborio rice
1½ cups fresh or thawed frozen peas or lima beans
1½ cups blanched green beans, preferably flat Italian romano beans, cut in 2-inch lengths
20 mussels, scrubbed and purged (see Notes)
1½ cups aioli, for serving
1. Combine the purged clams with the wine, ¼ cup water, and a tablespoon of the chopped onion in a lidded pot, turn heat to medium high, cover and cook 5 to 6 minutes, or until all the clams have opened. Remove clams from shells, rinse and set aside. Strain the broth through a fine-mesh strainer lined with cheesecloth and set aside.
2. Shell the shrimp and jumbo shrimp, leaving the heads on, and retain the shells. Combine the shells in a large pot with the clam broth, the quartered onion, the garlic clove, bouquet garni, and the water or stock. Bring to boil, reduce heat to low and simmer 30 minutes. Strain through a fine-mesh strainer lined with cheesecloth. Measure out 7 cups (freeze extra). Taste and season generously with salt. Stir in the saffron.
3. Cook the sausage over medium heat in a wide paella pan, skillet or casserole until cooked through, about 8 to 10 minutes. Remove from the heat and set aside.
4. Add 2 tablespoons of the oil to the pan set over a large burner or two smaller burners (or prepare a charcoal fire in your grill). Add the monkfish and cook for 2 minutes on each side, until it is opaque. Remove from the pan and set aside. Add the shrimp and jumbo shrimp and cook just until they turn orange red, about 1 minute. Remove from the heat and set aside.
5. Add the remaining oil and the onion and cook, stirring, until tender and beginning to brown, 5 to 8 minutes. Add the garlic, stir for about 30 seconds, and add the red pepper and cook, stirring, for about 30 seconds. Add the tomatoes, paprika and salt to taste, and cook, stirring, until the tomatoes have cooked down slightly and smell fragrant, 8 to 10 minutes. Add the rice, sausage, lima beans or peas, green beans and bay leaf and cook, stirring, until the grains are coated with oil, 3 to 4 minutes. Add the broth. Add the mussels and push them down into the broth. Place the fish, shrimp, clams, and jumbo shrimp over the top of the rice, without pushing them down into the broth. When the stock comes to a boil, reduce the heat and cook without stirring or poking, uncovered, for 20 minutes, or until the broth has been absorbed and the mussels have opened. Rotate the pan every 5 minutes so that the rice cooks evenly. Remove from the heat, cover tightly with foil, and let sit undisturbed for 15 minutes. Uncover and serve, passing the aioli at the table for guests to spoon onto their paella.
For brightness, top the paella with more thawed frozen or cooked fresh peas.
To clean and purge the clams (and mussels): Inspect each one carefully and discard any that have opened or have cracked shells. Place in a large bowl, fill the bowl with cold water, add a tablespoon of salt and leave for 15 minutes. Drain and rinse several times, swishing them around in the water, pouring out the water and refilling. Clean the shells if necessary with a brush. With mussels, pull out the beards just before cooking.
Zester Daily contributor Martha Rose Shulman is the award-winning author of more than 25 cookbooks. Her latest is "The Very Best of Recipes for Health," published by Rodale.

Top photo: Seafood paella. Credit: iStockphoto