PAGEDALE, Mo. (CN) - Missouri resident Valarie Whitner lives in fear, but not of violence - fear of another ticket for chipped paint on a downspout, or for not having a screen on her back door.
Such is life in Pagedale, a tiny municipality barely more than a mile long in north St. Louis County.
But if the federal lawsuit filed last week by Whitner and fellow Pagedale residents is successful, that could change not only in Pagedale, but for tens of thousands of people living in cash-strapped municipalities throughout north St. Louis County.
Whitner and co-plaintiff Vincent Blount say they have been fined a total of $2,800 for ordinance violations in their Pagedale home. They were ticketed for having chipping paint on a downspout, for not having a screen door on the back door, and for having weeds in their vegetable garden.
"The lawsuit claims that the number of non-traffic municipal fines issued by Pagedale has increased by nearly 500 percent in the past five years. Pagedale's population of 3,307 is 93 percent black and its unemployment rate is about 7 percent."
As the fines mount, they have less and less to spend on the upkeep of their home. They have lived in Pagedale for 18 years and have three children. Their fellow plaintiff Mildred Bryant is 84 and has lived in Pagedale for 46 years.
Statistics show they are not alone. As the fallout from the Ferguson and Michael Brown protests continues, smaller municipalities that once relied on traffic tickets to balance their budgets have looked for other ways to bring in money - often on the backs of their citizens.
Similar lawsuits against St. Louis County cities that targeted minority drivers for traffic tickets have forced police department reforms in that area.
Joshua House, an attorney for the Institute for Justice, who represents Whitner, Blount and Bryant, calls it "taxation through citation."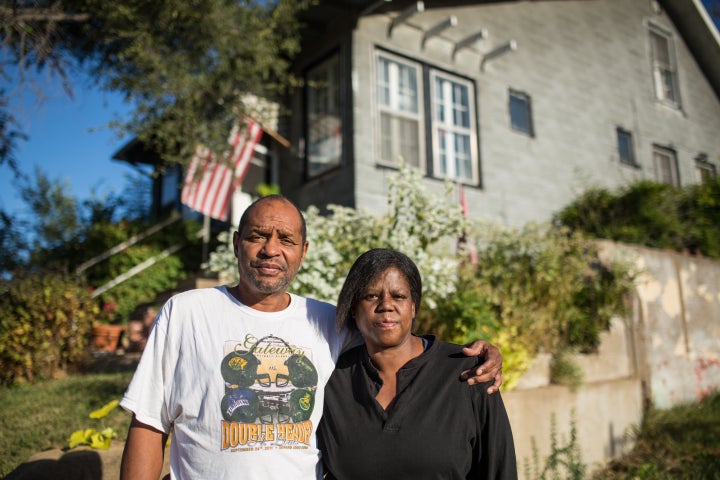 The lawsuit claims that the number of non-traffic municipal fines issued by Pagedale has increased by nearly 500 percent in the past five years, and that revenue from non-traffic tickets makes up almost 20 percent of the city's budget.
Pagedale's population of 3,307 is 93 percent black and its unemployment rate is about 7 percent, according to city-data.com. The median income is $29,686; more than $17,000 below the state average and the per capita income in 2013 was $13,622.
So the fines hit extra hard in Pagedale.
"We've met people who said they couldn't afford the paint to paint their fence," House told Courthouse News. "I guess wood wasn't good enough (for Pagedale)."
Pagedale's city code allows residents to be ticketed for having mismatched curtains, walking on the left-hand side of a crosswalk, wearing pants below the waist, holes in window screens, and having a barbecue in front of a house. The city has even ticketed residents for things that aren't illegal, such as having a small crack in a front walk, chipping paint on a building foundation, or an unpainted wood fence, according to the complaint.
House said the city's need for money creates an unconstitutional incentive for Pagedale's prosecutors and municipal court to convict defendants, and creates a substantial risk of bias and prejudgment.
If the lawsuit succeed, it could have consequences region-wide.
According to the 2012 census of governments, there are 387 governmental entities in St. Louis County. Of those, 89 are municipalities, and almost 50 of those are cash-strapped mostly black municipalities in north St. Louis County.
The proliferation of municipalities can be traced to white flight out of St. Louis that began in the 1920's. First, wealthy white families moved to St. Louis County, followed by working-class whites; the last major group was African-Americans.
According to Colin Gordon's book, "Mapping Decline: St. Louis and the Fate of the American City," white folks used whatever tools they could to prevent black families from moving into their neighborhoods. Those tools included race-restrictive deeds and covenants until they were struck down in 1947, segregation until it was struck down in 1954, real estate pacts, and finally zoning laws.
When courts began to strike down blatantly discriminatory policies, whites engaged in a pattern of zone and retreat, according to Gordon. Developers created new subdivisions outside a city. White people moved in. As black families moved north and west of the city, the subdivisions would try to keep them out by zoning themselves as single-family housing only, barring construction of public and low-income housing.
The result is a cluster of small municipalities with limited tax bases. It has created a St. Louis region of municipal haves and have-nots, with the haves west and south in St. Louis County and the have-nots mostly in the north.
For example, the per capita assessed property tax value for Pagedale in 2011 was $8,372.49. In Clayton, just 7 miles to the south, it was $69,774.92. Brentwood, right next to Clayton, came in at $36,452.16, but benefits from several large-scale retail developments.
The advantage gives Clayton and Brentwood millions of dollars of annual tax revenue, making them less dependent on tickets.
"There's a bigger underlying problem with where they are going to get money for their budget if not through these ways," said Clarissa Hayward, an associate professor of political science at Washington University in St. Louis.
"Eventually it is going to come to a head. Who's going to pay for it?"
If the Pagedale lawsuit takes away the ticket revenue, the city could go bankrupt. This would be a lose-lose scenario for Pagedale and its residents: Either put up with the excessive ticketing or take the chance of bankrupting the municipality, and its effect on public services in doubt.
"Worst-case scenario is that they just can't provide basic public services," Hayward told Courthouse News. "If we don't address the problem, that's what we're faced with."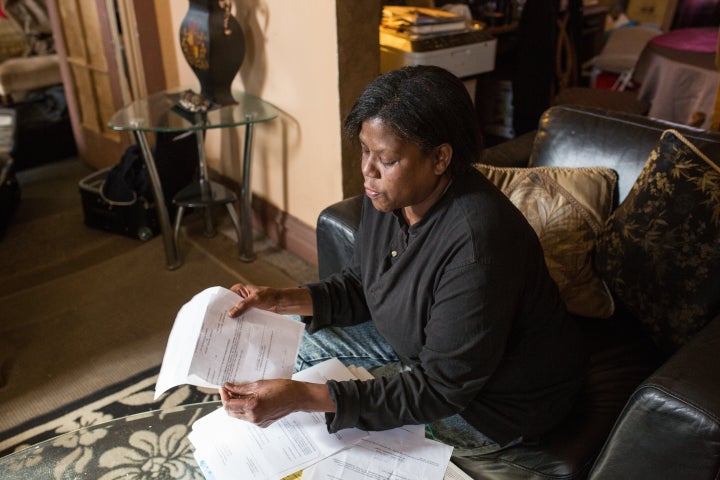 House acknowledged that the Pagedale lawsuit could bankrupt the city.
Asked if Pagedale could survive a successful lawsuit, House said: "To exist in the way it currently is, the answer is no."
But House said this would occur only if Pagedale does not exhaust other available resources. For example, Pagedale is not part of the North County Police Cooperative, recently formed by several north St. Louis County municipalities similar to Pagedale. The cooperative pools resources to police services at a lower cost.
House said raising Pagedale's sales tax could bring in more revenue as well.
Unknown is whether a successful lawsuit would have a ripple effect throughout north St. Louis County. Similar lawsuits could be filed against neighboring municipalities, forcing more of pooling of services to streamline costs.
Hayward said the issues are not isolated in north St. Louis County. The have versus have-not economic realty affects the entire region.
"One of the reasons we define a metropolitan area is that there are strong ties between the different areas," Hayward said. "For example, a person may live in Pagedale, work in Clayton and shop in Brentwood. We're all linked, and one municipality shouldn't be charged with providing a disproportionate amount of services."
Due to those links, Hayward prefers a macro solution that involves the entire metropolitan region. Based on a system already in place in the St. Paul-Minneapolis metropolitan area, it would take a portion of the tax revenue generated by the wealthier municipalities and put it in a central fund to be distributed by need to the economically challenged municipalities.
The system is similar to revenue-sharing in baseball, which, for example, helped turn the Kansas City Royals from Major League Baseball's laughing stock a few years ago to World Series champion this year.
Hayward said she likes this system because it addresses issues for the entire area and redistributes wealth from more affluent areas.
Whatever the solution, House hopes change comes for the residents of north St. Louis County due to the Pagedale lawsuit.
"The goal is for them to re-examine the way they generate revenue," House said. "A lot of that is taking away the incentive to convict people who are the least fortunate."
Attorney House is in Arlington, Va., the Institute for Justice in Bellevue, Wash., and co-counsel J. Bennett Clark is with Bryan Cave in St. Louis.
Popular in the Community