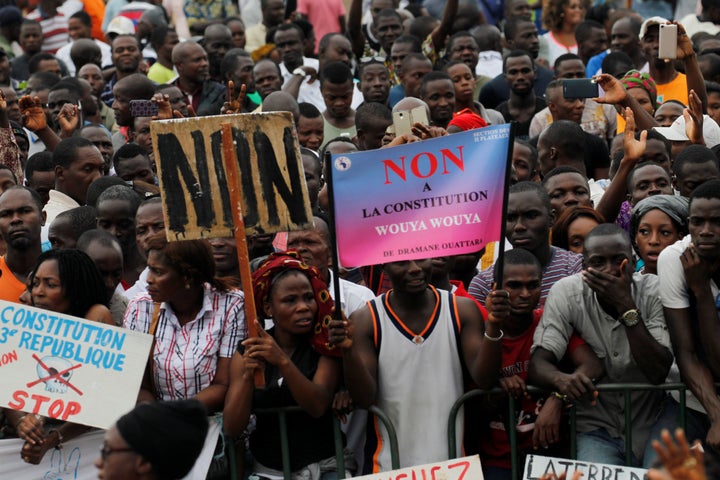 With recent allegations of "rigging" in the U.S. elections, it might serve Donald Trump well to study a real example of a potentially rigged system, and the terrible implications for its people.
Try the Ivory Coast (or Côte d'Ivoire), where President Alassane Ouattara presented his constitutional reform proposal before the Ivorian Congress earlier this month (October 5). In no time, an overwhelming majority of congressional members approved the new constitution ahead of an Oct. 30 national referendum. That may be because the FPI, the opposition coalition to President Ouattara's RHDP, boycotted the congressional elections five years ago – thus they have no representation in Congress.
The new constitution differs from the previous one as it provides for the creation of the post of a vice president, and a new senate, and a chamber of traditional chiefs. Despite being a main point of contention, the previous constitution's so-called "Article 35" remains unchanged (the article more or less divided Ivorians into a caste system ― identifying people first and second class citizens based on their ancestral and native heritage).
Some changes are made: The upper-age limit of 75 years for the president was abrogated, and the new minimum age of eligibility for president is now set at 35 years. Also, the speaker of the National Assembly no longer succeeds the president in case of vacancy further, eroding Ivorian direct participation in governance.
The main criticism leveled against these reforms is the haste with which they were drafted and approved by the National Assembly. From presentation to approval of Ouattara's agenda, the parliament took less than three weeks. Critics argue that, clearly, this did not provide sufficient time for a national debate and input by all Ivorian stakeholders.
Moreover, an explosive land ownership issue has not been resolved. Opponents also note that that Ivory Coast faces more pressing social problems such as youth unemployment which is at an all-time high, increasing poverty levels in both urban and rural areas, and the modernization of the educational system with appropriate mechanisms for training youth with marketable skills. Critics also point to the floundering and inadequate health service system.
Perhaps ironically, the discontent underscores Ivorians' mounting frustrations about President Ouattara's frequent trips to France for medical treatment since his ascension to power.
There's also the question of timing: some argue that President Ouattara's constitutional reform initiative might be a ploy to distract people's attention from the stalled national reconciliation process. International observers say many of former President Laurent Gbagbo's supporters are still detained as political prisoners without due process or access to a court proceeding. This would violate Article 21 of the Ivorian Constitution which stipulates that citizens cannot be legally detained without a fair trial. Ivorian opposition party leaders and international human rights organizations have condemned these illegal detentions. They are also quick to point out that none of the former rebels or their leaders have been brought to justice. Dr. Balla Keita, Professor of Comparative Politics at George Washington University, explains that "the move [approving the new constitution] could have serious consequences because of the fact that Ivory Coast has a weak institutional mechanism to mediate political competition." He also contends that President Ouattara's initiative to change the constitution in an insecure political climate "poses a threat to the stability of the country." He is among those worried that the arrest of opposition leaders who were marching in a peaceful protest against the constitutional reform on October 20th signals turmoil on the horizon.
Many observers feel that, if President Ouattara was committed to creating a more perfect union, he would initiate civil and economic reforms designed to prevent the eruption of tensions and allow the UN to monitor this rigged constitutional fiasco/process. Should he fail to do this, some will no doubt continue to question the legitimacy of what is already being called, "Hollande's Henchman" – with the re-imposition of American economic sanctions to likely follow.
After considering a truly rigged election process in action, complete with opposition arrests, maybe Mr. Trump could divert attentions toward healing a bitterly divided nation – win or lose. For without rule of law to oversee the will of the people, any ruler - be it near or far - is one step closer to a truly "rigged" system leading to chaos.
(Sara Corcoran Warner is publisher of the National Courts Monitor website, "Your Daily Ration of Civil Justice Rationing," and a frequent commentator on national legal policy and civil courts issues.)
REAL LIFE. REAL NEWS. REAL VOICES.
Help us tell more of the stories that matter from voices that too often remain unheard.